As Hickman's X-Men Cometh, Black Monday Murders Disappears from Diamond
For many fans of superstar writer Jonathan Hickman, Hickman's upcoming House of X and Powers of X are the answer to long-awaited hopes that Hickman would take on a major X-Men project at Marvel. But for fans of Hickman and Tomm Coker's Black Monday murders, the outlook is a bit poorer.
Here's what the Image Comics' website listing for Black Monday Murders #9, originally set to ship on April 24th, looked like as of March 27th, when Google last cached it:
But if you look at that page today… Likewise, at Diamond, on March 25th…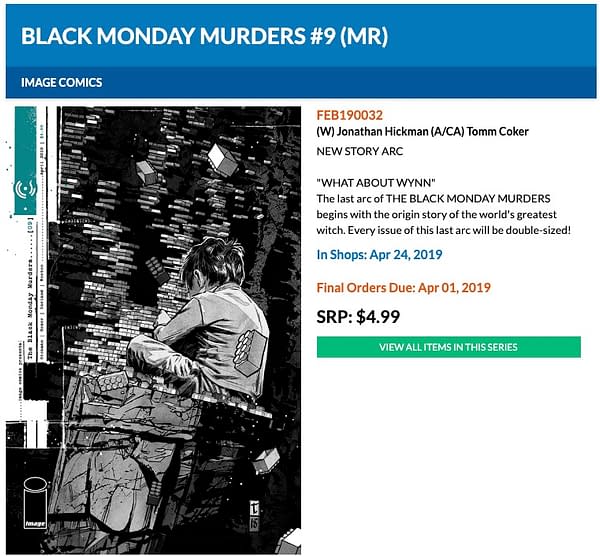 But today…

Surely more disappointing for those who followed the series thus far, issue #9 was set to be the start of the book's final story arc, featuring double-sized issues. But closure, it appears, will have to wait. Hopefully HiX-Men will end up being more complete, since it will change the X-Men universe forever, and you can't go around leaving an X-Men universe half-changed.
As of now, there's no notes on Diamond about the book's future. And you won't find Black Monday Murders #10 on there anymore either. Will they be resolicited? We reached out to Image for comment, and if they respond, we'll let you know. But it doesn't look like it will be here on April 24th, in any case.
Black Monday Murders #9
(W) Jonathan Hickman (A/CA) Tomm Coker
NEW STORY ARC
"WHAT ABOUT WYNN"
The last arc of THE BLACK MONDAY MURDERS begins with the origin story of the world's greatest witch. Every issue of this last arc will be double-sized!
In Shops: Apr 24, 2019
Final Orders Due: Apr 01, 2019
SRP: $4.99