'Asterix' Sets A 5 Million Print Run For Its First Printing
Welcome to the best-selling comic book of 2017, and it's not out for months yet. The upcoming new Asterix comic book, Asterix And The Chariot Race, has just set its first print run of five million. That's two million for the French, two million for the Germans, and one million for everybody else.
With just its first printing, which sells out fast and goes to a second, lickety split, it is expected to be the biggest selling book of all in France and Germany and the UK in 2017, and certainly the best-selling comic in the world. And is likely to double that, if not more, with subsequent printings.
They would print more now, but they just don't have enough room to store them.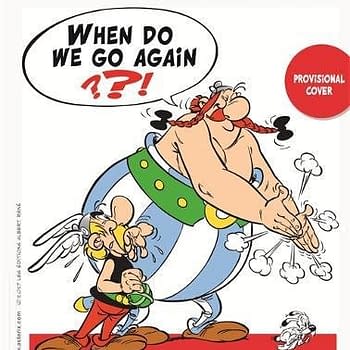 The violent comedy of Asterix has run for almost 60 years now, has seen Jean-Yves Ferri and Didier Conrad take over the book, with supervision from co-creator Albert Uderzo and Anne Goscinny (daughter of René Goscinny, who died in 1977) and shows no signs of dropping in popularity. The comic has become a once-every-two-years event that the whole of the French publishing industry appreciates. The 37th Asterix book, Asterix and the Chariot Race is set in Italy…but not just in Rome:
The year is 50 BC. Italy is entirely under Rome's control, well, not entirely… Though Caesar dreams of a united Italy, the peninsula is made up of various fiercely independent regions.

Yes – it turns out the inhabitants of Ancient Italy are not all Romans, much to Obelix's dismay. The Italians want to keep their independence and take a dim view of Julius Caesar and his legions' plans for total domination – and life isn't easy for the garrisons of Roman legionaries charged with keeping an eye on them all!
Five million of them! The latest edition of One Piece can but dream…