Avatar Plug of the Week: Fashion Beast #4 Sneak Preview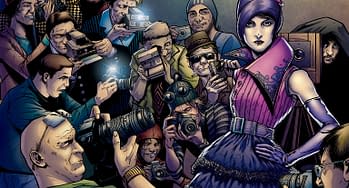 4 out of 5 stars Comic Book Resources
"…an inventive, tightly-written and enjoyable comic."
"…there's a lot that can be praised…"
5 out of 5 stars The Examiner
"… a great first issue…"
"I definitely recommend picking this book up."
Grade: A- Weekly Comic Book Review
"The art is lovely."
7.5 out of 10, Buy It Multiversity Comics
"The art… makes this story work as a comic book. It's wonderful."
"There's not really a book like this on the stands right now."
4 out of 5 stars iFanboy
"Alan Moore's masterpiece that he's been hiding all these years has finally been released!"
Reviews have been excellent for this nuclear winter tale of a world obsessed with fashion. A story first written by Alan Moore in the mid-eighties with the Sex Pistols' Malcolm McLaren, it has finally been unearthed after almost 30 years. If you haven't tried this gem yet, here is a sneak peek of Fashion Beast #4, due out this Wednesday.