Avengers: Infinity War Inspiration – Infinity Gauntlet Pages Up for Auction
With Avengers: Infinity War blowing up box offices, someone figured it was the right time to sell off their original art pages from The Infinity Gauntlet, the book on which the story is based. There are various pages up for auction now from issues #2, 4, 5 and 6, with art credited to Ron Lim, George Perez, and Joe Rubinstein. A recently completed auction for page #38 from Infinity Gauntlet #5 went for over $7k. The page, shown below, features Hulk, Drax, Thor, Firelord, and Doctor Doom dropping into to confront Nebula, who had the Gauntlet at the time.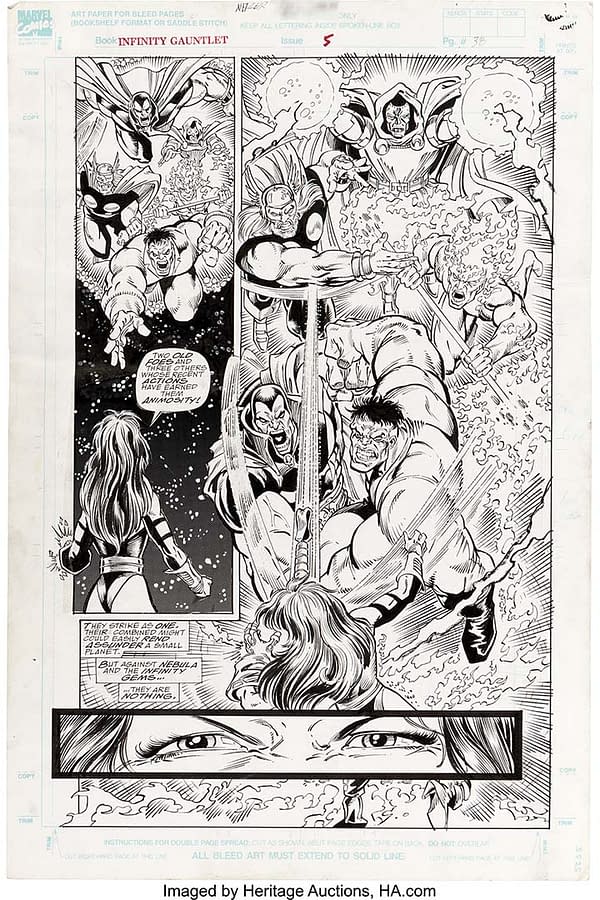 While the above one has sold, there are 17 pages up for auction right now that end in the next 15 minutes.
Infinity Gauntlet was published in 1991 from writer Jim Starlin and artists George Perez and Ron Lim as a six-issue miniseries. It ran from July to December and was the main piece of a crossover event that included a handful of tie-in issues. It pulled together elements that Starlin had been adding to the Marvel Universe since the '70s including the Titan called Thanos and the infinity gems. This series would go on to be the backbone of the Marvel Cinematic Universe, with the first stone being introduced as the Tesseract in Captain America: The First Avenger and Thanos being introduced in The Avengers.