Babyteeth #10 Review: Burning Down the House
[rwp-review-recap id="0"]
Sadie is recording a message for Clark in Palestine, and we travel back to see what happened at the Way's compound. Heather and Clark are pulled into the Red Realm, as Carl the Coyote continues his rampage through the compound. He saves the Captain and Sadie and shows them how to get out. Carl then goes to confront Chris and her demonic associate.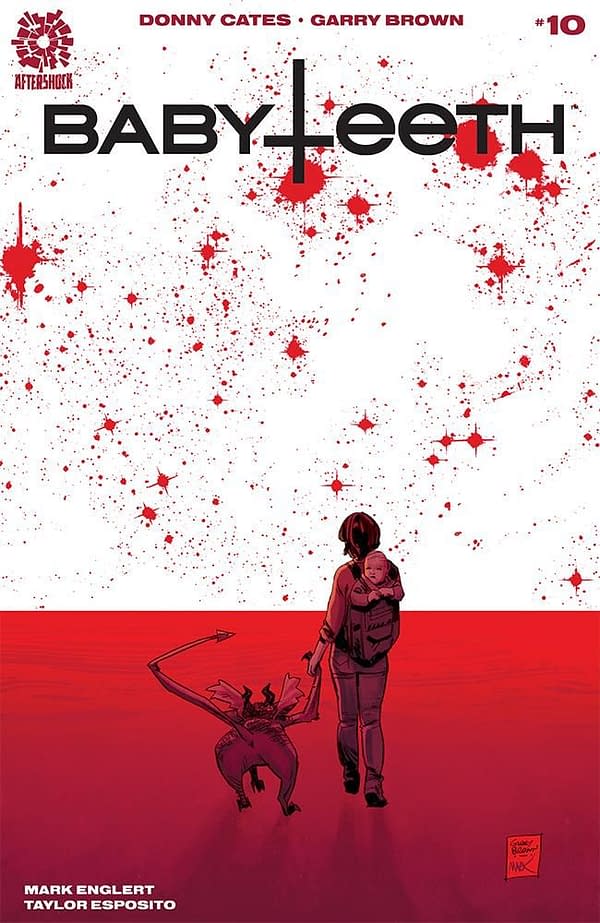 Sadie's recording works as narration and framing for the events that happen in the Way's compound in this issue of Babyteeth. Gratefully, this narration doesn't truncate or summarize Sadie and the Captain's escape from the compound. Oftentimes, this kind of framing can drain the tension from the story; Donny Cates avoids that drawback here.
Carl leaves a file with a lot of information for Sadie and the Captain. It broadens the scope of events and fills them, and by extension the reader, on more about what the Way is trying to tap into with their activities. That takes some of the intimacy out of the story, but it remains to be seen how this will affect the story overall.
There is a major death here that feels abrupt even if it was expected. It wasn't a bad death, but it's not built up especially well before happening.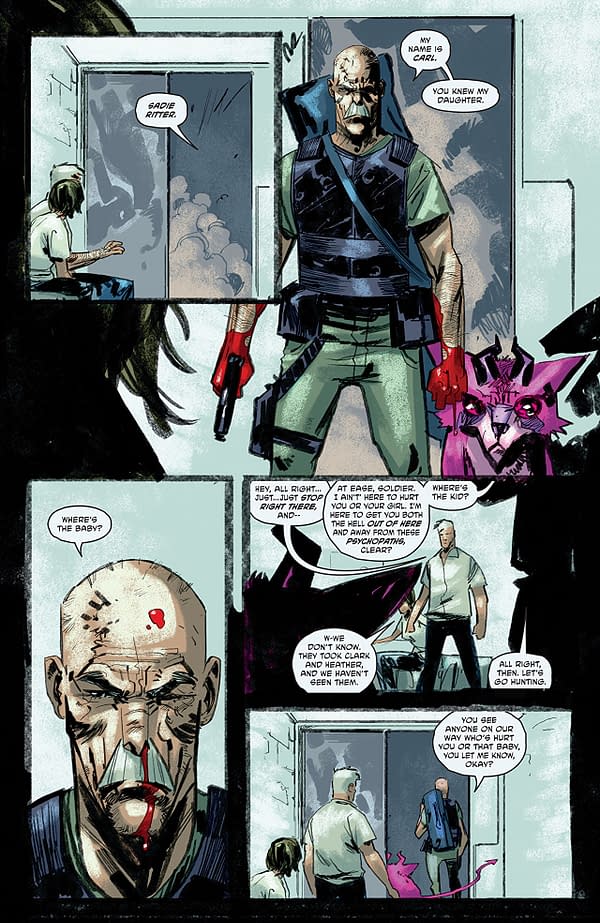 Garry Brown's artwork continues to be the right mixture of heavy stylism and gritty detailing to flesh out the violent and frightening world that is Babyteeth. The action scene with Carl and Chris does leave a lot to be desired, and that part of the comic appears oddly static. That's the only real artistic drawback in this comic. Mark Englert's color art is otherworldly and highly contrasting, and it adds a lot to the visual identity of this book.
Babyteeth #10 is another solid issue of the horror series from Cates and Brown. It may have its drawbacks, but the overall book is compelling and concludes the climactic attack on the Way's compound well. This one earns a recommendation. Check it out.
[rwp-review-ratings id="0"]
[rwp-review-form id="0"]