Batman #77 Doubles Its Price on eBay…
I'd like to think it's because Catwoman sings Carmen. But no, it is for far more sensational spoilery reasons that it is currently becoming rather difficult to buy tomorrow's Batman #77.
Bleeding Cool has reported on just what has leaked – but also suggesting people hold their horses over what it means.
Nevertheless, copies of Batman #77, cover price $3.99 are selling repeatedly on eBay for $7.50 plus postage right now. No standard cover copies are available on eBay for cover price, they are all from $9 to $25.
Weirdly the card stock covers, which should be more expensive, can be found closer to cover price. But the standard cover relevant to the story, with Gotham Girl as Robin to the Thomas Wayne Batman, that is flying off the virtual shelves ahead of publication…
But don't fret. It's still cover price at Midtown Comics. And probably in your local store, if you let them know you are interested. Before the morning when the story ends up in the New York Times or what have you…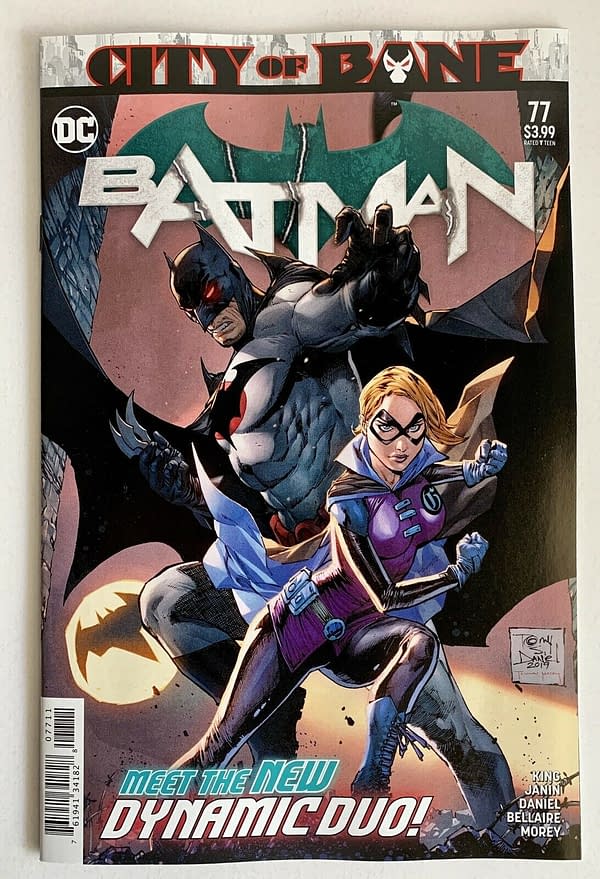 BATMAN #77 YOTV DARK GIFTS
(W) Tom King (A/CA) Tony S. Daniel
"City of Bane" continues! The last of the independent villains are on the run, leaving Gotham City entirely to Bane and his cronies-including Flashpoint Batman and Gotham Girl! Though this means a semblance of peace on the streets, the iron grip of tyranny is squeezing all life out of Gotham. And with Bane's machinations keeping other heroes out, the city really needs the Batman to return. Is Bruce Wayne ready to face his toughest foes yet…his father and the man who broke his back?In Shops: Aug 21, 2019
SRP: $3.99