Batman Detective Comics #978 Review: A Strong Twist but a Thin Comic
[rwp-review-recap id="0"]
Batman and Red Robin investigate the Colony's soldiers whom gunned down a band of mobsters while Ulysses watches on from his command center. Batman leaves to meet up with Batwoman and her father. Ulysses continues to have a video feed of the events. He is planning something massive, but Red Robin is closing in on the solution. The question is whether he will arrive at it in time.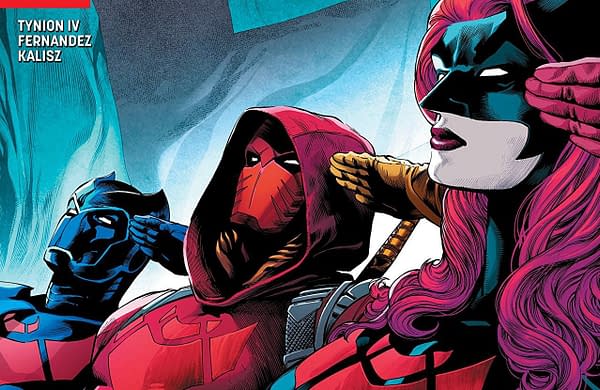 The big twist of Batman: Detective Comics #978 is the kind that makes the comic work, but it's status as a twist is debatable. It's been cover-spoiled by Detective Comics #979, and the involvement of Brother Eye is debatably a giveaway unto itself.
In any case, here's your spoiler warning for the remainder of the review.
So, Ulysses and Brother Eye have unleased Omac. However, it's unfortunately not Kevin Kho, the most recent person to wield the title of Omac. This is the Omac of the Omac Project, the machines what hunted down and possessed heroes like a virus.
Unless Ulysses reveals himself to be Maxwell Lord, then this is a very different origin point for the mechanized horde. That said, it's cool to see them back in this way, and it has some intriguing implications for the future as we know it from this comic.
Beyond that, this is one of the thinner issues of James Tynion IV's Detective Comics. It's a mystery story to which we already know the solution, and it is mostly getting its pieces into place for the grand finale to "Batmen Eternal." It's far from a bad issue, but it doesn't have as much going on as most of the other installments of the title.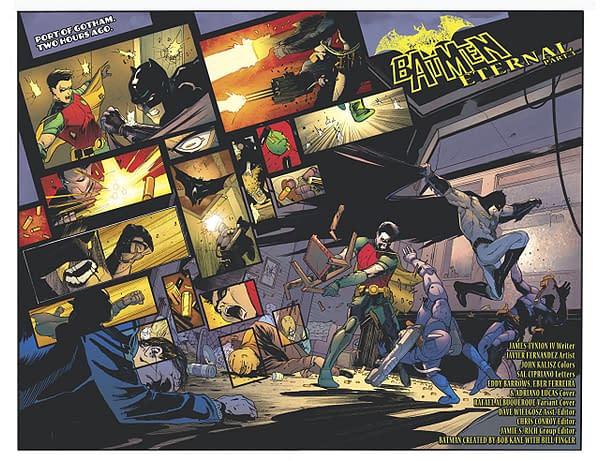 Javier Fernandez's artwork once more looks great. It's detailed, kinetic, and gritty. There are aspects of the shading and detailing which appealingly resemble the work of Greg Capullo. The comic plays with the paneling; the above image shows how it can be a bit confusing at times. However, there is also a page laid out to look like the Brother Eye symbol, and that looks great. John Kalisz's color art is well-balanced for the often-dark world of Gotham, and the overall book looks quite good.
Batman: Detective Comics #978 isn't among the stronger issues of the series, but it is enjoyable nonetheless. Omac's return and the uneasy alliance being forced between Batman and the Colony set up for a promising finale from Tynion's Detective Comic series. This one still earns a recommendation. Check it out.
[rwp-review-ratings id="0"]
[rwp-review-form id="0"]