Detective Comics #983 Review – Come Outside for a Spell
[rwp-review-recap id="0"]
The Signal, aka Duke Thomas, is caught in an explosion while trying to save a self-proclaimed "Batman fan." He survives, but he is badly wounded. Batman decides that he needs a team to work outside the Justice League and using his methods. His first recruit is Black Lightning, who works out of Metropolis and just suffered his own setback.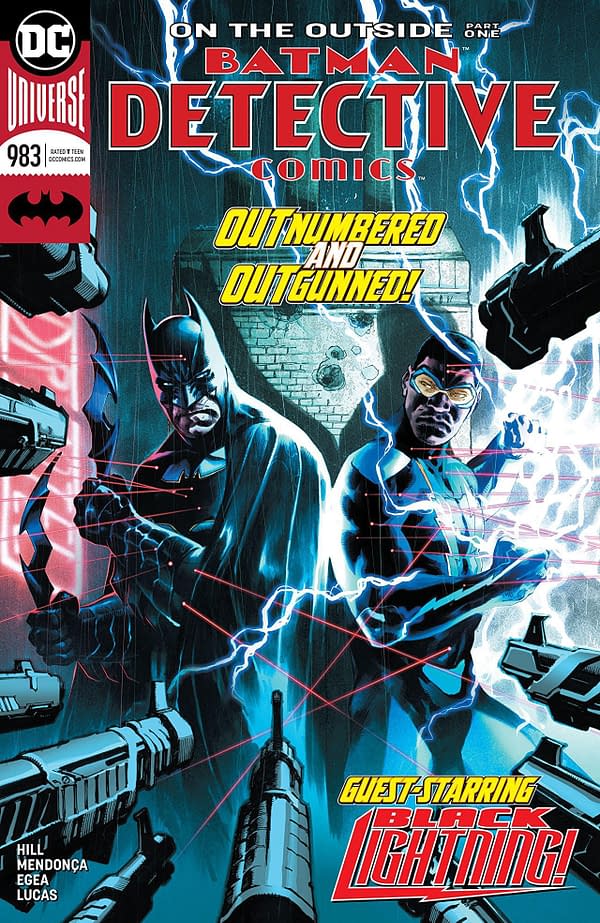 Detective Comics #983 is a perfect example of showing over telling.
What sticks out the most in reflection is its understanding that not every reader will be that familiar with Black Lightning, so it shows him interviewing for a teacher position. The interview runs alongside Jefferson trying to defuse a hostage situation on a rooftop; both running concurrently tell you everything you need to know about Black Lightning. It's very cleverly constructed.
Meanwhile, Batman is having a personal crisis over almost losing Duke, and even the "Batman fan" that was the victim used to bait Signal is given some context.
It's a book that is both extensive yet surprisingly tight. It may not do any one brilliant thing, but it has a lot of smaller smart decisions that keep the reader engaged. It also feels like a continuation to James Tynion IV's Detective Comics and the Gotham Knights.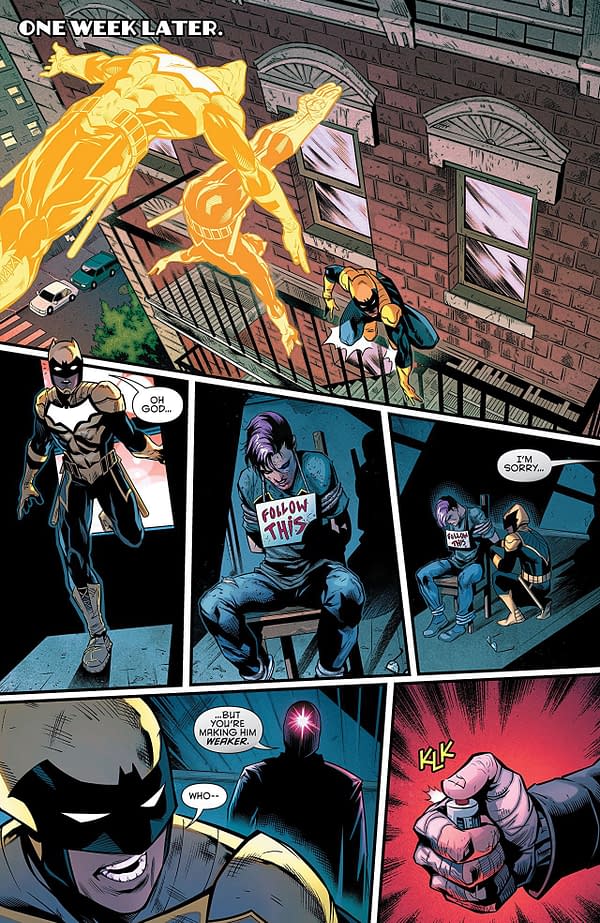 The art is handled by Miguel Mendonca. Shadow and finer line detailing are used throughout the book, crafting a world that feels darker and more serious. It all comes together well, and the final product looks great. There are some clever things done with the paneling too. Diana Egea inks the book well, aiding the detailing. Adriano Lucas's color work is blended and balanced very well. There are many dark scenes in the comic, but there are brighter ones to give the comic more personality outside of the dark.
Batman: Detective Comics #983 begins to form the new Outsiders team in a very Batman fashion while bringing Black Lightning into the fold. Jefferson is represented well, the storytelling is tight and focused, and the art looks great. This one earns a recommendation. Check it out.
[rwp-review-ratings id="0"]
[rwp-review-form id="0"]