Batman/Fortnite Hardcover Graphic Novel Will Have All 7 Digital Items
The release of the Batman/Fortnite: Zero Point series caught a lot of people by surprise, especially the appeal of the Harley Quinn Fortnite skin in print copies of the comic – and digital copies to those in the US who have paid subscriptions to the DC Universe App. The first issue has gone to second and third printings already and the second and third issues, still not yet published have also gone to second printings. But for those happy to a) wait and b) not have to chase down each and every issue, there's another option, the collected hardcover of the comic. The Batman/Fortnite: Zero Point Hardcover will be published in bookstores and comic shops on the 7th of September. It will contain a code to download all seven Fortnite skins, including the Batman Fortnite Armor. And for those unable to get to comic book shops, it will provide another option – albeit it one four months hence. Ans even though it is a third of 2021 away, right now it is DC Comics' bestseller on Amazon.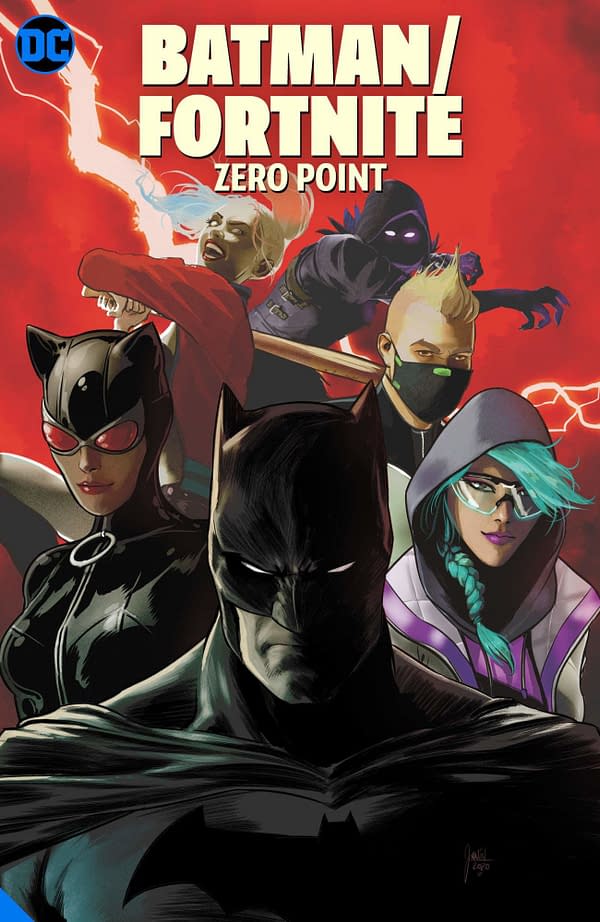 A crack splits the sky above Gotham City… a tear in reality itself. This rift pulls the Dark Knight into a bizarre and unfamiliar world, with no memory of who he is or where he came from…Batman has been drawn into Fortnite!

** This hardcover collection includes a bonus code unlocking seven DC-themed Fortnite digital items **

As he fights to recall his past and escape an endless loop of chaos and struggle, he'll come face-to-face with the likes of Renegade Raider, Fishstick, Bandolier, and more. While the world's greatest detective strives to make sense of this strange new world, he'll uncover the shocking truth about the Island, what lies beyond the Loop, and how everything is connected to the mysterious Zero Point.

Batman/Fortnite: Zero Point uncovers secrets never before revealed in game or anywhere else! Every fan of Batman, Fortnite, stunning art and edge-of-your-seat excitement won't want to miss the Caped Crusader facing off against Fortnite champions on the Island, in a desperate attempt to save not only himself, but other familiar faces from the DCU…and perhaps the Multiverse itself!