Batman: Kings of Fear #1 Review – The Archetypal Batman Comic, for Better and Worse
The Batman ambushes and captures the Joker once again. He brings the Clown Prince back to Arkham Asylum, though Joker pokes and prods at the Dark Knight the entire way there. Upon arrival, a doctor further gives Batman hell for his methods of capturing the Joker. However, a prison break occurs, and Riddler, Poison Ivy, Mister Freeze, Bane, and the Penguin join the Joker in a riot.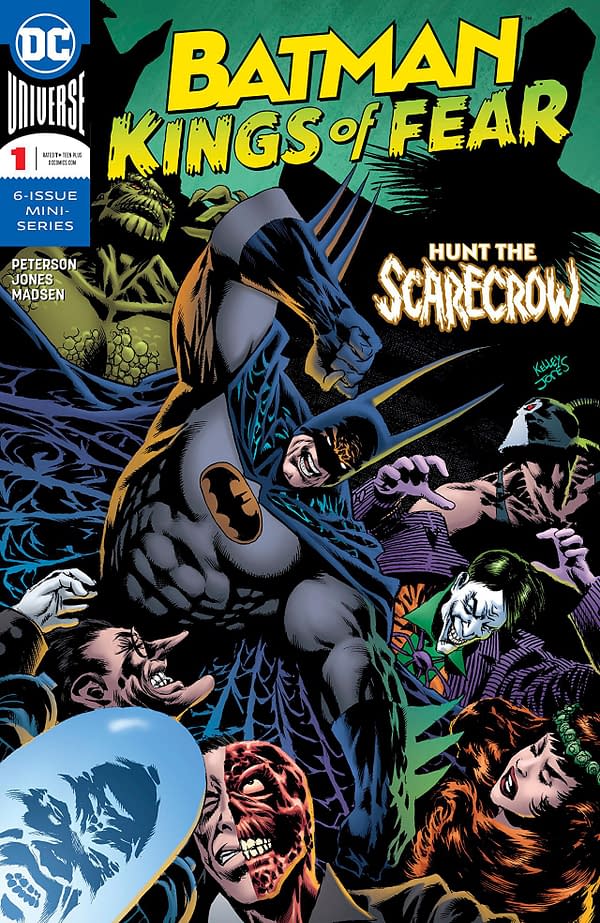 Batman: Kings of Fear #1 reads like a classic Dark Knight tale. The Bat has donned a classic costume, the Joker is in his usual chatty form, and the brilliant Kelley Jones artwork is… well, literally classic Batman artwork.
The one problem is that this opening issue reads like a gamut of a generic Batman tale. The Joker is the main antagonist, and half the story takes place in Arkham and includes doctors "wrongly" giving Bats crap for punching serial killers. That menagerie of classic Batman villains doesn't really add anything beyond a bunch of cameos, as their respective personalities are boiled down to "bad guys" in this issue.
It is an archetypal Batman story in the same way that Black Panther: Sound and Fury and Avengers: Shards of Infinity are archetypal Avengers comics.
The difference-maker is that Kings of Fear is far less cheesy, has Kelley Jones, and isn't a one-shot. Scarecrow, aka the greatest Batman villain ever (don't @ me), looks to be the primary antagonist of this story and ambushes the Caped Crusader at the end. Hopefully, the comic will pick up from here.
I've already praised Jones's artwork many times in this issue, but it is truly brilliant. The look of the Joker in this one gave me nostalgia for comics that were published before I was even born. The Batman himself looks especially intimidating. The fight between the Bat and Joker's men is laid out brilliantly and violently. Michelle Madsen's color work is gloomy, moody, and sets the tone excellently.
Batman: Kings of Fear #1 is decent. It's okay. It rises a bit over mediocre but doesn't in itself bring anything to the table beyond aforementioned fantastic artwork from Jones and Madsen. I can recommend it as a classic-feeling Batman tale, but it's far from a must-read. Here's hoping #2 will bring something memorable in terms of story.