Batman The Only Non-Convergence, Non-Star Wars Comic In Top 10, As DC's April 2015 Marketshare Recovers
In March, Marvel had a fifteen point lead in terms of marketshare over DC Comics. In April, the lead is still there but it's much,much smaller.
Marvel's share of the comic book market dollars in April was down from previous months, as February's 38.44% rise to March 38.82% was reversed with April's 34.15%.
And their sales of individual comics, which had jumped from 39.33% to 41.53% crashes back down to 36.33%.
They are still at no 1, but Marvel's loss is DC's gain, as DC's dollar marketshare which had fallen from 25.91% to 23.01% has recovered, and more, with 30.91% share, less that 3.5 points below Marvel.
And their unit sales marketshare, which had fallen from 28.15 to 26.13% rocked ahead to 33.9%, again 3.5 points below Marvel.
Much of this change was down to the Convergence crossover event, with the weekly series placing five issues in the top ten. But they were all outsold byStar Wars #4 taking the top spot as Marvel placed four Star Wars-related titles in the top ten. Indeed, the only comic that was not Star Wars or Convergence in the top ten was Batman #40.
Image's dollar marketshare has fallen back in the light of this but still keeps a psychologically important north-of-ten-percent dollar share of 10.23%, down from 11.39% and a unit share of 11.18%, down from 12.98% and that was without a double-shipping Walking Dead. Image Comics are still putting on sales.
And with all this Star Wars/Convergence shenanigans from the Big Two, everyone else's marketshare was down.
As well as Image, IDW dropped their dollar share from 6.51% to 6% and unit sales share from 5.61% to 4.78%. Dark Horse, from 3.9% to 3.65% and 3.07% to 2.92%. Boom, from 2.41% to 2.17% and 2.44% to 1.98%. Dynamite, from 2.37% to 2.05% and 1.99% to 1.78%.
TOP COMIC BOOK PUBLISHERS
RETAIL MARKET SHARE
PUBLISHER
SHARE
MARVEL COMICS
34.15%
DC ENTERTAINMENT
30.91%
IMAGE COMICS
10.23%
IDW PUBLISHING
6.00%
DARK HORSE COMICS
3.65%
BOOM ENTERTAINMENT
2.17%
DYNAMITE ENTERTAINMENT
2.05%
TITAN PUBLISHING
0.95%
AVATAR PRESS INC
0.94%
ONI PRESS INC.
0.89%
OTHER NON-TOP 10
8.05%

UNIT MARKET SHARE
PUBLISHER
SHARE
MARVEL COMICS
36.33%
DC ENTERTAINMENT
33.90%
IMAGE COMICS
11.18%
IDW PUBLISHING
4.78%
DARK HORSE COMICS
2.92%
BOOM ENTERTAINMENT
1.98%
DYNAMITE ENTERTAINMENT
1.78%
VALIANT ENTERTAINMENT LLC
0.97%
TITAN PUBLISHING
0.90%
ARCHIE COMIC PUBLICATIONS
0.85%
OTHER NON-TOP 10
4.42%
NEW TITLES SHIPPED
| | | | | |
| --- | --- | --- | --- | --- |
| PUBLISHER | COMICS SHIPPED | GRAPHIC NOVELS SHIPPED | MAGAZINES SHIPPED | TOTAL SHIPPED |
| MARVEL COMICS | 88 | 40 | 1 | 129 |
| DC ENTERTAINMENT | 88 | 33 | 1 | 122 |
| IDW PUBLISHING | 61 | 31 | 0 | 92 |
| IMAGE COMICS | 74 | 15 | 0 | 89 |
| DARK HORSE COMICS | 32 | 24 | 0 | 56 |
| BOOM ENTERTAINMENT | 39 | 11 | 0 | 50 |
| DYNAMITE ENTERTAINMENT | 35 | 4 | 0 | 39 |
| AVATAR PRESS | 12 | 2 | 1 | 15 |
| TITAN PUBLISHING | 7 | 3 | 4 | 14 |
| ONI PRESS | 8 | 5 | 0 | 13 |
| OTHER NON-TOP 10 | 101 | 146 | 37 | 284 |
COMPARATIVE SALES STATISTICS
DOLLARS
UNITS
APRIL 2015 VS. MARCH 2014
COMICS
32.70%
27.45%
GRAPHIC NOVELS
41.29%
41.25%
TOTAL COMICS/GN
35.22%
28.45%
APRIL 2015 VS. APRIL 2014
COMICS
19.75%
22.50%
GRAPHIC NOVELS
13.45%
10.03%
TOTAL COMICS/GN
17.75%
21.40%
YEAR-TO-DATE 2015 VS. YEAR-TO-DATE 2014
COMICS
15.58%
16.22%
GRAPHIC NOVELS
4.37%
-3.63%
TOTAL COMICS/GN
12.00%
14.47%
TOP 10 COMIC BOOKS
| | | | | |
| --- | --- | --- | --- | --- |
| RANK | DESCRIPTION | PRICE | | VENDOR |
| 1 | STAR WARS #4 | $3.99 | | MAR |
| 2 | CONVERGENCE #0 [*] | $4.99 | | DC |
| 3 | CONVERGENCE #1 [*] | $4.99 | | DC |
| 4 | BATMAN #40 | $4.99 | | DC |
| 5 | DARTH VADER #4 | $3.99 | | MAR |
| 6 | CONVERGENCE #2 [*] | $3.99 | | DC |
| 7 | CONVERGENCE #3 [*] | $3.99 | | DC |
| 8 | KANAN: THE LAST PADAWAN #1 | $3.99 | | MAR |
| 9 | CONVERGENCE #4 [*] | $3.99 | | DC |
| 10 | PRINCESS LEIA #3 | $3.99 | | MAR |
TOP 10 GRAPHIC NOVELS
| | | | | |
| --- | --- | --- | --- | --- |
| RANK | DESCRIPTION | PRICE | | VENDOR |
| 1 | THE WALKING DEAD VOLUME 23 TP | $14.99 | | IMA |
| 2 | AVENGERS: RAGE OF ULTRON HC | $24.99 | | MAR |
| 3 | FABLES VOLUME 21: HAPPILY EVER AFTER TP (MR) | $17.99 | | DC |
| 4 | BATMAN VOL. 5: ZERO YEAR: DARK CITY TP (N52) | $16.99 | | DC |
| 5 | SAGA VOLUME 4 TP (MR) | $14.99 | | IMA |
| 6 | JUPITER'S LEGACY VOLUME 1 TP (MR) | $9.99 | | IMA |
| 7 | HARLEY QUINN VOL. 1: HOT IN THE CITY TP (N52) | $16.99 | | DC |
| 8 | BATMAN VOLUME 6: THE GRAVEYARD SHIFT HC (N52) | $24.99 | | DC |
| 9 | THE WALKING DEAD VOLUME 1: DAYS GONE BYE TP | $14.99 | | IMA |
| 10 | LUMBERJANES VOLUME 1 TP | $14.99 | | BOO |
TOP 10 BOOKS
| | | | | |
| --- | --- | --- | --- | --- |
| RANK | DESCRIPTION | PRICE | | VENDOR |
| 1 | STAR WARS: DARTH VADER & FRIENDS HC | $14.95 | | CHR |
| 2 | THE ART OF HE-MAN AND THE MASTERS OF THE UNIVERSE HC | $39.99 | | DAR |
| 3 | WILLIAM SHAKESPEARE'S STAR WARS: FORSOOTH, THE PHANTOM MENACE HC | $14.95 | | RAN |
| 4 | JOHN ROMITA'S AMAZING SPIDER MAN ARTIFACT EDITION | $112.50 | | IDW |
| 5 | DC SUPER HEROES: MY FIRST BOOK OF GIRL POWER BOARD BOOK | $9.99 | | POC |
| 6 | STARLING: ASHLEY WOOD BOOK 1 HC | $17.99 | | IDW |
| 7 | NEIL GAIMAN'S CHU'S DAY AT BEACH HC | $17.99 | | HAR |
| 8 | THE SHADOW DOUBLE NOVEL VOLUME 94 SC | $14.95 | | SAN |
| 9 | THE SHADOW DOUBLE NOVEL VOLUME 95 SC | $14.95 | | SAN |
| 10 | GAME OF THRONES: HAND OF THE KING WAX SEAL KIT | $12.95 | | RUN |
TOP 10 TOYS
| | | | |
| --- | --- | --- | --- |
| RANK | DESCRIPTION | | VENDOR |
| 1 | BATMAN ANIMATED: BATMAN THE ANIMATED SERIES: THE JOKER FIGURE | | DC |
| 2 | STAR TREK: USS ENTERPRISE NCC-1701-A SHIP | | DST |
| 3 | MARVEL: CAPTAIN AMERICA 8-INCH RETRO ACTION FIGURE SET | | DST |
| 4 | DC COMICS: BATWOMAN BISHOUJO STATUE | | KOT |
| 5 | BACK TO THE FUTURE: FLUX CAPACITOR UNLIMITED EDITION | | DST |
| 6 | BATMAN ARKHAM KNIGHT: BATMAN ACTION FIGURE | | DC |
| 7 | AVENGERS INFINITE LEGENDS 6-INCH ACTION FIGURES | | HAS |
| 8 | BATMAN ARKHAM KNIGHT: HARLEY QUINN ACTION FIGURE | | DC |
| 9 | ONE:12 COLLECTIVE: BATMAN THE DARK KNIGHT RETURNS FIGURE | | MEZ |
| 10 | ARROW: ARROW ACTION FIGURE | | DC |
TOP 10 GAMES
| | | | |
| --- | --- | --- | --- |
| RANK | DESCRIPTION | | VENDOR |
| 1 | MARVEL HEROCLIX: AVENGERS AGE OF ULTRON FOIL PACKS | | NEC |
| 2 | DC DICE MASTERS: JUSTICE LEAGUE FOIL PACKS | | NEC |
| 3 | MARVEL HEROCLIX AVENGERS QUICK START KIT | | NEC |
| 4 | THE WALKING DEAD PRISON BOARD GAME | | MEG |
| 5 | STAR WARS: ARMADA BOARD GAME | | FAN |
| 6 | MARVEL HEROCLIX: AVENGERS AGE OF ULTRON STARTER SET | | NEC |
| 7 | JAY & SILENT BOB STRIKE BACK MONOPOLY | | DIA |
| 8 | DC DICE MASTERS: JUSTICE LEAGUE STARTER SET | | NEC |
| 9 | MONOPOLY: THE WALKING DEAD SURVIVAL EDITION | | USA |
| 10 | DC HEROCLIX: JUSTICE LEAGUE TRINITY WAR BOOSTER BRICK | | NEC | Dollar Market Share – April 2015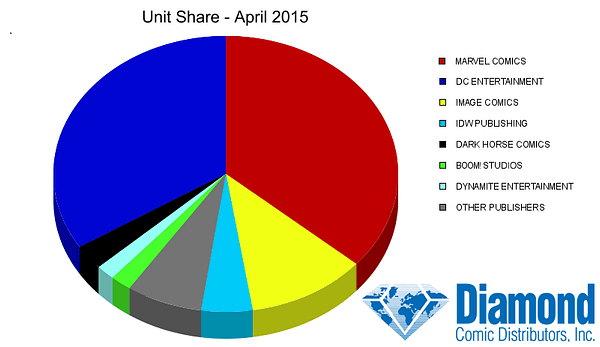 Unit Market Share – April 2015