Batman Vs Green Arrow in the Latest DC Versus
For years people have been saying that Green Arrow is just a copy of Batman. And in a many ways, they're right. Green Arrow was created by Mort Weisinger and George Papp in More Fun Comics #73 (1941) when DC was actively trying to follow up on the success of Superman and Batman a year or two prior. Weisinger said he was inspired by Robin Hood and the movie serial The Green Archer and then added elements from the Batman series that were working like gadgets, vehicles, billionaire playboys and a sidekick. And for most of his first 28 years he remained a Batman clone. And then he was given to Denny O'Neill and Neal Adams who grew out his beard into a Van Dyke, a new costume and a more liberal attitude and Oliver Queen took a far left turn away from Bruce Wayne.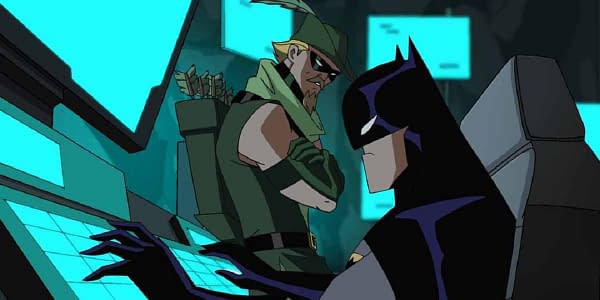 As for pitting the two against each other, it has happened a few times in the comics. But in a fresh fight it really comes down to their brains as I think they are pretty close to equal fighting wise. They've both honed their bodies to peak perfection, they've both studied multiple martial arts, weapon use and any thing else that might help a person kick another person's butt. And they both have an array of gadgets, Green Arrow just attaches arrow shafts to all of his. I think this fight goes to Batman 9 times out of 10 for his ability to out think his opponents. That 10th time is if Oliver comes in fast, does the unexpected and keep pounding on Bruce until he drops. I'll call Batman the winner… even though Green Arrow is my favorite DC Hero.