A New Big Bad Is Born for Batman's Rogue Gallery – Batman #38 SPOILERS
This one has been coming a long while. Tom King talked about Batman #38 originally being planned as something separate, outside the Batman twice-monthly comic, such as the recent Batman Annual, or a one-shot, or a mini-series, but was talked into making it part of the ongoing series. And that the story's appearance in Batman #38, splitting up the Superfriends arc was so that Joelle Jones could draw the Wonder Woman issues of that storyline. And so the story that will introduce Tom King's first originated Batman villain is published today. He promises that the villain will play a big role going forward. Which is why today's issue, The Origin Of Bruce Wayne by Tom King, Travis Moore and Giulia Brusco, which we have described as Tom King's Killing Joke by way of The Boy Who Collected Spider-Man, as more of a Shut Up And Dance than the San Junipero spirit of late, and is going to have an even greater impact.
The first print sold out at Diamond Comic Distributors before Christmas – we did tell you to reserve a copy if you wanted one. Retailers did bump up orders big time but it wasn't enough. I expect DC Comics already sent it back for a second print which they will announce today, and people are already paying $6 to $8 on eBay for the most highly printed comic book this week which should be available in all comic shops for $2.99. Should be.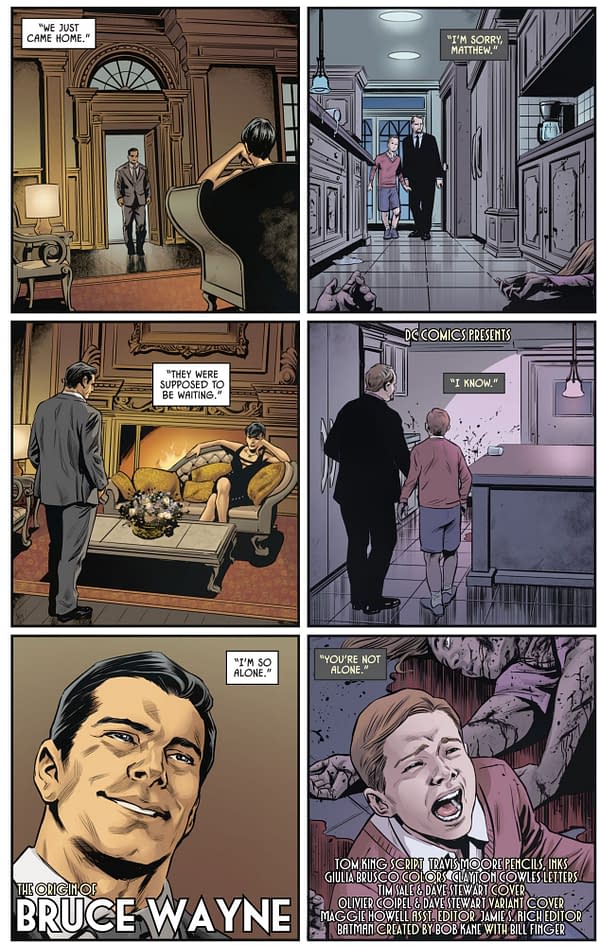 And so we have a tale of two boys. Both whose parents have been murdered most foully, by unknown figures. Bruce Wayne became Batman and eventually found Joe Chill. Matthew Warner… what will it do to him?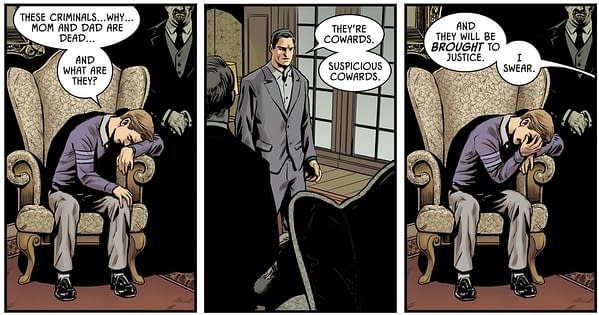 He already relates to Bruce Wayne as a figure far too much as it is, and with his own butler who plays along with that fantasy far too much. We have seen what the death of Bruce's parents did to him. We have seen what the death of the Joker's wife and their unknown child did to him. But we also saw Jim Gordon survive a similarly traumatic experience, relatively unchanged. So what fate for Matthew Warner?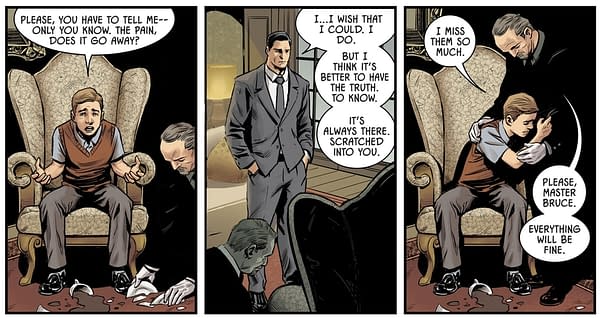 "It's always there… scratched into you." Oh Bruce, you had to suggest the idea…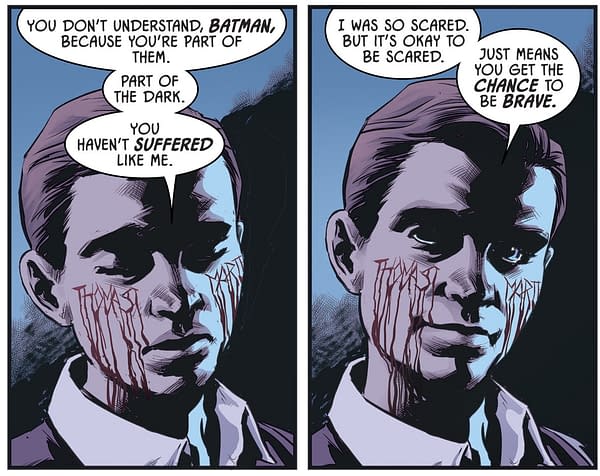 Batman villains are, like James Bond and Dick Tracy villains, often highlighted by facial disfigurements. The Joker's bleached skin and rictus grin. The Penguin's nose. Two-Face's half face. And now Matthew Warner, with Bruce Wayne's parent's names carved into his own face, always mocking, always taunting, always reminding him.
I mean, you saw what it was like in Batman Vs Superman when Superman merely mentioned Martha. What now that a new villain has his parents names carved on each cheek?
BATMAN #38
(W) Tom King (A) Travis Moore (CA) Tim Sale
"THE ORIGIN OF BRUCE WAYNE"! If Mattie could grow up to be anybody, he'd grow up millionaire playboy Bruce Wayne. But what would happen if he was forced to relive the worst tragedy of Bruce's life and his parents were murdered? Batman's hunt for the killer puts him face to face with a strange mirror version of his own past.
RATED T
In Shops: Jan 03, 2018
SRP: $2.99