The Dangers Of A Big Speech, in Empyre: Avengers #0 (Spoilers)
We mentioned this a while back, Empyre: Avengers #0. Marvel did a good job of summing up the various histories involved in last week's Road To Empyre. That includes the family from the recent Meet The Skrulls, to the origins of the battle between the war-loving Kree and the peaceful sentient plants, the Cotati for the favours of the Skrulls. That turned into the destruction of the Cotati and the transformation of the Skrull and Kree into warlike empires, only for the child of both Empires, Hulking, destined to join them, alongside the legacy of the Celestial Messiah. If your comic shop is still open, it's worth grabbing a copy.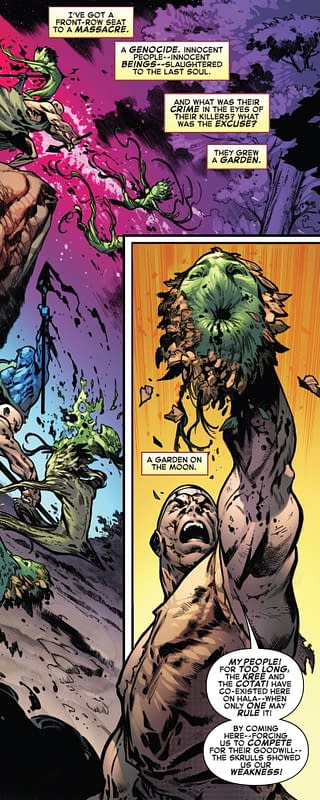 Empyre: Avengers #0 and Knowing the Cotati, Skrull and Kree
It begins with another portrayal of that Cotati massacre by the Kree and their warrior leader Morag, and with Tony's vision of it granted him by Immortus. Written by Al Ewing, this means a deep dive into the back issues but drawn by House Of X team Pepe Larraz and Marte Gracia. This is also one of the best-looking superhero comics right now, their work is a successor to the likes of Neal Adams, Alan Davis, and Bryan Hitch, with a stylised reality combined with a believable physical framework.
Anticipating the Kree/Skrull Armada
We've looked at how the Krakoan floral rules of the X-books may feature in this event. It involves the Cotatu, and in the beginning the comic heads to the Blue Area Of the Moon. The Blue Area of the Moon has a storied history: it is the Kree-built city in which Uatu The Watcher lived. The Kree built it as a demonstration to the Skrulls that the Kree were superior to their planet-mates the Cotatu. All the while, the Cotatu just grew foliage, and a millennia later, that foliage is growing back over the Kree city. It seems to be anticipating the Kree/Skrull armada returning to wipe out their greatest mistake.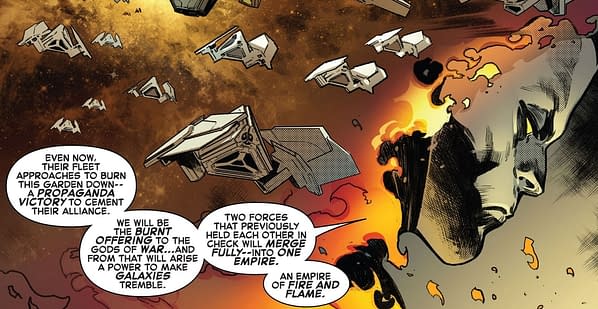 Is this why Empyre is spelt as such? Indicating that the Cotati to be burned away? The only words of warning in Empyre: Avengers #0 are from Carol Danvers, picking up on a certain Marvel: Incoming plot point.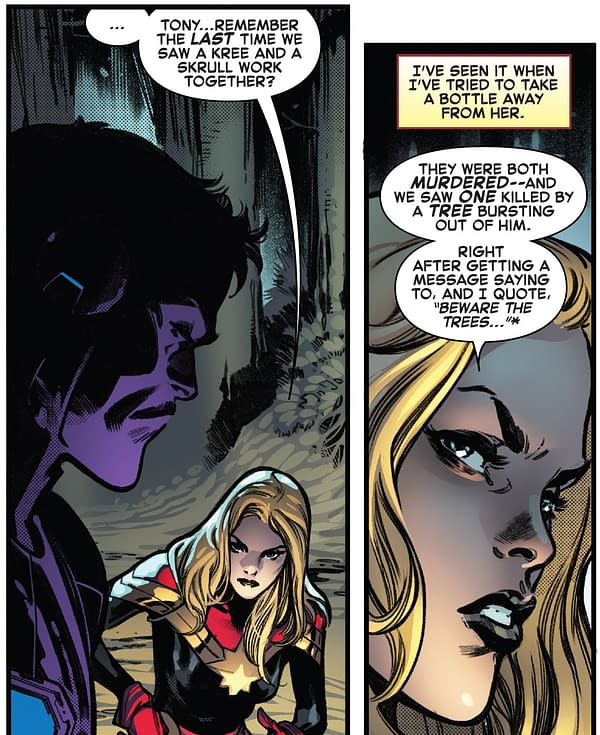 But these are words spoken quietly, and there are words to be spoken loudly instead, from an Iron Man with his speakers turned up.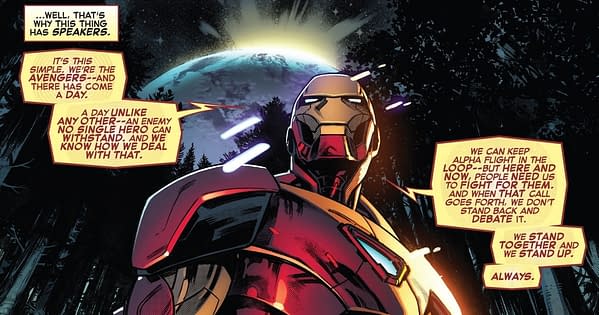 Superhero comic books, especially team books, are full of big speeches and Empyre: Avengers #0 is no different. The rallying cry, whether from Tony Stark, Steve Rogers or Carol Danvers. The words that inspire those to look past their petty differences and join a common crew with a noble goal and a moral surety. Whether about to go into war, the football field, or a presentation to accounts. All objection is dismissed, unity is all. Oorah.

Untangle the politics later. And unity all round. This is going to end very, very badly isn't it? Beware the trees…
EMPYRE AVENGERS #0
(W) Al Ewing (A) Pepe Larraz (CA) Jim Cheung
Tony Stark wakes from strange dreams – as old allies make a distress call to the Avengers. In the new Green Area of the Moon, the Cotati are waiting with news of a terrible enemy that could wipe out both them and humanity itself. The Celestial Messiah has returned… but are the Avengers ready to hear his message? Rated T+ SRP: $4.99