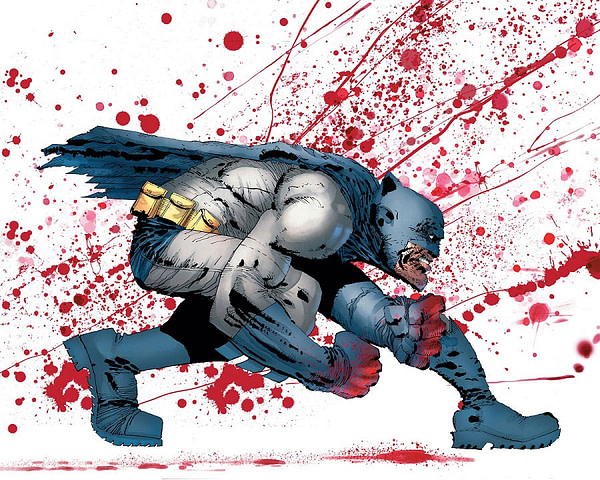 This is the Top Ten Bleeding Cool Bestseller List, as compiled by a number of comic stores from their sales on Wednesday and Thursday. It measures what are known as the "Wednesday Warriors", those who can't wait to the weekend to get this week's comics. We salute you, and the keenness you bring to your passion.
No guesses for the number one bestselling comic this week…. but in a heavy hitting week, Saga continues to beat some of the traditional opposition, Silk launched well and Justice League didn't drop despite the last minute creative change.
1. Dark Knight III The Master Race #1
2. Darth Vader #13
3. Guardians Of The Galaxy #2
4. All-New Wolverine #2
5. Saga #31
6. Justice League Of America #5
7. Batman & Robin Eternal #8
8. Silk #1
9. Carnage #2
10. Venom: Space Knight #2
Thanks to these retailers,
Who had this to say,
DK III killed the competition – nothing even came close, selling about 5x the number of copies as the #2 ranked book.
Wednesday before THANKSGIVING is always a mixed bag, with some customers having left out of town to visit family while others have the day off and are able to come in. Not the regular Wednesday crowd.

No surprises here, but Dark Knight 3 came out on top for us. This book sold in DROVES, and we had tons of people coming in that we've never seen before looking to pick this up. Marvel has some good sellers as well, and Image had a good showing with Saga and Jupiter's Circle vol 2.

Batman Europa is DOA here. We even kept it on the new release rack NEXT to DK3 and customers still didn't care. DK3 Variants are selling pretty hot for us as well. We've had people calling us to get all the variants in the set as well!

Better Wednesday than I thought it would be with Thanksgiving here. Dark Knight was easily the winner this week. We even had the store's logo variant cover ordered so it really wasn't a fair contest. Darth Vader was very good again. Below the top two it gets a little out of wack with people being out of town and others visiting from out of town with the holidays here. Hopefully Friday will be a good sales day.

The Civil War teaser that came out today really helped Captain America back issue sales. Oh Supergirl where are you? People really would like to get a monthly comic. At least next week Daredevil finally returns to the monthly grind.

DC got four books into the Top Ten this week–three of them Bat-family titles, all of which benefited from the Dark Knight Effect–people who came in to check out Dark Knight III #1 picked up other bat-books while they were here (Batman & Robin Eternal #8 sold 50% better than #s 5, 6, or 7 did on the first day, proving the strength of a book "tentpole book.") As for DK3 — it outsold the second place title 3 to 1 in our store. Most Marvel second issues plummeted in sales, as readers aren't caring very much for what they're seeing. Marvel had a chance to get lots of readers on board their relaunch, but they've bungled it with too many badly written, badly drawn books designed to please the Social Justice Warriors, but not the readers who actually buy books.

Strong interest in Marvel's cosmic books from the 1980s and 1990s, in particular Silver Surfer.

Just like most stores, their Exclusive was their #1 selling book of the week. We were no different.  Rick and Morty Holiday Special #8 store Exclusive  sold more copies then the whole top 9 combined.  Let's get back to the real world though. Dark Knight Takes the #1 spot by far, with no competition.  Darth Vader came in about 100 copies less for 2nd place.  Fight Club and Rick and Morty regular covers came in 3rd and 4th.  To our surprise, what we deemed as a slow book, Chewbacca comes in a solid 5th.  Silk hits the market strong in 6th place and new Wolverine gets the 7th spot.  Carnage and GOTG take 8th and 9th and of course finish the Marvel domination this week.   Outcast comes in a very low spot at 10th.  Over all this week was one of our best weeks ever for New issues.  We have been having almost 70% sell throughs of our new issues by the time  Friday rolls around, versus last year 58% sell through.  Star Wars Dark Horse comics have been a huge seller for us as well.