This is the Top Ten Bleeding Cool Bestseller List, as compiled by a number of comic stores from their sales on Wednesday and Thursday. It measures what are known as the "Wednesday Warriors", those who can't wait till the weekend to get this week's comics. We salute you, and the keenness you bring to your passion.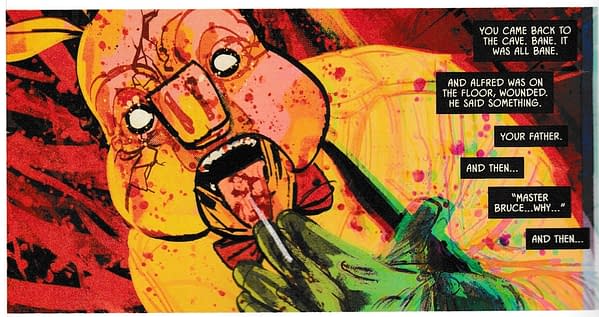 Batman #62 takes the top, though Young Justice #1 came close and in some stores topped it. Either way, DC Comics outstripped the competition, Kieron Gillen on Die #2 beat out his Star Wars #59, Captain Marvel #1 did not launch well…but Criminal #1 really did.
Top ten bestsellers:
Batman #62
Young Justice #1
Justice League #15
Green Lantern #3
Friendly Neighborhood Spider-Man #1
Avengers #12
Criminal #1
Uncanny X-Men #9
Die #2
Man Without Fear #2
Thanks to the following retailers:
Who had this to say:
Batman takes the top spot at FFF for our Weekly Top Ten bestseller list. Die was our second best selling book following the first issue's similar success. Friendly Neighborhood Spider-Man and Young Justice both sold well on their first issues. We sold more of the Jorge Jimenez cover than any other including the main. And Artgerm is always a crowd pleaser. Green Lantern was our fourth bestselling issue this week which a bit of a surprise. Morrison has his fans, but even most of them seem to not enjoy the book. Either those people are buying it anyway, or a new collection of fans has emerged. Either way, I'm fine with it as long as the books are selling!
—-
Same as it ever was. Tom King Batman was #1. Young Justice made a great debut. A lot of people requested the Superboy cover specifically on the title. Sales on this were a stark contrast with Captain Marvel, which didn't even make the list. The only thing it shares in common with Young Justice was people requesting any cover besides 'A'. More than a few people commented on it having an ugly cover and lackluster interiors. I feel like this was the worst "high profile" Marvel launch in some time.
—-
While we've got Batman in its usual top spot, things got shaken up at least a little this week with a couple of fun new #1's flying off the shelves. Namely the excellent Friendly Neighborhood Spider-Man and very solid meat-and-potatoes super-team book Young Justice.
The rest of the list is pretty by the books: we've got Green Lantern, Uncanny X-Men, Avengers, etc. The second issue of the phenomenally excellent DIE managed to make the cut this week (the first issue picked up a lot of steam the week following its release). Would like to see more books like that in our top sellers.
—-
Wow, January is here and this is one very cold sales week. Hopefully, most people are just recovering from their holiday spending and will be back in. Covers are what sold this week. A website reported on the variants for Batman and Harley Quinn so they have both seen a big boost. All our Frank Miller Batman variants were sold out by Wednesday. This put Batman back in first place for our top ten. Green Arrow, while not mentioned on the website, sold very well with its Neal Adams variant. Friendly Neighbor Spider-Man did make the top ten, but not nearly as high as I would have liked for a new Spider-Man series. Hoping it is not another Peter Parker Spectacular Spiderman where most people just ignore the title and stick to the main Amazing Spider-Man title. Hopefully, next week's sales are much better.
—-
A five-five split between Marvel and DC this week, with Young Justice taking the top slot by two copies over Friendly Neighborhood Spider-Man, thanks entirely to a couple of customers buying one each of every variant cover for Young Justice. Surprised to see how quickly Green Lantern is dropping down our charts–I would have thought a new Grant Morrison series would be at the top of the charts, but a number of readers tell us that this one isn't really clicking for them.
—-
Notable sales: Batman #608 NM $20 The rollercoaster of Hush prices. This week it's $20, next week it could be $4.
Enjoyed this article? Share it!