In October, comic book retailers got a postcard suggesting that Marvel were to follow up the revitalsed Secret Wars with a Civil War sequel, Civil War 2 in spring 2016.
Well, so it has come to pass. And now retailers have had a promotional Marvel calendar confirming it. And naming Brian Michael Bendis and David Marquez, the current Invincible Iron Man team, as the creators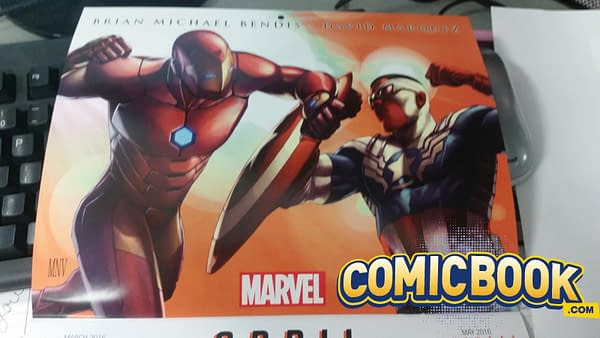 ComicBook got confirmation from Marvel and state that it wont be coming out in April, suggesting instead that it will be May, alongside the release of the Captain America: Civil War movie…
UPDATE: In what might be called a CBTwitch, Marvel have run info on their website:
"The original CIVIL WAR is one of the most important Marvel comics ever, and we are all very excited to have come up with what we hope is a story worthy of the title," echoes Bendis. "If you are scared of earth shattering Marvel events where no one is safe…be afraid, be very afraid."
Enjoyed this article? Share it!