Brian Bendis Appears to Have Been Hacked (Updated)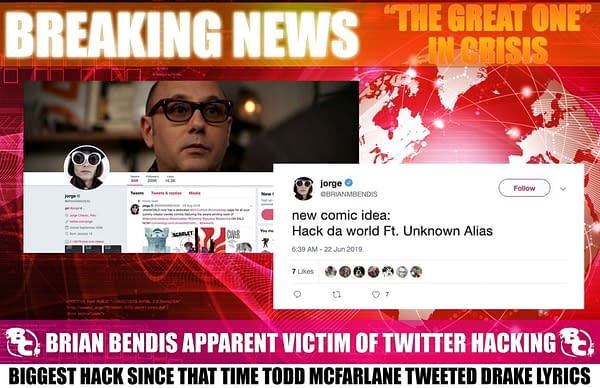 Superstar comic book writer "The Great One" Brian Bendis is either going through a really bizarre mid-life crisis or his Twitter account has been hacked. Right up until a retweet of a post from Big Bang Comics made early Sunday morning, Bendis's Twitter account was business as usual, but at 9:39AM Eastern Time, The Great One tweeted:
https://twitter.com/BRIANMBENDIS/status/1142426806211022849
Bendis's account was also renamed "jorge !", and his profile information changed to look like this:
It's possible that Bendis really is teasing a new comic. Maybe he's going full method actor, like Jared Leto sending poop to Suicide Squad co-stars or whatever it is he did, in promoting the exciting new DC Black Label hit, Hack Da World. But probably not. More likely, Bendis's account has been compromised, though in a far less thrilling manner than the time Todd McFarlane's account was hacked for several days in 2015 and began tweeting Drake lyrics and proclaiming that Tupac was still alive. Sadly, thus far, it doesn't look like anything nearly as exciting will come from this, though the day is still young, and a lot of Drake songs have come out since 2015.
UPDATE: Shortly after the initial tweet, the hacker(s) changed the account name once again, this time to "Wyze is poor," with a new profile pic.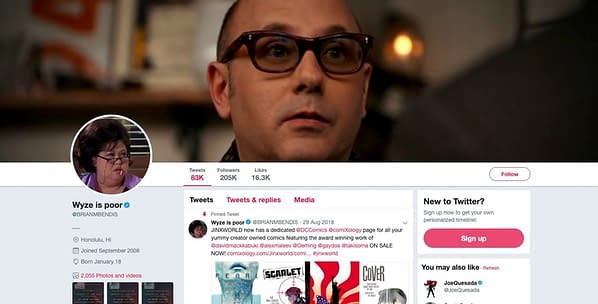 After that, Bendis's account began posting more rapidly: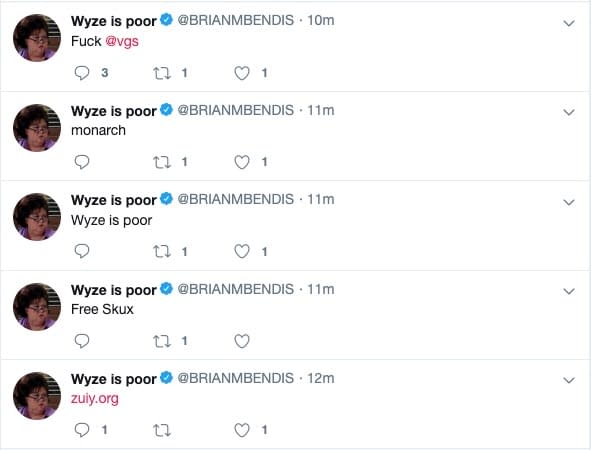 The link heads to a website with an intro graphic that redirects to a discord chat. The VGS account linked in the most recent profane tweet appears to belong to a video gaming group. We'll continue to monitor this situation on what could end up being a pretty interesting Saturday for the comics new business.
And to "The Great One," when you do regain control of your account, may we recommend enabling two-step authentication in Twitter following this handy guide?
UPDATE 2: Possibly in reference to DC Comics recently rebranding and closing Vertigo, Bendis's Twitter has rebranded once again, changing its name to "shoutout aly" and reversing its previous position on VGS:

The account also posted a link to a rap song called Crypto Criminals on Soundcloud:
https://soundcloud.com/mids/crypto-criminals