Marvel Editor-in-Chief C.B. Cebulski took to Twitter Tuesday to call out comic book website Newsarama for daring to guess which upcoming comic book Cebulski claimed would sell a million copies.
@Newsarama I don't believe I ever said which comic I thought would sell a million copies. Please don't assume and put words in my mouth. Thanks.

— C.B. Cebulski (@CBCebulski) June 25, 2019
Now look, we love a good Newsarama bashing as much as the next guy, but is Cebulski really in any position to complain here?
Cebulski's first made the claim back in May, shortly before Marvel announced Marvel Comics #1000, an 80-page anthology celebrating Marvel's 80th-anniversary featuring 80 creative teams, 80% of which consisted of writer Al Ewing (and far less of which were women). Besides Ewing, the lineup did feature some big names, both returning Marvel creators and people from outside the industry, making it a reasonable assumption that this was the million-copy comic Cebulski was referring to. But apparently not.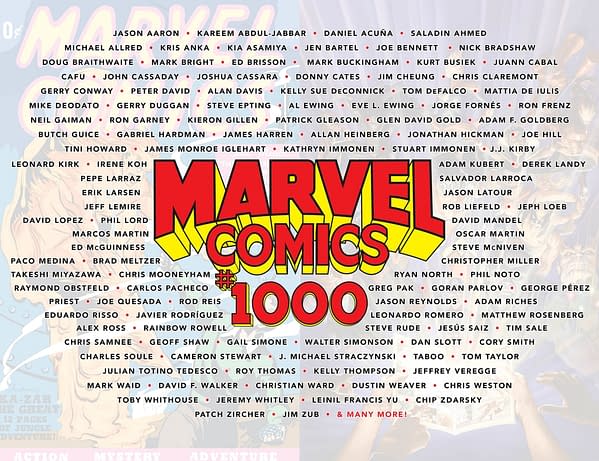 Then again, Cebulski's track record with delivering on Marvel hyperbole is spotty at best. Just check out Cebulski's recent claims about a comic which he claimed would make the "industry's collective jaw-drop."
Almost time for @Marvel's big announcement! Almost time for the comic industry's collective jaw-drop!! #MarvelComics

— C.B. Cebulski (@CBCebulski) June 20, 2019
That comic turned out to be a Spider-Man book written by the twenty-year-old son of J.J. Abrams, which did cause a jaw-drop of sorts, but mostly in terms of people wondering how Marvel could be so tone-deaf as to expect a jaw-drop over letting a kid with no prior comic book writing experience write Marvel's most well-known character just because of who his dad is.
Further, the claim that Marvel could sell a million copies is spurious from the outset. When Marvel talks about comic book sales numbers, they refer to copies of comics sold to retailers, and the House of Ideas has spent the last two decades embracing ways to increase those without actually increasing readership, often relying on gimmicks like number one issue relaunches, loot crate giveaways, super-mega-crossover event tie-ins, and incentive variant covers to convince retailers to order more copies of comics than they can actually sell, often resulting in comics sitting unsold on shelves while retailers make their money back by selling the rare variants for higher profits. It looks good on Marvel's bottom line, but if the comics don't actually end up in the hands of actual readers, what purpose do they serve?
ComicBook.com's Chase Magnett eloquently explained what selling a million copies of a comic really means in the article Why You Can't Sell 1,000,000 Comics in the Direct Market.
In any case, if it wasn't Marvel Comics #1000, and it wasn't the Abrams Spider-Man comic, which comic is Cebulski actually claiming will sell a million copies? The truth is, Cebulski probably doesn't even know himself. If we had to guess, he probably thought the reaction to Marvel Comics #1000 would be better, and when that didn't work out, he clearly thought the reaction to Abrams Spider-Man would be better than it was. But by remaining vague about it, he can just keep claiming, "that's not it" and keep trying again.
We'll see if Marvel can prove us wrong at San Diego Comic-Con next month. Or maybe next year. Cebulski never said when Marvel will publish the million-copy-selling comic, after all. If they could actually pull it off, for real, it would be great for the industry and great for everyone. But as the old saying goes, fool us Marvel 1000 times, shame on you, fool us Marvel 1001 times, shame on us.
Enjoyed this article? Share it!