Harley Quinn #60 hits stores from DC Comics tomorrow, and a preview of the issue shows Harley in the midst of a very important mission: she's looking to get her hands on "some fancy cancer-fightin' stuff." It all begins with Harley breaking into Star Labs, but she wants readers to know she's not there for selfish reasons… she's doing it for her mother, which is as good a reason as any to break into a high tech science lab on Coney Island…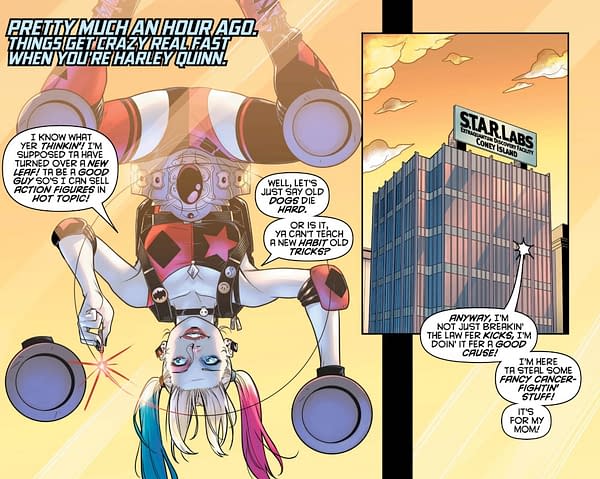 Even if this is explicitly not what her mom actually wanted her to do. Under any circumstances.

Unfortunately, no good deed goes unpunished, as Harley soon finds herself swarmed by monsters.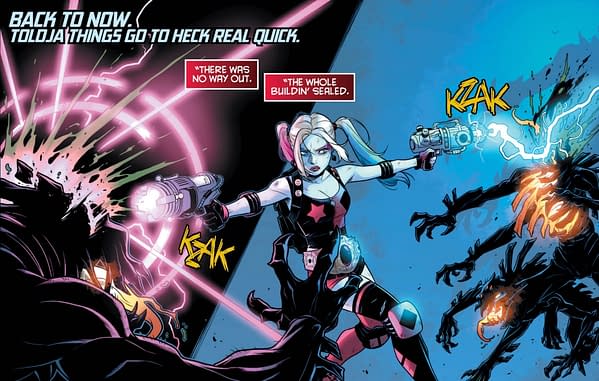 Will Harley manage to find the cure for cancer in Star Labs? Or will all this violence be for nothing? We'll have to find out when Harley Quinn #60 hits stores tomorrow.
Harley Quinn #60
(W) Sam Humphries (A) Sami Basri (CA) Guillem March
Harley is trapped in S.T.A.R. Labs with no escape! Abandoned and alone, the former Clown Princess of Crime must face down a horde of invading interdimensional aliens… but is she locked in there with them-or are they locked in there with her?
In Shops: Apr 03, 2019
SRP: $3.99
Enjoyed this article? Share it!