There are always a few changes 'twixt solicitation and publication for bigtime comic book publishers. Sometimes they get the details wrong, sometimes the situation changes, sometimes they change their collective corporate minds. Ch-Ch-Changes is there to try and keep you up to date with some of the bigger amends to creators, credits and story details.
Captain America #700 will now have art by Leonardo Romero, in addition to the previously solicited Chris Samnee.
Spider-Man/Deadpool #31 will now have art by Flaviano Armentaro, instead of the previously solicited Chris Bachalo.
And Wonder Woman #43 will now have art by Marco Santucci, instead of the previously solicited Stephen Segovia.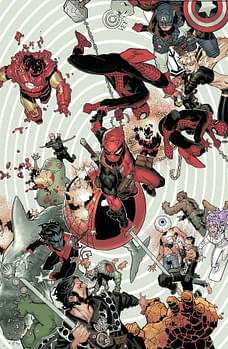 SPIDER-MAN DEADPOOL #31 LEG
(W) Robbie Thompson (A) Flaviano Armentaro (CA) Chris Bachalo
SPIDER-MAN/DEADPOOL vs. EVERYONE!
• Spider-Man and Deadpool have done something with grave consequences.
• Those consequences? Oh, all-out war on our heroes at the hands of all the super heroes of the Marvel Universe.
• This arc will change the way you look at your favorite heroes. And we don't just mean Spider-Man and Deadpool.
Rated T+In Shops: Apr 11, 2018
WONDER WOMAN #43
(W) James Robinson (A) Marco Santucci (CA) Paul Renaud
"Amazons Attacked" part three! All his life, Wonder Woman's brother Jason has longed to meet his mother, Hippolyta, but the machinations of the gods have made it impossible. But now, with the barrier between worlds at its thinnest, could they come face to face at last? Should Wonder Woman help him return home, if it could lead to the destruction of the Amazons? In Shops: Mar 28, 2018
SRP: $2.99
CAPTAIN AMERICA #700 LEG
(W) Mark Waid (A) Leonardo Romero (A/CA) Chris Samnee
OUT OF TIME CONCLUSION!
Cap is finally "OUT OF TIME"!
• Frozen in time, awakened in a decimated future and once again a man out of his era, there is only one way for Steve Rogers to restore order and rebuild civilization-and that's to rule it as King Captain America! No dream, no hoax, no lie, this IS Cap and this IS happening, believe it or not!
• PLUS: Mark Waid delivers an untold tale from Captain America's past, featuring the classic artwork of Jack Kirby!
Rated T+In Shops: Apr 11, 2018
SRP: $5.99
Enjoyed this article? Share it!