Christopher Priest wrote the latter half of the '90s comic book Justice League Taskforce, from issue 18 to its final issue, 36. A much-admired comic book and superhero writer, that was the only time he wrote for the Justice League books.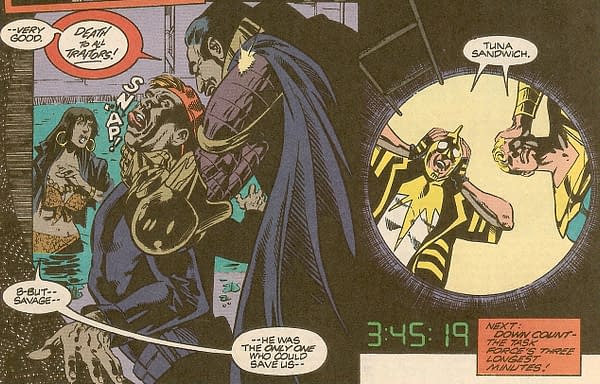 Until December, when he will take over writing Justice League for a two-part story with Pete Woods on art called, simply, Lost. Focusing on a sleep-deprived Batman, as useful as a tuna sandwich, who makes a very big mistake indeed, regarding the Justice League.
During his run on Justice League Taskforce, Christopher Priest established a piece of the series' lexicon: the tuna sandwich. When debating Vandal Savage's intelligence, Triumph asserted that Vandal Savage was a super-genius, not a tuna sandwich. Throughout the series, "tuna sandwich" became a euphemism for someone of low intelligence.
Will Justice League give Priest a chance to revive the term?
Enjoyed this article? Share it!