Comics & Complication – Exploring Problematic "Patriotism"
Welcome to the fifth Comics & Complication series. The first dealt with the concept of heroism and The Nail, the second looked into anger and World War Hulk, the third is about comics as propaganda for social change, and the fourth entry is about Spider-Man and his place in the health care system. The American flag has long stood as an intended representation of valor, purity, and justice; in fact, each of these virtues is shown in the iconic blend of red, white, and blue. With the Golden Age of Comics beginning in 1938 and World War II following in 1939, comic creators were quick to jump on the patriotic movement and establish that the United States and heroism go hand in hand. At the forefront of this patriotism, theme was Captain America, gracing covers with punching Hitler in the face and being the poster boy for liberty standing in the way of total dictatorship.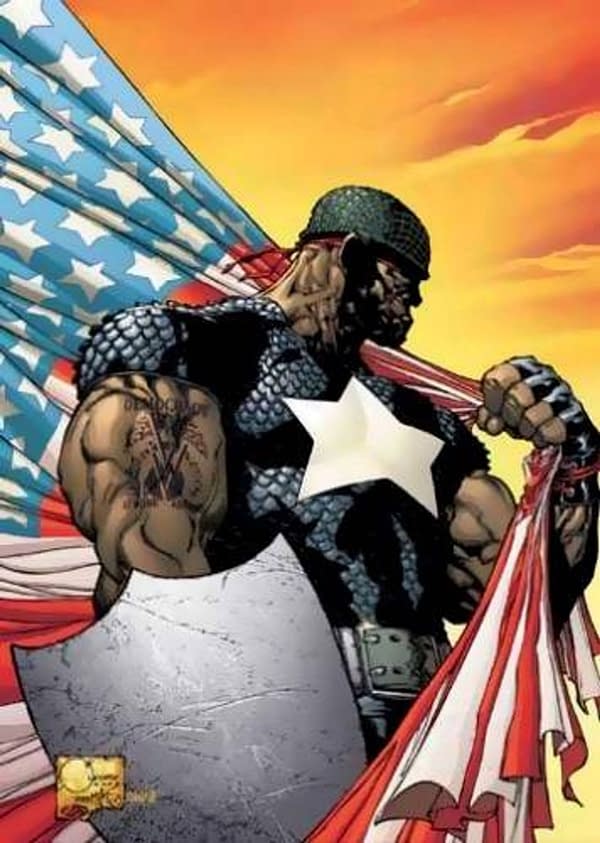 Although Captain America, created by Joe Simon and Jack Kirby in 1941, is easily the most recognized hero to don Old Glory, he is far from the first patriotism based hero. He was preceded in 1940 by The Shield, created by Harry Shorten and Irv Norvick of MLJ (now known as Archie Comics). This established a long tradition of flag-wearing heroes like Liberty Girl, Isaiah Bradley, and in its strangest reiteration…Ronald Reagan.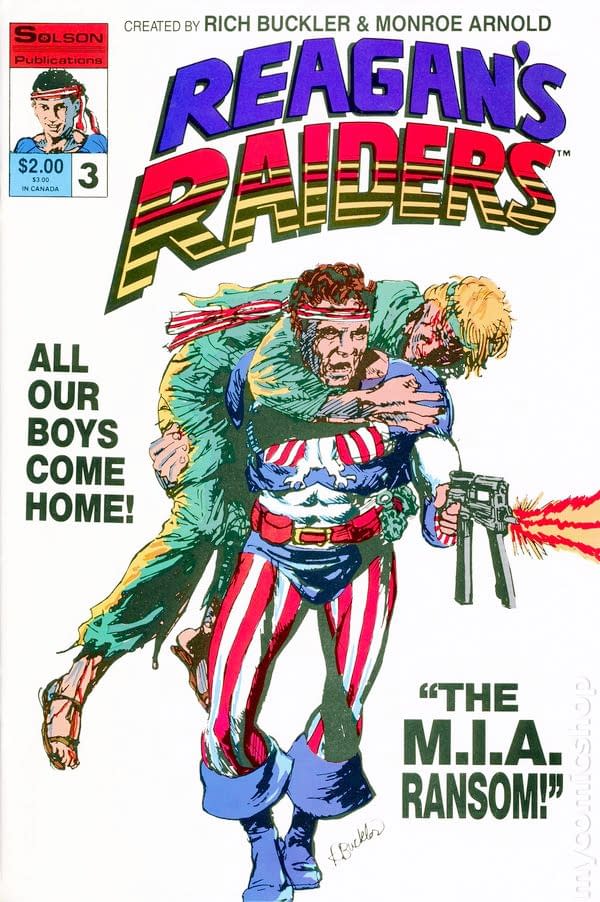 Debuting in 1986, Reagan's Raiders was created by Monroe Arnold, Rich Buckler, and Keith Royster, and lasted a whopping three issues. Although the series does have such gems as Reagan's heroic veto attacks, readers must power through the disturbing visuals of the 75-year-old President's head superimposed on the cliché overdrawn muscular body of the stereotypical comic book male. It also demonstrates the out of touch use of force that is still a plague in modern society, with Reagan himself rhyming:
"But words can fade, like the setting sun…
So we'll send our message with a tommy gun!"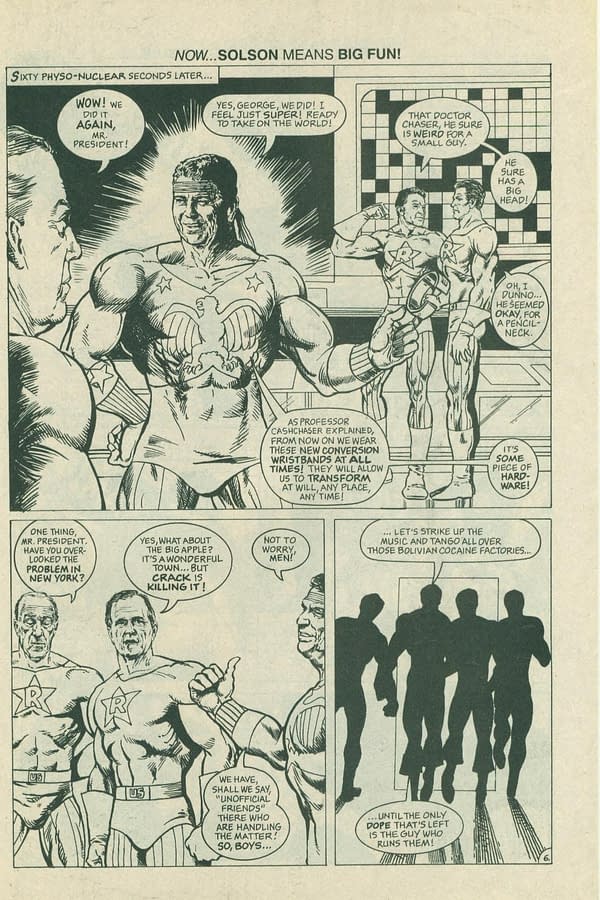 Seeing a United States President and his cabinet reimagined as Rambo-esque super soldiers is entertaining enough, but this sort of on-the-nose patriotism propaganda is far from being ineffective. The comic series makes use of political and socioeconomic stereotypes that we see even today, with Reagan "cracking down on crack" by kicking a black man in the face and Middle Eastern men with dynamite strapped to their chests. Though too hilariously bad to take seriously, this comic serves as a simple testament on the perseverance of typecasting entire races and nationalities …especially when a President veils his actions as patriotic and anything else as Anti-American.
The difference to note here is that the red, white, and blue does not a hero make.