Comics Economics Of Star Wars #1 – The Day After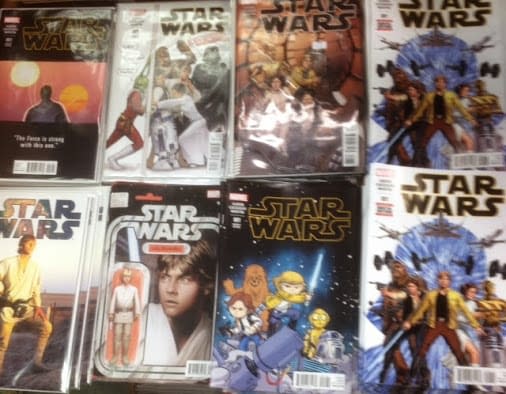 Last month, Larry Docherty of Larry's Comics, looked at the Comics Economics of Star Wars #1, and as a retailer talked about is response to the multiple covers being offered. So how did his predictions pan out so far?
Let's compare and contrast what he said and what he experienced.
My shop ordered 2,000+ Star Wars #1s. The one million+ print run has me a bit paranoid, so I just reviewed my order.
The phone was ringing all day Monday, so it was apparent that people were stoked for the launch.
My cost roughly $4,500.
Great product with "legs", ton of interest from civilian Star Wars fans & the LCS regulars alike. I actually have sold to shops that fell short as Diamond is already sold out. Most retailers in my circle are reporting big days.
The edge I'm getting is the incentive variants that the shops emptying their bank accounts for shop variants are going to, for the most part, miss.
I was dead balls right with this. Fans are hopping shop to shop looking for the best selection
STAR WARS #1 BLANK Variant
no worries here, these will sell eternally in my show stock at $5-$10 depending on guest list. Money in the bank
I sold them at cover price today and moved 25+.
STAR WARS #1 CHRISTOPHER ACTION FIGURE Variant.
Should sell great at cover price for a month then I can't see it not being an infrequent seller in the $10 range.
Sold 40 copies at cover price day one. Have 60 left. Online it's slightly above cover.
STAR WARS #1 CHRISTOPHER HUMOROUS PARTY Variant.
Humorous cover, will be lucky to sell at cover price. Meh.
I sold ALL 66 copies today at cover. I under-ordered. Cover is extremely well done & hilarious.
STAR WARS #1 1:20 PICHELLI Variant
Dead weight. Meh. Loss
Minimal takers at $10. Sold 7. I'm stuck with a ton.
STAR WARS #1 YOUNG Variant
I'm easily going to sell 50-100 at cover price. My customers adore Skottie Young.
This cover was a cover price beast. Sold 90 copies & have other shops begging to buy them.
STAR WARS #1 ROSS SKETCH
1:500 Variant If my 3 copies are nm, I'll get $400 each. I have existing customers.
It's a 1:200 . sold three at $99 which is currently the market price. It's damn ugly compared to the color masterpiece.
STAR WARS #1 ROSS
1:50 Variant. I'm going to get $40 x 30 easily on this book. This is the most requested in my shop.
SOLD OUT $30-$60 in shop or on Ebay or Amazon. Killer!
STAR WARS #1 QUESADA SKETCH VARIANT
struggle to get 5 lots of $100 for this mediocre cover
Wrong data, it's 1:500. Sitting online at $299. NO takers day one
STAR WARS #1 QUESADA 1:100 color variant
Honestly, lucky to get 15 x $10. meh.
This is a rock solid fifty dollar bill. Sold 8
STAR WARS #1 MOVIE Variant
Dead weight. Loss
Sold 26 at cover price. Still have 74
STAR WARS #1 1:25 MCLEOD Variant
Dead weight loss, I do not have a single copy on preorder
Sold 7 at cover price. This seems to be the stink finger of the lot.
STAR WARS #1 CASSADAY 1:25 TEASER Variant
Another stink bomb. Loss
Ok. This one sucks too. 7 at cover as well. Damn ugly.
STAR WARS #1 CAMPBELL CONNECTING VAR A
Ca$h money. No problem moving 50 at cover price then 50+ $10+
This was a 1:50 and I sold out in shop and online at $30. Scott Campbell is a stud.
STAR WARS #1 regular 1st print cover.
1,500 copies will sell forever. Some at cover price, some at a dollar. Some at $10. This book will NEVER not sell. It's money in the bank
Shops are already out and begging for them at wholesale. I consider this a quality purchase on my part.
I feel "ok" with my order. I'm glad that I did not go for the shop variant. I was VERY close to pulling that trigger
I truly regret NOT commissioning a variant for my shop or Phantom. This was a missed opportunity.
It will be a year long grind, but there is ca$h to be made here for shops, but little meat on the bone for speculators. screening & signature series opportunities do abound for collectors though.
I'm profitable day one. Stellar job by Marvel! This is about the comic industry marketing to a much larger audience, Star Wars fandom. I asked fans all day why they were so excited for the new series.The general consensus was that since Disney owns both Lucasfilm and Marvel, these stories would count and be of importance. This line is a potential monster draw for shops as the new movies approach later in 2015 and Star Wars mania really kicks into high gear…