Two Meta-Looks at Comics From Marvel and DC This Week
In this week's What If: Ghost Rider from Sebastian Girner and Caspar Wijngaard we had a reprise of the famous incident in which the band KISS poured their own blood into the printing presses for the first KISS comic book from Marvel. Years later, a similar attempt would be made by Stan Lee to create blood stamp signatures with his DNA for some nebulous organisation with charitable 'intent'. But this time we get an appearance from Editor-In-Chief CB Cebulski with a fictitious band wanting to do the same called Hassenwald. And we get a tour of Marvel Comics as a result. As CB has certain… priorities.
Is Bill Jemas writing this comic book? Anyway, this does give us an inside look at the publisher in question.
You know what? I think that's a bit too spacious for the actual Marvel Comics offices…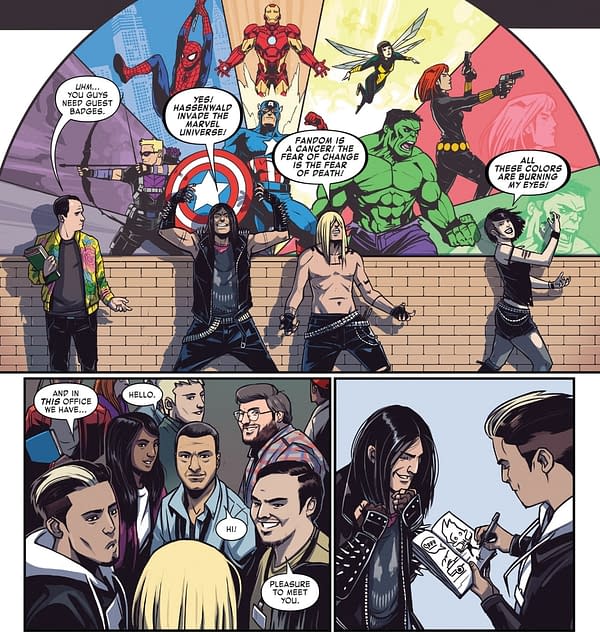 But at least more of the staff get to cameo as well… and that's what this book has in common with another title out last Wednesday. Brian Bendis, who would have brought his new comic Cover out through Marvel if he hadn't skipped over to DC Comics. And this spy thriller set in the comic world that has shades of Confessions Of A Dangerous Mind about it, we also get to meet our plucky comic creator-turned-unsuspecting-CIA asset meeting his torturer. Who also happens to be a comic book creator.
Um… Essad Sinns? That's Esad Ribic.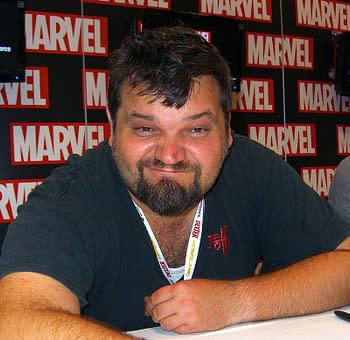 A nicer, gentler, funnier, kindlier giant of a man, the heart and soul of the party, the bar, the smoking section outside a comic convention, everyone has good things to say about Esad. And really not the kind of person to do this.
Or this.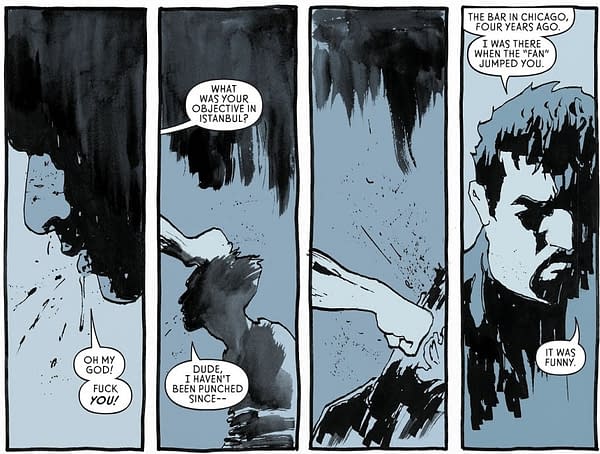 Or this…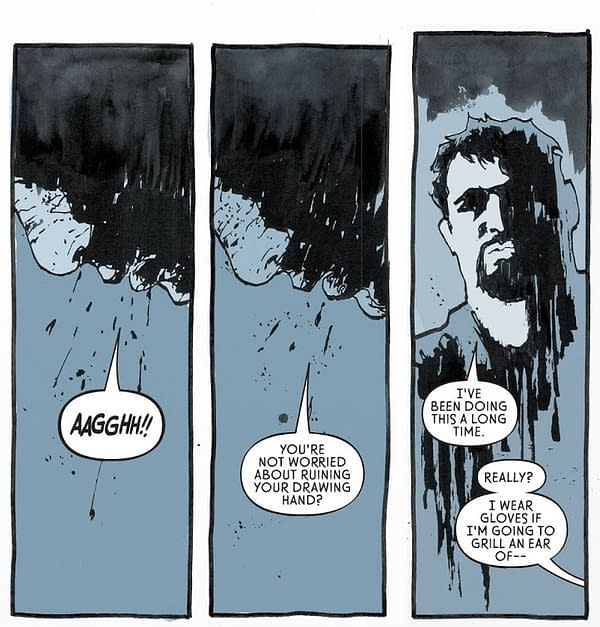 I have to say, Esad, you're a good sport. I doubt CB Cebulski would have allowed himself to be portrayed in such a fashion…
COVER #2 (OF 6) (MR)
(W) Brian Michael Bendis (A/CA) David Mack
Nazi-hunters? Escape artists? Some M.I.A. for decades? Exactly how long have comics creators been part of the intelligence community? Follow the latest recruit from the Comic-Con circuit as he falls in with this mysterious crowd. The secrets he uncovers about its legacy will shock and delight, well, just about everyone.
This whip-smart multimedia explosion by lifelong collaborators Brian Michael Bendis (writer of SUPERMAN and ACTION COMICS) and David Mack bring the worlds of spies and comics together in a loving mash-up that celebrates both. Fans of David's multimedia comics work are in for a once-in-a-lifetime treat. In Shops: Oct 17, 2018 SRP: $3.99

WHAT IF? GHOST RIDER #1
(W) Sebastian Girner (A) Caspar Wijngaard (CA) Aleksi Briclot
You've only heard whispers of this real-world/Marvel Universe crossover until now, when moral decline and budgetary shortfalls have combined to lower our lawyers' resistance! Sebastian Girner (Shirtless Bear-Fighter, Scales & Scoundrels) and Caspar Wijngaard (Angelic, Limbo, DOCTOR APHRA ANNUAL #2) recklessly bring you the tale of the first and only true Nordic black metal band to visit the Marvel Universe through the INSANITY of likeness release waivers! What role does GHOST RIDER Robbie Reyes play, and will YOUR MIND survive the BRUTALITY?! Rated T+In Shops: Oct 17, 2018 SRP: $3.99