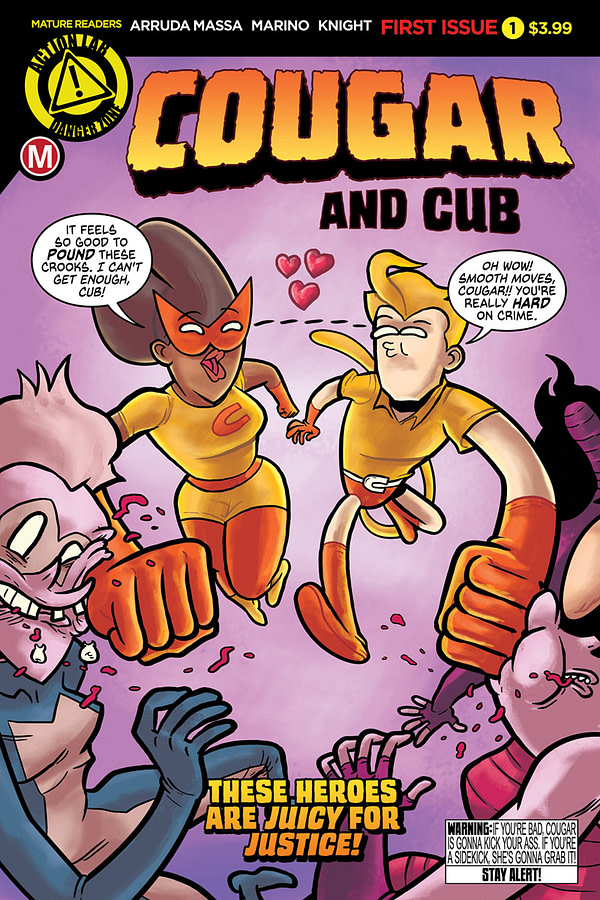 We talked about Cougar And Cub here, in the article When A Superhero Sleeps With A Sidekick… Not The Killing Joke, But Cougar And Cub. In January 2017, it is coming out from Action Lab. Creator Nick Marino told us,
I like writing superheroes. They're bundles of compelling contradictions all wrapped up in skintight suits. But I LOVE writing supervillains! Ambition, aggression, and ego all stewing together inside a hot pot of calamity.
Cougar and Cub #1 is in this week's November Previews catalog courtesy of Action Lab: Danger Zone. We're sending out a preview for readers and retailers that focuses on our title heroes and their, uhhhh, complicated relationship. But there was only so much room in our preview pages and something special was sadly left on the cutting room floor… our deliciously deranged baddies!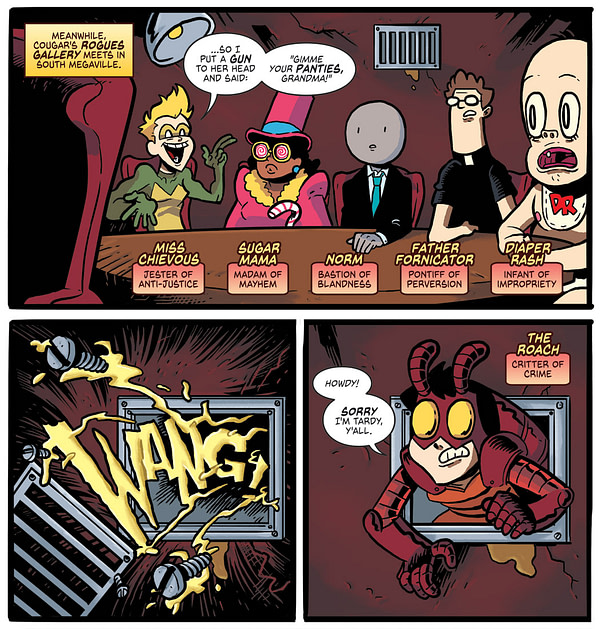 Rich has been rad enough to let me give you a first look at Cougar's rogues gallery, a hodgepodge of demented tormentors who live to make life miserable for our champions.
These villains have been an absolute delight to dream up. Daniel Arruda Massa's designs capture everything classic and campy I love about old school superhero comics. I toiled to give each of them individual voices that evoke supervillain archetypes without feeling like cookie cutter copies of baddies from the Big Two.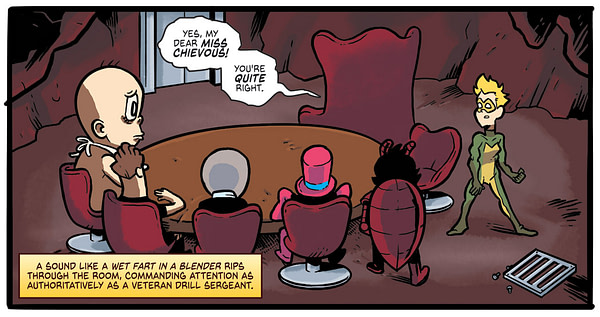 My fave is Miss Chievous, a petty prankster with a mean streak. She's been tangling with Cougar longer than anyone. Norm is my runner up and he gets quite the spotlight in our second issue when he terrorizes Megaville Comic Con with his henchies, the Regulars.
What you see is what you get with Sugar Mama, Father Fornicator, and Diaper Rash, three twisted villains who long to torture our heroes. The Roach is the runt of the litter, but she plays an extra special role in our first issue because she's the one who catches Cougar and Cub as they're smooching!
That leaves us with one more rogue, a mysterious voice who keeps its vicious visage hidden behind a large throne. This character's evil identity won't be revealed until the catastrophic climax in our fifth issue. Until then, you'll have to see if you can guess why this insidious insurgent wants to slice and dice the courageous Cougar to pieces.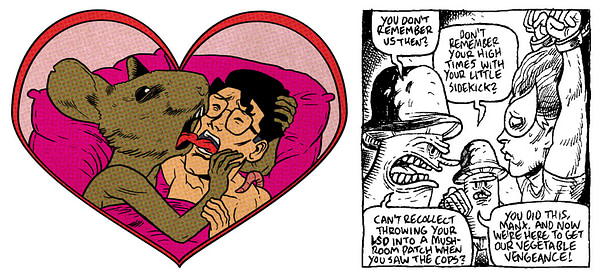 History is also an integral part of our saga and that's why each issue features a backup story inspired by a different era of comics from the golden age to the 90s. Rosie Knight has written some outrageously creative antagonists forCougar to tackle and Daniel Arruda Massa has risen to the challenge, adapting his art to each style of superhero storytelling that we homage.
Retailers, I hope you'll give your customers a shot to experience our bizarre brand of baddies. Readers, I hope you'll peer at our pages when Cougar and Cub #1 hits shelves in January 2017 and find yourself supremely smitten!