Crossed, Extinction Parade And Uber – More Vile Covers From Avatar For Toronto Fan Expo – You Really Should Be Ashamed
Okay, I'm going to give this a go. I think it's what Amy Chu and Steve Morris are expecting from me.
Avatar are publishing a number of exclusive cover variants for Toronto Fan Expo this week. And they are truly shameful, representing the very worst of humanity. So let's all have a look at them, just in case you need any more persuasion about how awful they are.
First there's the Crossed: Badlands Patient Zero Ashcan for $3.00 which gives an advance look at Garth Ennis and Christian Zanier's new Crossed arc that begins in Crossed: Badlands #50, looking at the very beginnings of the outbreak, with the very first Crossed infected, as well as a gallery of upcoming Jacen Burrows covers which will no doubt be just as disgusting. As you can see, this cover depicts two Crossed infected, the topless male cutting up an uninfected male, while the female who has her breasts partially exposed as well as her ribs, radius and ulna, adopts a sexually suggestive pose. Limited to 5000 copies.
There is also a VIP version limited to 500 copies, which is still just as awful for $15
But the deviance doesn't stop at Crossed. Max Brooks' Extinction Parade is just as bad.
Lots of women chopping things up, one with cleavage, another with tight pants from behind. Shameless. Extinction Parade #1 Army of the Bloodlines – Blades, a set of three covers for $30 and limited to 1000 sets.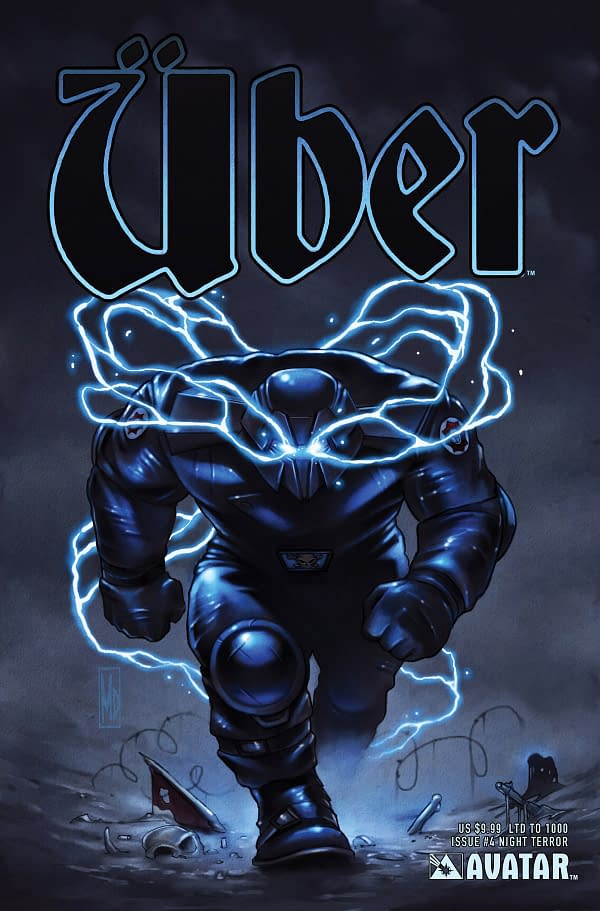 And if you think that the Uber #4 Night Terror cover for $10 is a stunning return to good taste for Avatar, it's only hiding the fact that this is a comic about superhero Nazis for which nothing else can possibly be said to justify it. Limited to 1000 copies.
Bleeding Cool is published by Avatar Press, folks.
So… how did I do?