David Avallone Talks Bringing Bettie Page to Comics
Volume One of the Bettie Page trade paperback comes out from Dynamite Entertainment this week. With an essay on the Bettie Page comic he wrote and this new TP is David Avallone. Cover by Joseph Michael Linsner with interiors by Colton Worley and Linsner.
*****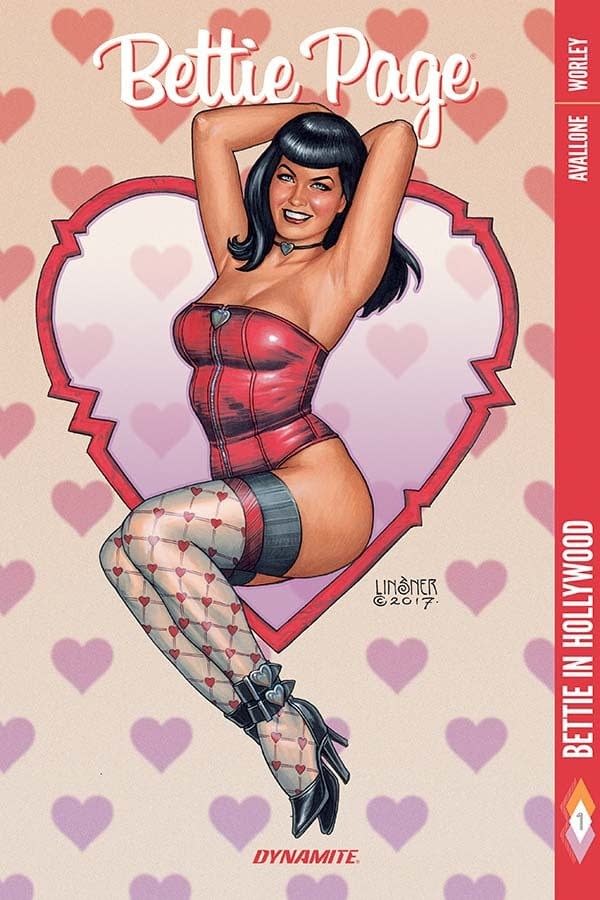 A Dynamite adventure always starts the same way: I get an email from Senior Editor Joseph Rybandt asking if I'd like to take a crack at something really interesting. I will admit that I never expected BETTIE PAGE to be on that list.
At first glance, Bettie's not the most obvious subject of a comic book… especially a PG-13 rated one. Who was she? A model with a roller coaster biography and career trajectory, Bettie was mostly forgotten for decades and then nudged back into the limelight by, of all things, a comic book character in her likeness (hats off to the late, great Dave Stevens.) I had seen photos of Bettie over the years, but it was Dave's amazing ROCKETEER comics that really drew my attention, just like everyone else's, back to her. Of course… once Bettie has your attention, she never completely lets it go.
Joe wanted a fun period adventure: we talked about a light tone, we talked about not over-emphasizing the cheesecake, we talked about movies like CHARADE and NORTH BY NORTHWEST, and I went off to do a little research. I already knew a lot about Bettie, but the best source of information turned out to be Bettie herself, speaking on the soundtrack of the documentary BETTIE PAGE REVEALS ALL. Her voice defined the character for me, and gave me the idea of having the comic revolve around her "secret diary." I am not a Southern belle, or a model of any kind, but in spite of having virtually nothing in common with her it was a voice I wanted to write in.
But what story to drop that extraordinary voice into?
I was looking at old photos of Bettie, reading up on her boyfriends, and one was a Howard Stark-type guy named Richard Arbib… a futuristic industrial designer, and a dashing figure. He reminded me a bit of Johnny Whiteside Parsons, too, and that started a whole train of thought. A few years back, I had done some research on Jack Parsons for another project that never got off the ground. It was fascinating stuff… the birth of the Jet Propulsion Laboratory, his association with the Aleister Crowley Thelema cult, and his close friend L. Ron Hubbard running off with Parsons' romantic partner to found Scientology.
Well, I hate throwing out good research… so I decided to drop Bettie into a highly fictional version of that story, while paying tribute to all the things I liked about 1950s culture. The first volume of the Bettie Page trade paperback covers this four-issue story arc, and is called BETTIE IN HOLLYWOOD.
It was my first time writing a comic book set in Los Angeles, and I liked being able to drive around town taking pictures of my favorite neighborhood highlights and sending them to Colton to draw, which he did, beautifully. Bettie visits the Pantages theater, the campus of JPL (sort of), the Shakespeare Bridge, the Griffith Park Observatory (in a nod to the ROCKETEER movie) and tops it off with a cocktail at my favorite bar in the world, The Dresden.
Dad was pulp fiction writer Michael Avallone, and his influence is also all over this book. He was a master of first-person-singular prose, and knowing him as I did helps me understand the era, and the language of that era. For the very sharp-eyed reader… there are also a few references to my father's work.
Another big influence on the book is my secret weapon: my wife. Augusta Avallone, also known as burlesque star and producer Penny Starr, Jr. For starters, her grandma, the original Penny Starr, was a burlesque dancer in Bettie's era. Like Bettie, my wife often wears straight bangs over her forehead… but there's more to it than that.
Like Bettie, my wife is smart and sassy and beautiful and hilarious. Like Bettie, she makes her own amazing costumes (and those of a lot of other burlesque stars, and she designed some of the costumes in this book). Like Bettie, she is a delightful scamp and very much her own woman. She is always an inspiration to me, but this series in particular is a love letter to her, to the world she lives in (and has introduced me to) and to her talent and strength.
Finally… I hope I've made my fictional Bettie as funny, as sweet, as sharp, as tough, and as wonderful as the real one. I felt a responsibility to her – to do her justice – in every panel.
Is this the real life of Bettie Page? Of course not.
But it should have been.