DC Comics Gay Kiss Featured on Marvel Comics #1000 Cover
It looks like Marvel Comics #1000 is borrowing more from DC than just the Action Comics #1000/Detective Comics #1000 concept. The collage variant cover for Marvel Comics #1000 revealed in today's Marvel August Solicitations features an image of Earth 2 Alan Scott's first on-panel gay kiss from 2012's Earth 2 #2, which is, Bleeding Cool can confirm, not a Marvel Comic.
Here, you can see the cover, put together by artist Mr. Garcin, with the kiss featured near the top right: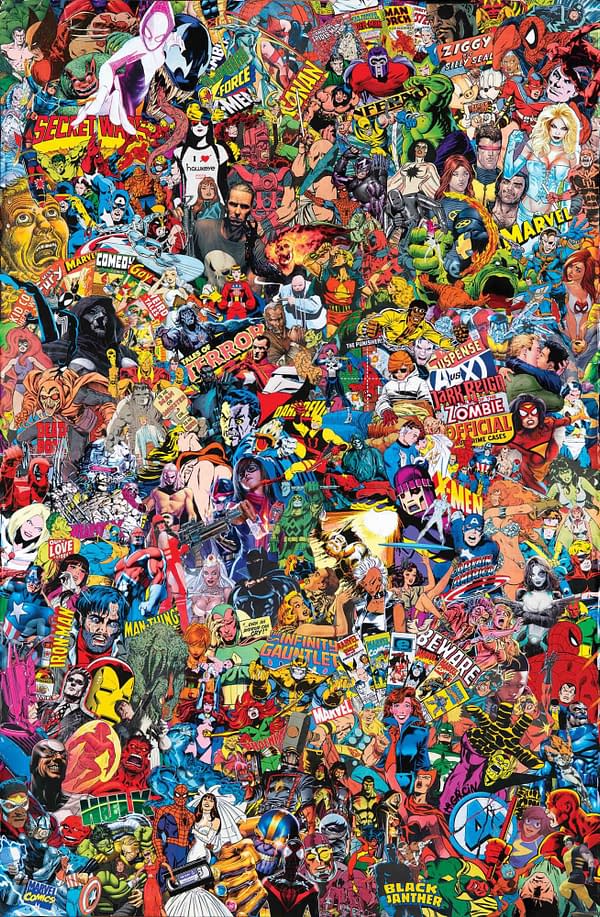 A closer shot: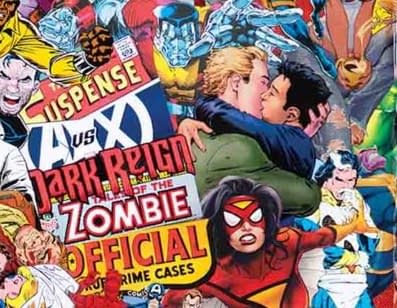 And here's the page from Earth 2 #2, by artist Nicola Scott: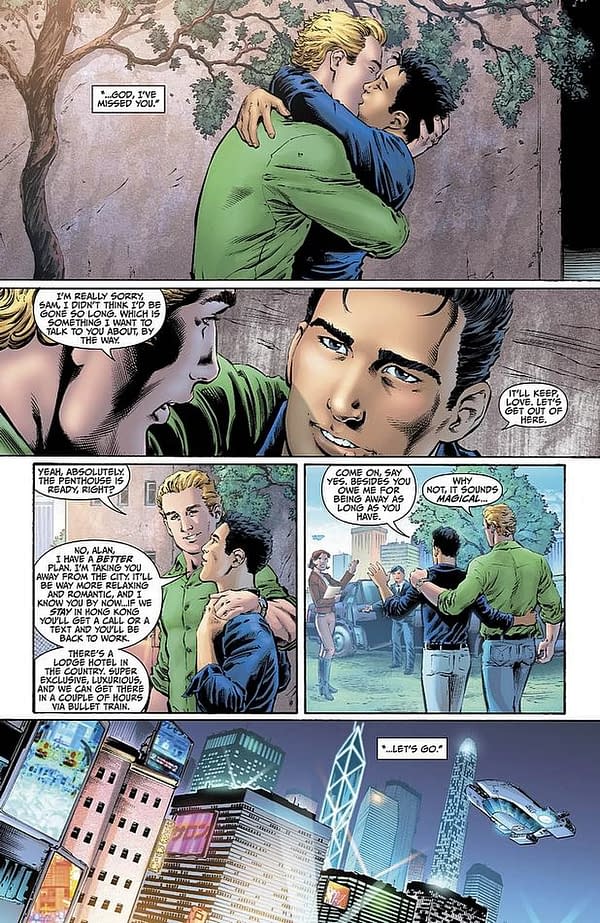 It's unclear how the image of this kiss ended up on Marvel's cover, but the news came to us via a Tweet from Symbiobro:
With another Twitter user, Bullbasaurus Rex, speculating that the kiss was meant to be one between Hulking and Wiccan:
Better luck next time?
Marvel Comics #1000 hits stores in August… and someone is going to need to fix that before it goes to the printer.
MARVEL COMICS #1000
JASON AARON
KAREEM ABDUL-JABBAR
DANIEL ACUÑA
SALADIN AHMED
MICHAEL ALLRED
KRIS ANKA
KIA ASAMIYA
JEN BARTEL
JOE BENNETT
NICK BRADSHAW
DOUG BRAITHWAITE
MARK BRIGHT
ED BRISSON
MARK BUCKINGHAM
KURT BUSIEK
JUANN CABAL
CAFU
JOHN CASSADAY
JOSHUA CASSARA
DONNY CATES
JIM CHEUNG
CHRIS CLAREMONT
GERRY CONWAY
PETER DAVID
ALAN DAVIS
KELLY SUE DECONNICK
TOM DEFALCO
MATTIA DE IULIS
MIKE DEODATO
GERRY DUGGAN
STEVE EPTING
AL EWING
EVE L. EWING
JORGE FORNÉS
RON FRENZ
NEIL GAIMAN
RON GARNEY
KIERON GILLEN
PATRICK GLEASON
GLEN DAVID GOLD
ADAM F. GOLDBERG
BUTCH GUICE
GABRIEL HARDMAN
JAMES HARREN
ALLAN HEINBERG
JONATHAN HICKMAN
JOE HILL
TINI HOWARD
JAMES MONROE IGLEHART
KATHRYN IMMONEN
STUART IMMONEN
J.J. KIRBY
LEONARD KIRK
IRENE KOH
ADAM KUBERT
DEREK LANDY
PEPE LARRAZ
SALVADOR LARROCA
ERIK LARSEN
JASON LATOUR
JEFF LEMIRE
ROB LIEFELD
JEPH LOEB
DAVID LOPEZ
PHIL LORD
DAVID MANDEL
MARCOS MARTIN
OSCAR MARTIN
ED MCGUINNESS
STEVE MCNIVEN
PACO MEDINA
BRAD MELTZER
CHRISTOPHER MILLER
TAKESHI MIYAZAWA
CHRIS MOONEYHAM
RYAN NORTH
PHIL NOTO
RAYMOND OBSTFELD
CARLOS PACHECO
GREG PAK
GORAN PARLOV
GEORGE PÉREZ
PRIEST
JOE QUESADA
ROD REIS
JASON REYNOLDS
ADAM RICHES
EDUARDO RISSO
JAVIER RODRÍGUEZ
LEONARDO ROMERO
MATTHEW ROSENBERG
ALEX ROSS
RAINBOW ROWELL
STEVE RUDE
JESÚS SAIZ
TIM SALE
CHRIS SAMNEE
GEOFF SHAW
GAIL SIMONE
WALTER SIMONSON
DAN SLOTT
CORY SMITH
CHARLES SOULE
CAMERON STEWART
J. MICHAEL STRACZYNSKI
TABOO
TOM TAYLOR
JULIAN TOTINO TEDESCO
ROY THOMAS
KELLY THOMPSON
JEFFREY VEREGGE
MARK WAID
DAVID F. WALKER
CHRISTIAN WARD
DUSTIN WEAVER
CHRIS WESTON
TOBY WHITHOUSE
JEREMY WHITLEY
LEINIL FRANCIS YU
CHIP ZDARSKY
PATCH ZIRCHER
JIM ZUB • & MANY MORE!
WRAPAROUND VARIANT COVER BY JOE QUESADA
WRAPAROUND BLACK-AND-WHITE VARIANT
COVER BY JOE QUESADA
VARIANT COVER BY GABRIELE DELL'OTTO
VARIANT COVER BY INHYUK LEE
VARIANT COVER BY J. SCOTT CAMPBELL
VARIANT COVER BY ED MCGUINNESS
COLLAGE VARIANT BY MR. GARCIN
40s VARIANT COVER BY MARK BROOKS
60s VARIANT COVER BY MIKE ALLRED
70s VARIANT COVER BY GREG SMALLWOOD
80s VARIANT COVER BY JULIAN TOTINO TEDESCO
90s VARIANT COVER BY RON LIM
00s VARIANT BY MARK BAGLEY
DECADE VARIANT BY KAARE ANDREWS
VARIANT COVER BY CLAYTON CRAIN
VARIANT COVER BY JEN BARTEL
VARIANT COVER BY SKOTTIE YOUNG
VARIANT COVER BY GREG HILDEBRANDT
HIDDEN GEM VARIANT COVER BY GEORGE PEREZ
HIDDEN GEM VARIANT COVER BY STEVE DITKO
BLANK VARIANT COVER ALSO AVAILABLE
THE GREATEST TALENT EVER ASSEMBLED FOR ONE STORY!
THIS IS THE BIG ONE! In celebration of Marvel's 80th Anniversary, we have gathered together the greatest array of talent ever to be assembled between the covers of a single comic book! Names from the past, from the present, and even the future! Every page is filled with all-new work from this cavalcade of comic book luminaries!
There is a mystery that threads throughout the Marvel Universe — one that has its origins in MARVEL COMICS #1 and which unites a disparate array of heroes and villains throughout the decades! What is the Eternity Mask, and who is responsible for the conspiracy to keep it hidden? And what new player will make their startling debut as these secrets are peeled away?
Featuring the entirety of the Marvel Universe of characters!
96 PGS./ONE-SHOT/Rated T …$9.99
PERFECTBOUND FORMAT!