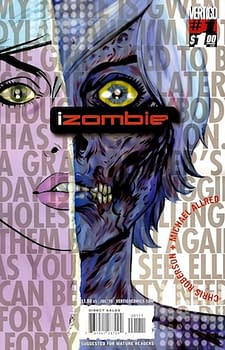 iZombie was the comic that Chris Robertson and Mike Allred created for DC/Vertigo. That's before they cancelled the series and fired Robertson from the Fables Cinderella comic, after he spoke out against their publication of Before Watchmen.
But then iZombie got picked up for a TV series on the CW and suddenly they had to revisit the comic they had once cancelled.
And now DC Comics is rush-soliciting a $1 version of the first issue, to come out ahead of the TV show on March 11th, along with some incredibly disingenuous comments about the comic, probably.. The show airs on the 16th.
Ironically, the series was launched as a $1 issue…. though it goes for a little more on eBay… selling for $175 in CGC 9.8 and up to $60 raw…
Enjoyed this article? Share it!