More cancellations to come. DC Comics has told retailers that they have decided to no longer publish the Sandman Presents series, House of Whispers, by Nalo Hopkinson and Dominike "Domo" Stanton in print. The most recent issue #20, that was published on May 27th, will be its last – though this wasn't mentioned in the printed issue itself. The final two solicited issues #21 and #22 will instead be released digitally on June 2nd and July 7th, respectively, followed by a collection of the series' final arc. They had previously cancelled the series but stated that the final issues would be published in print. Things have changed. Here are the solicits for those final, now digital-only, issues.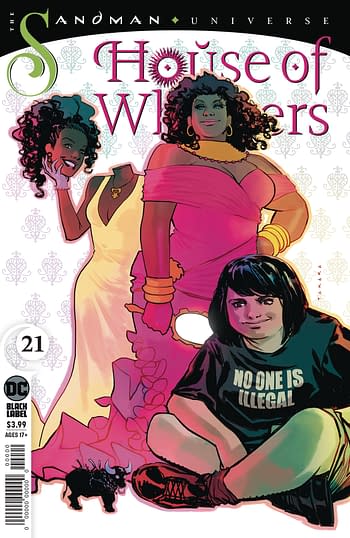 HOUSE OF WHISPERS #21 (MR)
DC COMICS
MAR200590
(W) Nalo Hopkinson (A) Dominike "Domo" Stanton (CA) Marcio Takara
Trapped in Guinée, the Land of the Dead, Papa Midnite and Erzulie must join forces to return to their own realms…unfortunately, their mutual foe the trickster god Ananse is in the way, and he's eager for a rematch!In Shops: May 13, 2020
SRP: $3.99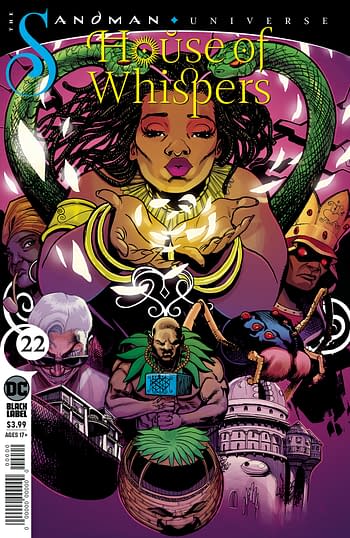 HOUSE OF WHISPERS #22 (MR)
DC COMICS
APR200624
(W) Nalo Hopkinson (A) Dominike "Domo" Stanton (CA) Marcio Takara
The time has come for both Erzulie and Poquita to take back the power of their twinned Houses… but Anansi will stop at nothing to keep his treasures! The sweeping epic of Erzulie's war with the trickster god comes to an explosive conclusion!In Shops: Jun 10, 2020
SRP: $3.99
House Of Whispers, part of the Sandman Universe, welcomed readers to the House of Dahomey, the houseboat of Erzulie Fréda, where the souls of Voodoo followers go when they sleep to beseech the flirtatious and tragic goddess to grant them their hearts' desires and counsel them on their futures and fortunes. When you arrive, you'll find a party is in full swing, filled with all kinds of fabulous and fierce folk, while fish fry and music blasts. From her bayou, Erzulie scries upon the mortal realm and sees four human girls open a mysterious and magical journal filled with whispers and rumors that, if they spread, could cause a pandemic unlike any the Earth has seen, with the power to release Sopona, the loa lord of infectious disease and cousin to Erzulie, who is currently banned from the human plane. But even the fearsome Erzulie cannot be of assistance when her dream river turns tumultuous, tossing her house from her realm and into another…
Enjoyed this article? Share it!