Could DC in D.C. Be the Future of Comic Cons?
From January 12-13, the brightest stars from DC Entertainment's comic and television worlds descended on our nation's capital for a weekend linking the four-color world of comic books to our present-day social concerns. I didn't write this article during or immediately after the DC in D.C. event because I needed some time to digest what had taken place. I can say, without reservation, that this event was the most effective and original fan outreach that I've seen in nearly a decade of attending and reporting on comic conventions big and small.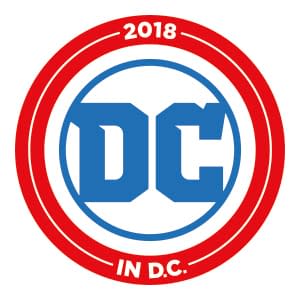 For much of the geek community, San Diego Comic-Con is the end-all be-all for fan gatherings. Though the character of this event has changed over the years, with some bemoaning that SDCC has become less a gathering of fans and more a Hollywood press junket, it is still regarded as the Mecca of geekdom. Even the most esoteric fandom still receives greater recognition as a sliver of the overall SDCC programming than at cons specifically tailored towards that niche genre.
However, therein lies the problem. San Diego has become a bucket list item for much of the geek community. Whoever vociferously claims the opposite probably lost out in the Epic ticket lottery. Those lucky enough to snag a ticket come to SDCC with a diversity of expectations. For some, it's a chance to get a sneak peek at the future of their favorite franchise. For others, an opportunity to tell company representatives about their big plan to boycott a certain character due to some recent, controversial storyline. Those same fans will probably then hit the convention floor to scoop up t-shirts, action figures, and graphic novels featuring that same character.
Publishers, even the big two, have limited bandwidth during this weekend and cannot give each fan everything that they came for. Instead, they try to appease the greatest number. This results in autograph signings with lines around the block, panels that share information easily gleaned from that month's Previews Magazine, and TV/movie props that one can only photograph through a patina of greasy fanboy handprints. It's like throwing a Super Bowl party for 20 of your closest friends and catering it with a footlong sub. Sure, everyone can have a bite, but most will go home hungry.
DC in D.C. was a more targeted, effective form of fan outreach. They brought a 20-foot party sub, and everyone got to eat their fill. I can identify three factors that led to the success of this event.
First, DC promoted their brand not by focusing on their slate of titles, or any number of the "big event" comics on the horizon. Rather, they focused on the social relevance of DC comics, past and present. The event highlighted DC's efforts to showcase the broader world within their four-colored one. Panels and talent addressed how the real-world concerns of women, the LGBTQ+ community, racial minorities, and victims of trauma are reflected in both their fictional one. By not taking the scattershot approach typically seen at larger conventions, DC was able to do a deep dive into concerns shared by a passionate and visible segment of their fan community and bring a real world gravitas to what has typically been dismissed by the mainstream as escapism.
Second, all of the events were free, but required online registration ahead of time. This ensured a level of control that most conventional con organizers could only dream about. Nobody came to the event with expectations that could not be realized. You either had a ticket and were guaranteed access to your desired panel/signing, or you made other plans that weekend. I've been on the tail end of the Hall H line and, after waiting hours, hearing that there was no way I was getting into the Marvel Studios panel, but that I would certainly be first in line for The Cleveland Show panel the next day. It was no fun. Comic-Con International, take notice.
Finally, DC in D.C. did more than they know by bringing this event to the capital. A common refrain heard throughout the weekend was, "Things like this never happen in D.C.," usually followed with, "I hope they do this next year." It's true that while the D.C. Metro area is no stranger to cultural happenings, these events usually only graze the surface of geek culture and certainly never promote social awareness through it. D.C. came to where the fans were, and not vice versa. This roadshow approach to fan engagement is something that should, and I hope will, be repeated.
I've probably been a little harsher than necessary to San Diego Comic-Con in this article. I've been going to SDCC since 2009 and will continue to do so until I'm unable to walk and eat solid foods. Even after that, I'll charge up the battery in my rascal, stock up on Gerbers, and keep plowing forward. However, there's a place in this world for all kinds of fan engagement, and I salute DC entertainment for taking a risk on this landmark event. I hope other publishers take notice and create fan-friendly, accessible events that make an impact. Also, the press room had an open bar, which was very nice!