DC Super Hero Girls: Search for Atlantis Introduces Mera But Stars Bumblebee
The first title to hit shelves from the new DC Zoom imprint will be the new volume of the title that started it all, DC Super Hero Girls: Search for Atlantis from writer Shea Fontana and artist Yancey Labat. Introducing Mera, future Queen Of Atlantis, to the school but the story will focus more on Bumblebee.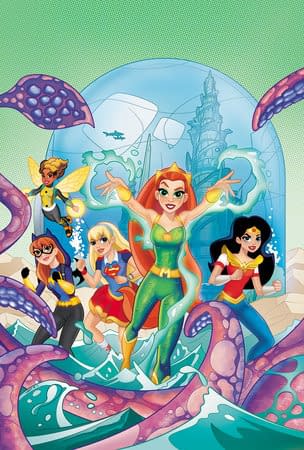 At the American Library Association announcement of the two new imprints, Shea Fontana talked about how this story is about friendship – and how "your best friend forever isn't your best friend forever unless you work at it."
The team is back and ready to rescue Mera's home in DC Super Hero Girls: Search for Atlantis! The Super Hero Girls join forces with the Teen Titans crew as they work together to save Atlantis and the Atlanteans from Brainiac!

Mera is the new girl at Super Hero High and when Wonder Woman takes Mera under her wing, Wonder Woman's best friend Bumblebee is overcome with jealousy. Despite her feelings, Bumblebee accompanies Mera and the Super Hero Girls on a field trip to Atlantis. But when they arrive, Atlantis is missing! Mera is horrified when they discover that Brainiac has shrunken and stolen Atlantis with the Atlanteans trapped inside! The Super Hero Girls must work together to defeat Brainaic and, along the way, Bumblebee must learn the true meaning of friendship.

DC Super Hero Girls: Search for Atlantis continues to develop the relationships forged in DC Super Hero Girls: Finals Crisis, Hits and Myths, Summer Olympus, Past Times at Super Hero High, Date with Disaster! and Out of The Bottle. Written by Shea Fontana, this story is perfect for ages 6-12!
The book should be published in October this year. How do I know?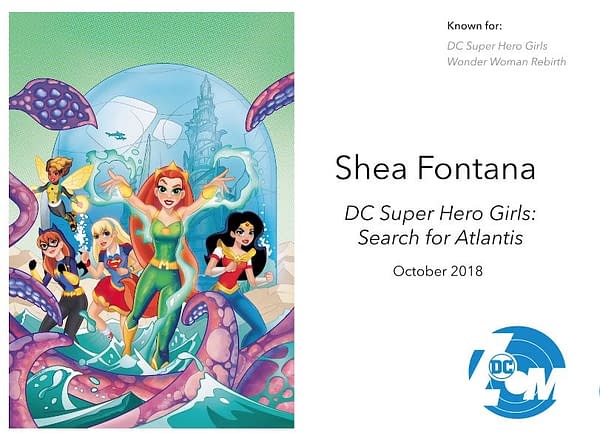 Because it says so, like, right here. With the DC Zoom logo and everything.
Thanks Shea!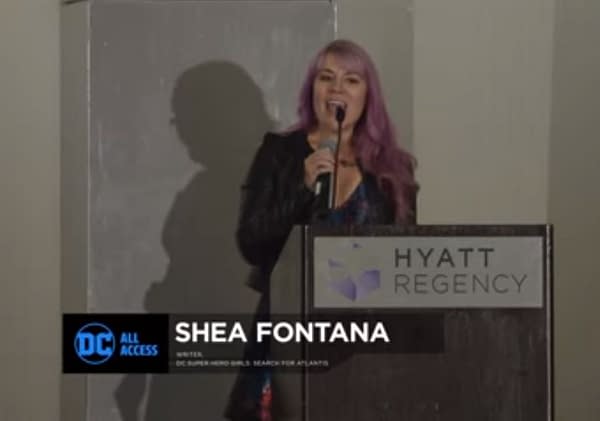 To get more details on these announcements, click on the ASA category tag…