Two days ago, Bleeding Cool shared the last two pages of Dead Letters #1, the new Boom Studios original series by High Crimes writer Christopher Sebela and Chris Visions. The twist ending captured the attention of some high profile advance readers – Ed Brubaker and Matt Fraction.
Yesterday, it seems that retailers and shops jumped on pushing the book…
STAFF PICKS :: DEAD LETTERS #1 @xtop @chrisvisi0ns @boomstudios http://t.co/6fhNUbjTzl pic.twitter.com/nNIQoRDhoI

— HEROESONLINE (@heroesonline) April 1, 2014
Bad memories, no memory, and Others! This week's issues to read: DEAD LETTERS #1, THE FIELD #1, SELF-OBSESSED,… http://t.co/nG3Lo6TDlL — Meltdown Comics (@MeltdownComics) April 2, 2014
I read Dead Letters #1 at ECCC, and it was effing fantastic. You should check it out when you hit your LCS today. — Paul Allor (@PaulAllor) April 2, 2014
Great day for @boomstudios with release of Adventure Time: Flip Side #4 by me, @wookjinclark & @ColleenCoover & Dead Letters #1 by @xtop! — Paul Tobin (@PaulTobin) April 2, 2014
DEAD LETTERS #1 by @xtop and @chrisvisi0ns and published by @boomstudios hits stands today! Go get it! — Brian Churilla (@BrianChurilla) April 2, 2014
While you're at the shop, you should also grab DEAD LETTERS #1 by @xtop and @chrisvisi0ns. It's top notch. @boomstudios #teamamnesia — Ed Brisson (@edbrisson) April 2, 2014
Dead Letters #1 by my pal @xtop & I-haven't-had-the-pleasure-of-meeting-him-but-seems-nice @chrisvisi0ns is damn cool http://t.co/Hx0MD0HXrB — Joe Keatinge (@joekeatinge) April 2, 2014
Larry's Comics noticed it was sold out first when they went to reorder copies.
Why YES indeed, @boomstudios Dead Letters #1 is SOLD OUT at the distributor level, yet still available at finer comic shops. Like mine. ;) — LarrysComics.net (@LarrysComics) April 2, 2014
Then Boom's Bryce Carlson seemed to confirm it.
My boys @xtop and @chrisvisi0ns are officially SELL OUTS! In the best possible way, of course. Get DEAD LETTERS #1 while you still can… — Bryce Carlson (@brycercarlson) April 3, 2014
And finally, writer Christopher Sebela left little room for doubt.
So I indeed got confirmation that DEAD LETTERS #1 sold out today. Holy cats.

— Christopher Sebela (@xtop) April 3, 2014
I understand that the initial print run was 9,500 copies, based on Final Order Cut-Off numbers of 5,900. The remaining 3,600 copies burnt through fast. And, naturally, a second printing is on the way, with a 2,500 print run, with this cover…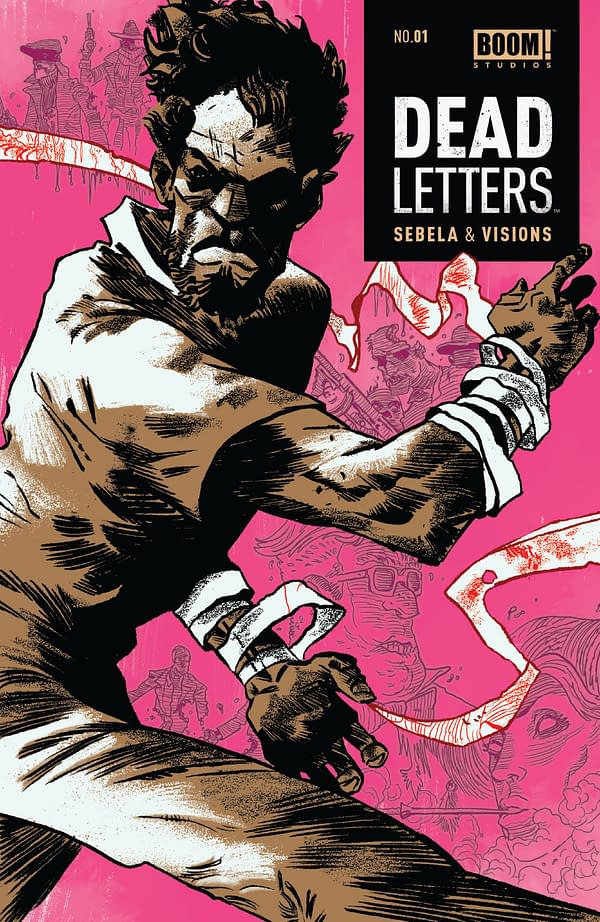 Enjoyed this article? Share it!