You get the idea. It's beginning to look a lot like Christmas in the comic book world. From BOOM! Box, written by Katie Cook, with art by Mike Lucas, Munchkin: Deck the Dungeons #1 is sure to make Charles Dickens turn over in his grave. This fun one shot will allow readers to tour the Dungeons of Past, Present, and Future. Spyke convinces Flower that even though it's Christmas Eve, it's the perfect time for an adventure. That's what is at the core of the issue, and let me tell you it's not just a normal take on the classic tale. This Christmas story is told straight up Munchkin style, with all of the twists and turns you have grown to love about the series.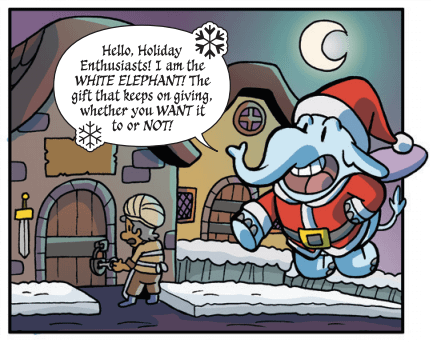 A lot of comedy is provided from a white elephant character who provides us with "Home for the Holiday Breakaway" scenes. It's the tiny addition of characters like that, that make this comic a guaranteed good read. I don't want to spoil anything, so be sure to pick up this fantastic one shot when it releases this Wednesday. Don't forget, all first printed copies will include a Munchkin playing card, just like the Munchkin series comics.
Preview the first five pages of Deck the Dungeons #1 below:
Enjoyed this article? Share it!