Detective Comics #27 Going up for Auction on February 20th
Detective Comics #27, featuring the first appearance of some character named The Batman, will see a pretty nice copy go up for auction on February 20th. The Hake's Americana & Collectibles auctions will handle the sale, with the auction ending around March 13-15.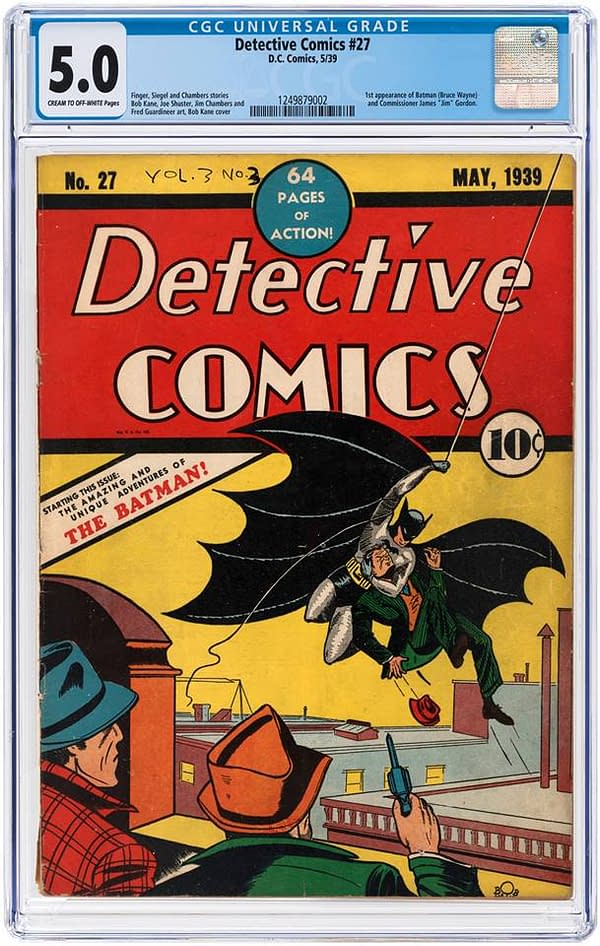 Yesterday we teased a huge Batman announcement concerning the upcoming Hake's Americana & Collectibles auction. Well, it doesn't get any bigger than this! We are pleased to offer this CGC Comics graded (5.0) example of Detective Comics #27, featuring the very first appearance of Batman (and Commissioner Gordon of course)! This item will be available for bidding when the new auction goes online, February 20th! The auction closes March 13-15. Stay tuned to Hake's social media for more announcements, we're just getting started!
This is a really nice copy of the book — a nice clean cover with great color and what looks to be zero front creases. A CGC 5.0 copy is not something that pops up everyday. This copy is coming from a collection that was purchased right off the rack along with other books from the Golden Age in the 1930s and '40s. This copy has never changed hands before, so it is even more special. Having a copy of this book that is almost straight from the racks is something my collectors brain can't handle.
If you want to bid and keep track of how much this comic ends up selling for, you can do so here.