Posted in: Comics, DC Comics, Review | Tagged: alvaro martinez, azrael, batgirl, Batman, Batman: Detective Comics, batwing, batwoman, brad anderson, bruce wayne, detective comics, james tynion iv, justice league, nightwing, orphan, raul fernandez, red hood, red robin, robin, spoiler, superheroes
---
Detective Comics #975 Review: Intense Drama and Hard Truths for the Bat Family
Batman calls together the closest members of his family: Nightwing, Red Hood, Batgirl, Red Robin, and Robin. Their purpose? To decide what can and should be done about Batwoman after the death of Clayface. Meanwhile, Batwoman is left to consider the offer from her father to join the Colony.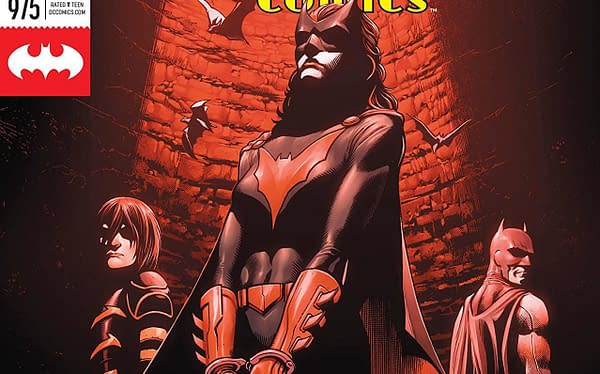 This is another low-action and high-dialogue issue of Detective Comics, but it is a damn good one. Batman listens to the cases of his children while sitting mostly in silence. We get the perspective of each of his family members and whether they think something should be done about Kate Kane.
The opening is an astoundingly atmospheric flashback to the funeral of Kate's mom. The layout, pacing, and text distribution in this segment is near perfect.
Speaking of layouts, the panel sequencing does get a little confusing when Detective Comics decides to get a little cute with the page layouts. There is one two-page layout for which I am still unsure the reading order.
James Tynion IV continues to be a master of chemistry, as the conversation between the family in the Batcave is impossible to take your eyes away from. It's not just a discussion about Batwoman; the likes of Batgirl and Red Hood cut to the wick and intuit what all of this says about Batman himself.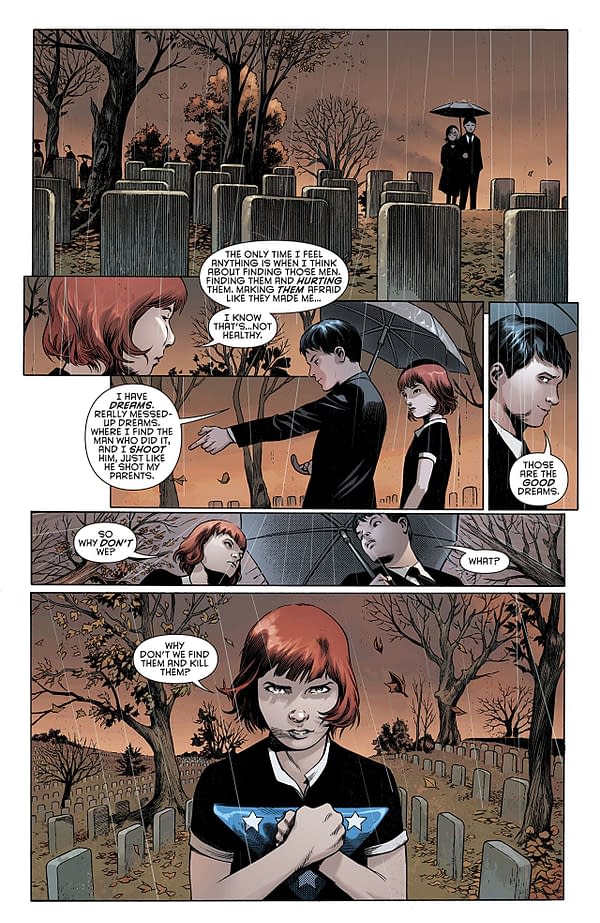 As good as Tynion's script is, none of this would have been as effective as it is without the phenomenal artwork of Alvaro Martinez, Raul Fernandez, and Brad Anderson. This is another gorgeous book, and the devil is in the details. The expressions, the colors, and the shadows make this a visually brilliant book. All three fire on all cylinders and help make this comic as moving as it is.
Detective Comics #975 is another impactful issue of the series meant to make you question what you know about Batman's thought process and motivations. It sets him opposed to one of the only remaining blood relatives he has, and it drags his family into the fray. This book comes highly recommended. Give it a read.
---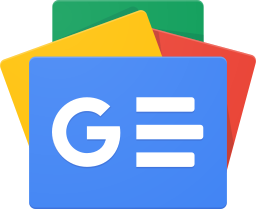 Stay up-to-date and support the site by following Bleeding Cool on Google News today!