Doctor Aphra #1 Review: There Are So Many People
Chelli Aphra, Ph.D., is, at best, a scoundrel. A rogue archaeologist who has betrayed everyone who ever loved her, she's also running from a death mark personally authorized by Darth Vader himself. Lucky for her, like Ashoka Tano, Vader never seems to get it together enough to make sure she's dead. Unfortunately, she's surrounded by far too many people for any of them to distinguish themselves.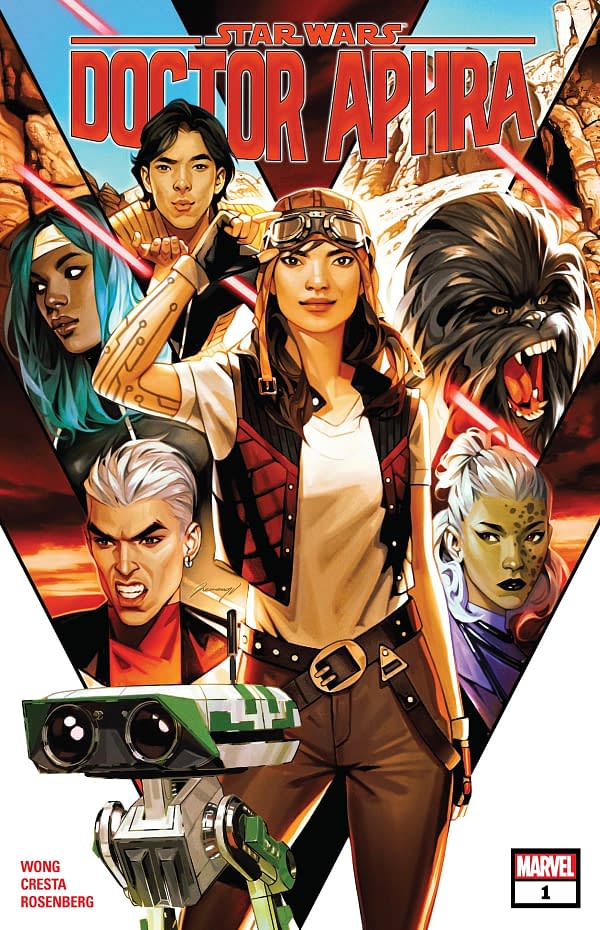 For example, there is a newly introduced sniper here called "Just Lucky." The only clear things are that he likes killing, kills for money, and tried to kill Aphra at one point. Other than a single blaster shot, that's all you get in very few panels. Other than his financial motivation, you have no idea who this guy is, what his deal is, or why you should care.
There are five other supporting characters with equally thin levels of understanding about who they are and a shorthand antagonist to boot. Three archaeologists, two criminals, a droid … so many people, and so little panel time, there isn't much that can be done to flesh out a cast that size in this kind of page count. At least one — the murderous reflection of Chewbacca called Black Krrsantan — had the luxury of appearing in previous books to establish some of his characters, admitting that doesn't do much for people new to the party.
The visual work from Cresta, Rosenberg, and Caramagna is solid, but the script doesn't give them much room to be impressive. RATING: MEH.
Star Wars: Doctor Aphra #1
NEW CREW, NEW MISSION! With the Rebel Alliance back on the run after their defeat at the Battle of Hoth, it's never been a more dangerous time for outlaws, scoundrels and the errant rogue archaeologist to make their way in the galaxy. But after a string of bad luck and near escapes, DOCTOR APHRA is back on the job! She's been keeping a low profile – jobs are scarce and credits scarcer. But the promise of the score of a lifetime is a chance too good for her to pass up. And to find the cursed RINGS OF VAALE, Aphra will need a crew of treasure hunters the likes of which the galaxy has never seen before! But RONEN TAGGE, heir to the powerful Tagge family, also has his eyes on the prize. Do Aphra and her team stand a chance at fortune and glory?