Does Werewolf By Night Poster Suggest New Warriors in October?
Okay, so there is a lot of speculation and supposition here. Be warned. The comic book Werewolf By Night was planned to be revamped in April from Marvel Comics. Then you-know-what happened and the comic disappeared from the schedules along with many others. It has joined the Marvel MIA chart (here is the latest iteration) and there has been no sign, yet, that it is returning.
However while Marvel hasn't listed the comic book yet, it has relisted the poster by Japanese artist, Takashi Okazaki, creator of Afro Samurai, which went on to inspire both the anime series and the Emmy-nominated TV movie.
The series was meant to be written by Black-Eyed Peas' Taboo and Ben Jackendoff with art by Scot Eaton, and was intended to introduce an all-new Werewolf By Night, a young man who must deal with a family curse while trying to protect his community from a deadly threat. The events of the comic were meant to have been driven by the Outlawed event, for which everything has gone a bit quiet, as well.
The poster will be in comic book stores in October. Might the comic book be joining it? And if Werewolf By Night #1 is out in October, maybe the other Outlawed books – New Warriors, Power Pack, Ms Marvel and more – might be joining it? One conservative comic book retailer has already ordered 500 copies of New Warriors and he'd like to get his hands on them, please.
There's also the Marvel Tales Facsimile #10 poster as well, also rescheduled for the first week in October. This might indicate Marvel will be rescheduling all the Black Widow facsimile reprints for October as well, as well as missing titles such as Widowmakers and The Widow's Sting originally planned to be published alongside the Black Widow movie.
Here's the poster…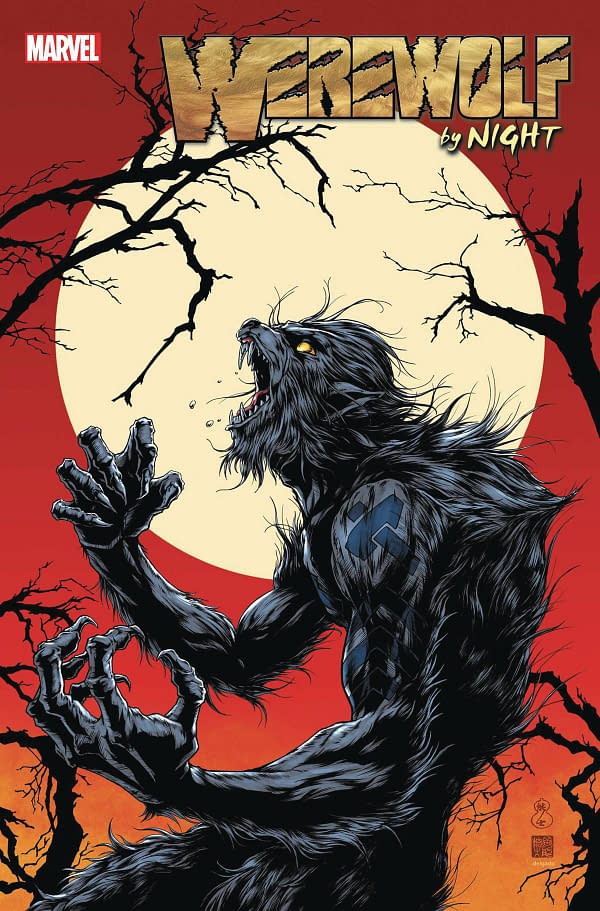 UPDATE: the following panel has been listed for San Diego Comic-Con, for Marvel's Next Big Thing.
Marvel editor-in-chief C.B. Cebulski breaks down all the latest and greatest coming from the House of Ideas with some of Marvel's most epic creators! Tom Brevoort, Al Ewing, and Dan Slott will dive into the cosmic calamity coming to Earth's Mightiest Heroes in the pages of Empyre! An army is gathering in the latest X-Men crossover event, X of Swords, and Jordan White, Tini Howard, and Gerry Duggan have all the juicy details! Nick Lowe, Nick Spencer, and Mark Bagley will discuss the landmark Amazing Spider-Man #850 ushering in the return of the Green Goblin! Plus Nick Lowe rejoins the panel to discuss the return of the classic Marvel character, Werewolf by Night, with creators Taboo and Ben Jackendoff! Be there, True Believers!