Dr. Strange #5
7.5/10
Like an endless stream of notifications on your phone, this issue piles on the plot points to the detriment of nuance.
Dr. Strange is busier than he's ever been. With his once life-altering hand injury healed, he's back to being one of the world's most sought after surgeons. As well, he maintains his role as Earth's sorcerer supreme, defending the world against threats that would melt the mind of your everyday superhero. Finally — and this is the focus of this issue — Strange's magical forge has been pilfered, and quick, dirty weapons of magical mass destruction are being proliferated into the hands of the aforementioned mind-melting threats. That's quite a packed dance card!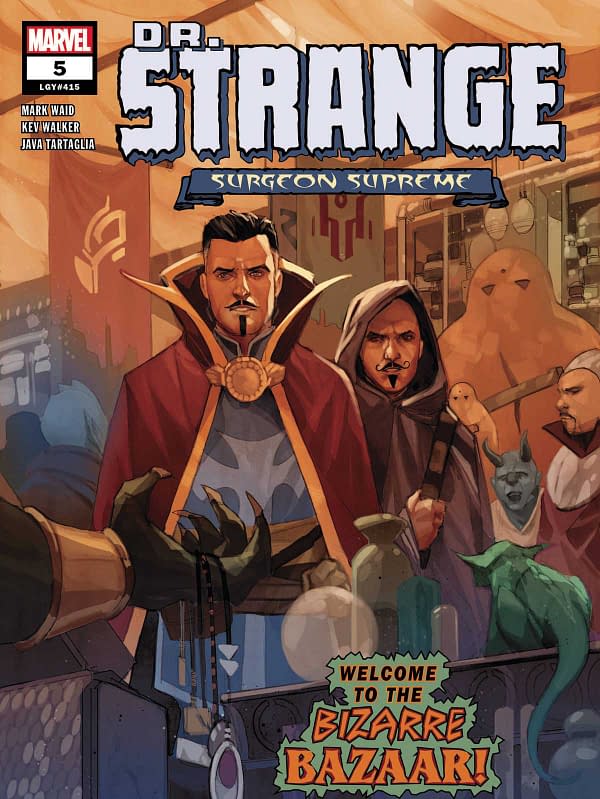 The plot moves from the ancestral home of the dwarves to a bustling New York hospital to an interdimensional auction house with urgency and drive. Unfortunately, this leaves little room for nuance — there are two moments where some emotional significance could have been placed on dire events that were rushed past in exposition to the next impossible plot point.
Then there's the issue of the antagonist here, a familiar face-punching way above their weight class in a role that, honestly, could have had Baron Mordo or Kaecilius or any of a number of actually qualified villains subbed in to make the reveal less jarring. That's weird.
There is no doubting the master craft of Mark Waid, who deserves his flowers as an all-time comics icon. He knows how to put together a story. Likewise, the visual work of Kev Walker, Java Tartaglia, and Cory Petit make the mundane and the outre equally engaging artistic experiences. Unfortunately, this embarrassment of riches simply bursts the seams of this meager page count, pushing for more than the space allows, which diminishes it all. No one in their right mind could say this was a bad book, but its missteps slightly outweigh its advantages. RATING: HONORABLE MENTION.
Dr. Strange #5

By Mark Waid, Kev Walker, Phil Noto

THE SORCERER SUPREME ROBBED! Someone is stealing magical artifacts from Dr. Strange! With the help of Dr. Druid, Strange must go undercover to discover a magical black-market arms dealing ring but is Strange walking into battle with an ally or another enemy at his back?

Enjoyed this article? Share it!