Dynamite Heads To NYCC With Guests, Exclusives And More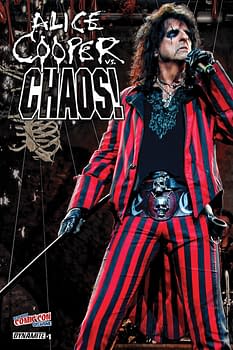 Dynamite made some interesting announcements earlier today. The publisher also announced their plans for the New York Comic-Con that runs from October 8th to 11th at the Jacob Javits Convention Center. They will be set up at booth #2129 and will have their convention only retro Vampirella t-shirts and will be visited by internet sensation Grumpy Cat (Thursday 1:30 to 3).
Dynamite will host one panels at New York Comic-Con:
Dynamite Entertainment: The Next Ten Years
Thursday, October 8th, 11:00am – 12:00pm
Join the Dynamite gang and their star-studded line-up of creative talent for an hour of explosive power! Learn all the juicy details behind their thrilling new James Bond comic book series, written by superstar Warren Ellis. Discover what Dynamite has in store for Frankenstein, Grumpy Cat, Pathfinder, Vampirella, Doc Savage, and much more. The editors and creators at Dynamite will happily share their latest news and insider perspectives, plus answer all your burning questions! Featuring rising superstar writers Marguerite Bennett and Frank J. Barbiere, revealing for the first time ever their insight into Dynamite's top secret 2016 launches!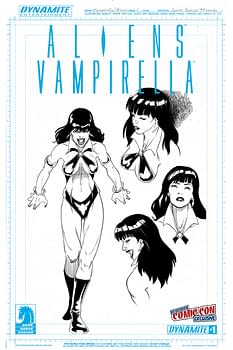 And of course they will have their NYCC exclusive variants on sale at their booth:
Alice Cooper vs. Chaos! #1 – Photo Edition (Cover F)
Aliens / Vampirella #1 – Javier García-Miranda "Vampirella Design Concepts" Edition (Cover H)
Bob's Burgers Ongoing #2 – Brittany McCarthy "Virgin Art" Edition (Cover D)
Bob's Burgers Ongoing #4 – Hans Ranum Edition (Cover E)
Grumpy Cat #1 – Ken Haeser, Buz Hasson, Blair Smith Edition (Cover L)
Red Sonja / Conan #1 – Ed Benes "Blood Red" Edition (Cover P)
Voltron: From the Ashes #1 – Alex Milne "Black & White" Edition (Cover B)