Dynamite has sent us a new writer's commentary, featuring Erik Burnham talking about Red Sonja Vol 4 #15 he co-wrote with Amy Chu. It has interior art by Carlos Gomez and a cover Mike McKone.
* * * * *
Red Sonja #15 is here, and hopefully in your hands or this commentary will make a lot less sense.
Erik Burnham here; I co-wrote this one with Amy Chu! Carlos Gomez and Mohan took care of the art, and Simon Bowland put all the words in place.
And a nice Mike McKone A cover to lead us into: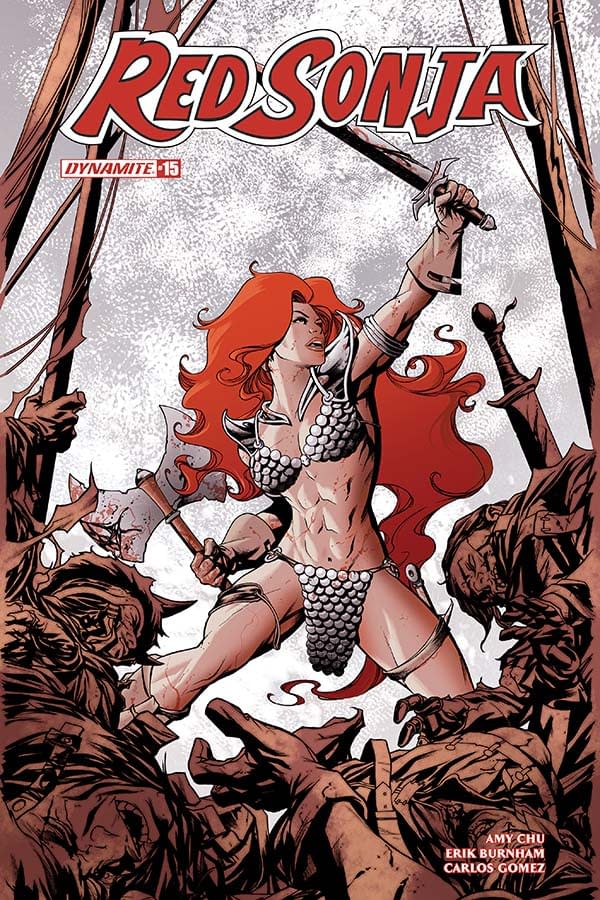 PAGE 1:
A boot to the face.
Sonja, Professor Wallace, and their new comrades Taya and Lera are returning to Meru and finding themselves facing more and more thugs enhanced by the power of Kulan Gath. It's a problem.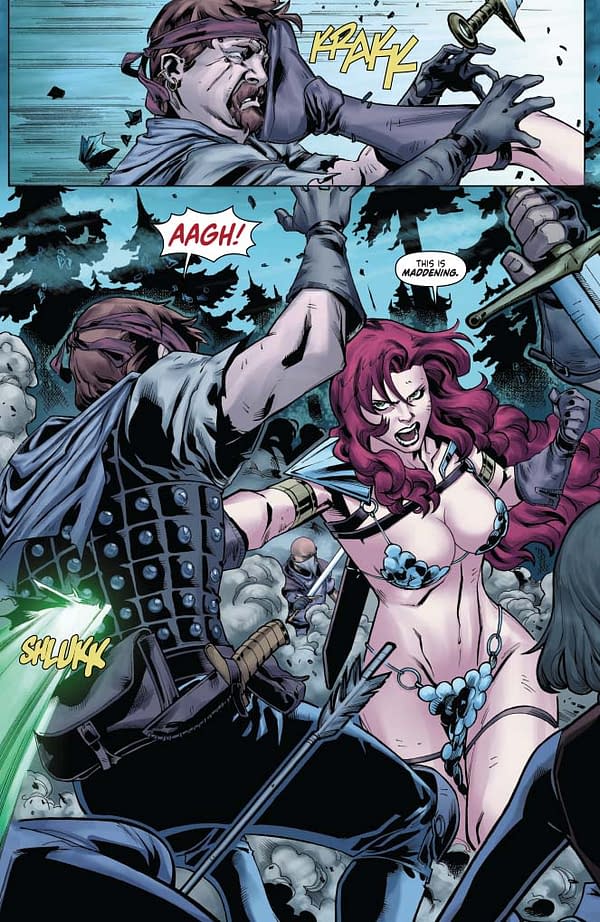 PAGES 2-3:
Is it me, or does it look a little like someone just took off in a DeLorean there in panel one? Yes, I recognize the direction on the flames are different — but tell me Doc Brown and Red Sonja meeting up wouldn't make for a funny scene!
Anyway, back to the fighting. Our heroes kill everyone but are tired of the slow going. Luckily Sonja recognizes that she's very near to a place she hadn't visited since the Long Walk to Oblivion one-shot… a wyvern cave.
You'll have to go back to that one-shot to see what riding one of those looks like, though; it didn't fit here!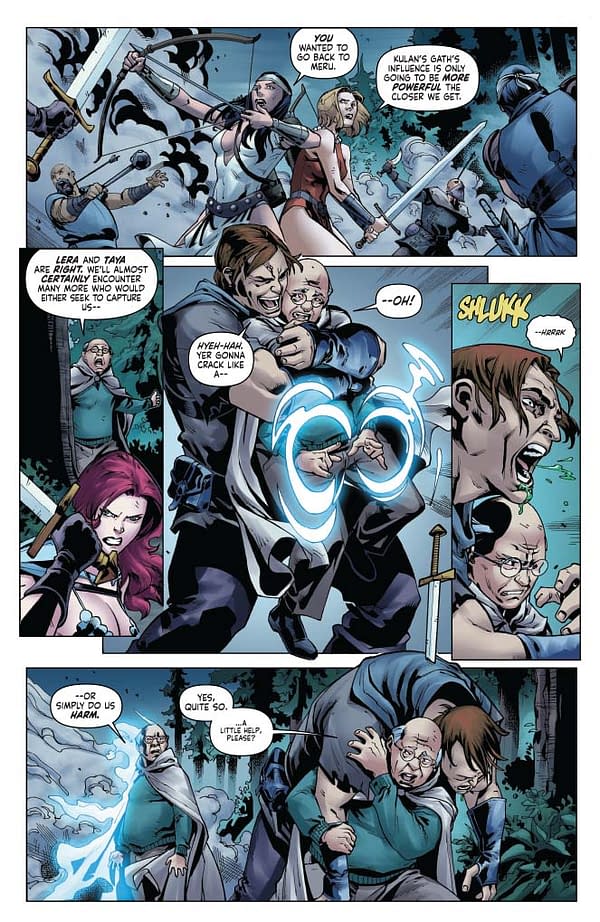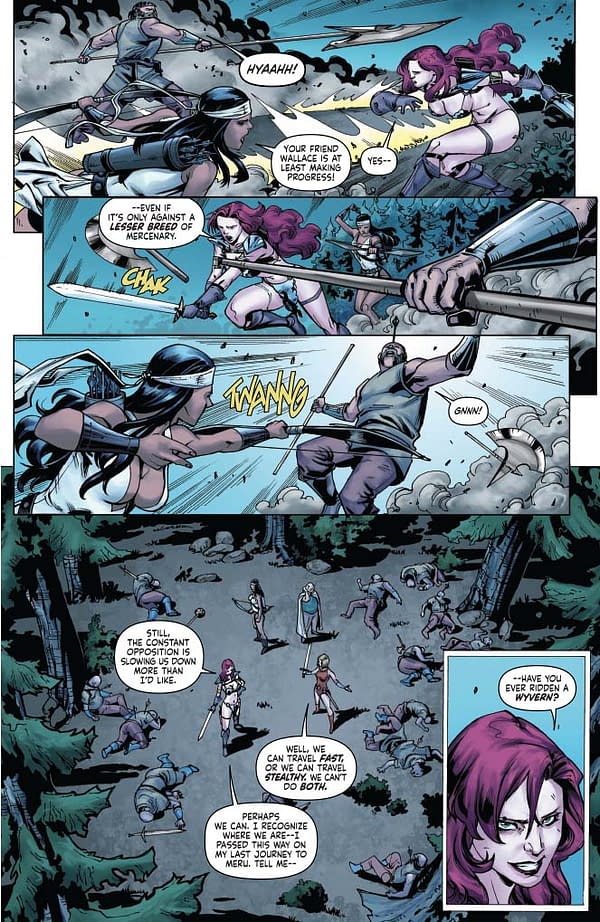 PAGES 4-5:
Hey look! Another Sonja! This one was created by a mix of magic — Wallace's and Kulan Gath's. She's a duplicate, and she has no place in the world. All of Sonja's memories, but she's not Sonja — and she doesn't know how long of an existence she'll have.
That's a mix that makes it easy for Gath to talk her over to the dark side.
Clone-ja (as we called her in the script, because it made me chuckle) is kind of a tragic character, and one we thought would be fun to bring in when Amy's outline called for duplicates to be left behind, presumably just to vanish when the spell ran out.
We thought there was more there. (We being the editors, myself, and, once she saw these pages, Amy too!)
PAGES 6-7:
Cut to later and our heroes sneaking into Shamballah, the capital city of Meru…
…And some more exposition about what Gath is doing there.
PAGE 8:
And here we have Kulan Gath really turning the screws on poor Max — torturing him by making him choose a city in Meru from which 100 citizens will die. That's a specifically cruel torture for Max, who became a policeman in the modern day through an honest desire to protect.
But luckily, there's an interruption.
PAGE 9:
Sonja! In a trick so old its beard has a beard.
PAGE 10:
…But Gath still fell for it.
Thing is, it looks like Sonja is really locked up there — I think we were going to have Max see her hands only loosely bound. But hey, Carlos got a superhero shot in at the last panel that looks amazing and suitably over the top, so I'm not complaining!
PAGE 11:
Sure, Kulan Gath, pretend like you recognize that trick. You were fooled, buddy. We all know it.
PAGE 12:
Gath's reaction to Sonja's spit — the look on his face — it cracked me up when I saw the pencils. Carlos Gomez nails the acting again.
PAGE 13:
And here's where we get down to it.
RED SONJA vs. RED SONJA (well, sort of.)
Initially, Carlos had them looking the same except for the cutoffs and boots on Clone-ja. I had hoped for more physical differences (implying she'd been bolstered with magic.) The compromise was the darkened eyes.
PAGE 14:
Still, look at that. Sonja vs. Sonja. And one has a sword that's on fire (thanks to Max and Wallace for pointing that out. Good eye, boys.)
PAGES 15-17:
SONJA FIGHT CONTINUES! And our evil clone has an understandable reason for wanting to kill the original — she has the same survival instinct, the same identity, she wants Red Sonja to die so that she can live.
But of course Sonja isn't going to just lay down and die…
So…
Slash.
That's the end for Clone-ja (or is it? Her head is still attached to her neck… maybe there's still a little magic left in there! I think she should survive. Sonja could use another rogue in her gallery!)
PAGE 18:
All credit, that middle finger was Amy's inspiration and I laughed out loud when I saw it in the outline.
Of course that's what Sonja would pick up from the modern world. OF COURSE.
PAGES 19-20:
And there's Gath torturing Max again — making him choose between his friends Sonja and Wallace… or every innocent person in Meru. That's a hard choice to make.
I wonder what Max would've picked if Gath hadn't lost his patience…
And that's it!
Wallace has been blasted! Gath has the upper hand! There's one issue left in the story… come back and see what happens!
Enjoyed this article? Share it!