Exiles #3 Review: Li'l Wolvie and Valkyrie, Friends Forever
[rwp-review-recap id="0"]
The Exiles land on a world full of less-than-happy sentient dinosaurs before arriving on another psychedelic world with a pair of surprisingly familiar faces. After this detour, they arrive on an Earth still experiencing World War II, and Peggy Carter is Captain America with her partner, Becky. The Red Skull is enacting his final gambit to win the war for Germany. He plans to drop an atomic bomb on New York City.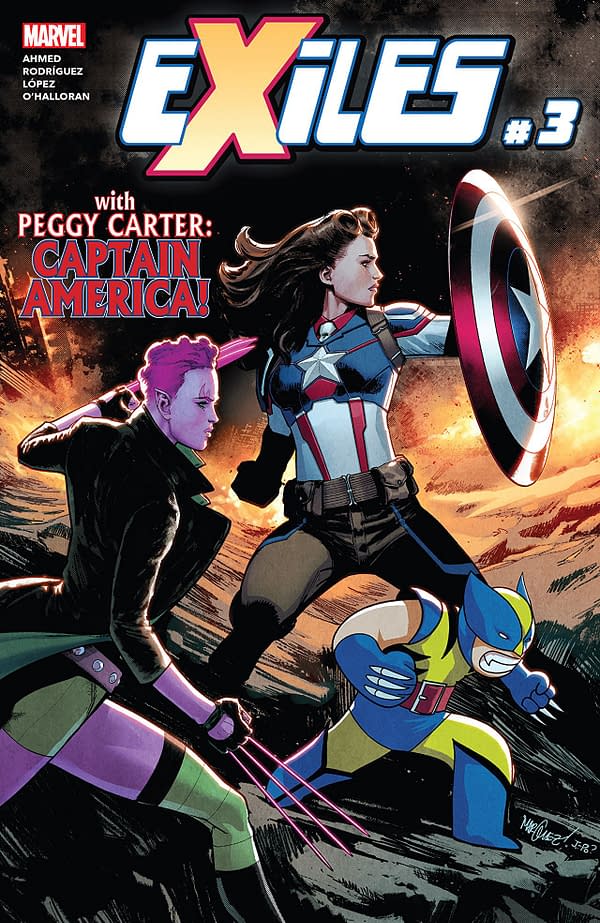 Exiles continues its saga in this walking tour of some of the fantastic and bizarre realities that Saladin Ahmed and Javier Rodriguez can conjure to mind. This results in some strange tableaus that are nonetheless entertaining to read.
There are some new clues trickled in about the threat the Exiles are facing as well as some possible futures to this iteration of the team. Also, Peggy Carter as Captain America is absolutely amazing. If you're wondering why a British person has taken up the shield, the comic acknowledges the oddness of that.
Li'l Wolvie has turned out even more cute than I imagined. His budding friendship with Valkyrie is among the greatest things about the comic. Also, Valkyrie and Becky hit it off.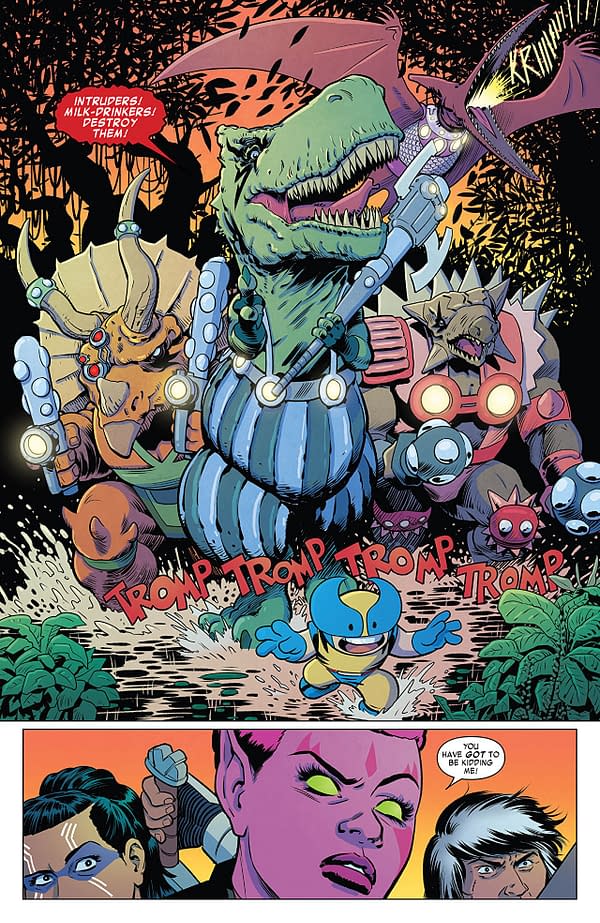 The artwork of Javier Rodriguez continues to impress in its creation of this uniquely beautiful comic. His softer and more rounded style gives the air of levity that this book about dying worlds needs. Plus, little background details are inserted into many panels to expand the story in ways the text doesn't. Chris O'Halloran's color art pops off the page in a spectacular manner, adding to the upbeat visual aesthetic that Rodriguez and inker Alvaro Lopez establish.
Exiles #3 is another fun and engaging installment of this reboot of the title. The characters are endearing and compelling, the worlds they visit are creative and bizarre, and the artistic team is brilliant. This one gets a strong recommendation. Give it a read.
[rwp-review-ratings id="0"]
[rwp-review-form id="0"]