Extended Previews Of Grimm #1, Damsels #1, Battlefields #6, Red Sonja Annual #4, Ghoul Goblin #4 And More Dynamite Explosions
GRIMM #1
David Greenwalt, Jim Kouf (story)
Marc Gaffen, Kyle McVey (script)
José Malaga (a)
Alex Ross (c)
FC • 32 pages • $3.99 • Teen+
Set in the world of the acclaimed NBC series, Grimm, Homicide Detective Nick Burkhardt of the Portland Police Bureau learns he is descended from a line of guardians known as "Grimms," charged with keeping balance between humanity and the mythological creatures called "Wesen." Beginning this issue, Kelly (Nick's mom) begins her quest to destroy the Coins of Zakynthos.
FANS, ASK YOUR RETAILER FOR THE:
Alex Ross B/W art retailer incentive cover DAMSELS: MERMAIDS #1 (of 5)
Matt Sturges (w)
Jean-Paul Deshong (a)
Paul Renaud (cover A)
Jay Anacleto (cover B)
Fans & retailers, order the cover of your choice!
FC • 32 pages • $3.99 • Teen+
The Little Mermaid's fairy tale had a happy ending… but not for her. Now she lives a secluded life away from her people, angry at the world, courting danger at every turn, and daring death to find her. When a handsome prince is exiled on her lonely island, he offers her a chance to pay the world back, asking for her aid in his battle against the oppressive Hieromancers of Atlantis. But can she trust him? Or is he simply the next charming prince in line to betray her?
FANS, ASK YOUR RETAILER FOR THE
Jay Anacleto B/W art  retailer incentive cover
Paul Renaud B/W art  retailer incentive cover
RED SONJA: ANNUAL #4
Scott Beatty (w)
Edu Menna (a)
Jose Malaga (c)
FC • 40 pages • $4.99 • Teen+
The She-Devil with a Sword…captured and infected by the bite of a loathsome creature of the night! Offered as a human sacrifice to the vampire's dark god, Red Sonja must defeat both monster and its master… or be transformed into a bloodthirsty predator Herself!
GARTH ENNIS' BATTLEFIELDS #6 (OF 6):
THE FALL AND RISE OF ANNA KHARKOVA PART 3
Garth Ennis (w)
Russ Braun (a/c)
FC • 32 pages • $3.99 • Mature
The year is 1964, and while war hero Anna Kharkova survived WWII intact, she now languishes in a remote Siberian punishment camp. But the former Night Witch still has one last card to play! High above the frozen Arctic ocean, her saga reaches its end, as the last of the women warriors meets her destiny. WARLORD OF MARS: DEJAH THORIS #25
Robert Place Napton (w)
Deborah Carita (a)
Paul Renaud, Fabiano Neves (c)
FC • 32 pages • $3.99 • Mature
A mysterious stranger poses a grave threat to Dejah as she becomes the target of a vendetta that goes back to a time before she was born! A pivotal turning point in the life of Dejah Thoris.
FANS, ASK YOUR RETAILER FOR THE
Lui Antonio "risqué art" retailer incentive cover
TBA "risqué art" retailer incentive cover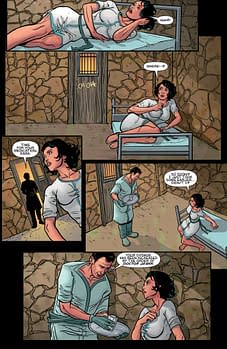 WARLORD OF MARS #24
Arvid Nelson (w)
Leondro Oliviero (a)
Joe Jusko, Lucio Parrillo (c)
FC • 32 pages • $3.99
Fans, ask your retailer for these variant incentive covers!
• PARRILLO "virgin art" cover retailer incentive
• RISQUÉ ART cover retailer incentive
John Carter is a prisoner of the brutal tyrant Salensus Oll. His princess is still in the clutches of the ever-sleazy Matai Shang. But Carter's a lucky guy! A friendly
fleet is approaching Salensus Oll's domed fortress. There's just one little hitch: the ships are doomed if Carter can't escape and shut down the terrible Guardian of the North that renders Salensus Oll invincible. Even if he breaks free, Carter will have to face the guardian of the Guardian – the greatest swordsman Mars has ever known!
VAMPIRELLA #29
Brandon Jerwa (w)
Patrick Berkenkotter (a)
Paul Renaud, Lucio Parrillo, Fabiano Neves (c)
3 regular covers will be shipped in equal ratios
FC • 32 pages • $3.99 • Teen+
Set The Controls For The Heart Of The Sun" (Part 1 of 3) – After being scattered around for a bit, Team Vampirella is reunited with new purpose. It's a good thing, too, because the team will have their hands full fighting a coven of witches in the present, while Vampirella and Criswell are otherwise occupied. And by "occupied," we mean their minds have been projected 100 years into the future!
FANS, ASK YOUR RETAILER FOR THE
Paul Renaud "blood red art" retailer incentive cover DARK SHADOWS #16
Mike Raicht (w)
Nacho Tenorio (a)
Francesco Francavilla (c)
FC • 32 pages • $3.99 •Teen+
Willie and Quentin recruit unlikely allies for their battle to save Collinwood. Meanwhile, Barnabas makes a desperate attempt to change his, and his family's, future… but will it be all for naught? A mysterious figure is haunting Collinwood. Could the changes Barnabas is making play right into the hands of one of his oldest foes?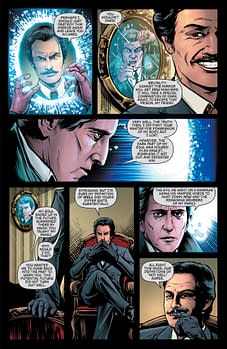 JIM BUTCHER'S DRESDEN FILES: GHOUL GOBLIN #4 (OF 6)
Jim Butcher, Mark Powers (w)
Joseph Cooper (a)
Ardian Syaf (c)
FC • 32 pages • $3.99 • Teen+
A small, isolated Midwestern town is being terrorized by a pair of the Nevernever's most vile creatures, who'vemanaged to decimate the star-crossed Talbot family. Harry's sworn to protect the survivors and end the curse—something that can only be accomplished if he can convince them to take refuge in what amounts to a supernatural fortress. And if the ancient guardian spirit he's summoned doesn't kill him first…and if the local cops don't toss him into a jail cell…