Fantom Comics' Pre-SPX Extra Large Comix Hangout With Hang Dai, Brandon Graham, Ron Wimberly, Farel Dalrymple, And MK Reed
Despite being somewhat native to the Washington DC area, I had never been to Fantom Comics in the Dupont Circle area of the city, so was glad for the opportunity ahead of Small Press Expo in Bethesda, Maryland, to check it out. The title of the event, 'The Extra Large Comix Hangout' definitely turned out to be true. Three of my studiomates from Gowanus, Brooklyn and Hang Dai Studios, were present signing, so I thought I'd check out the event.
Here are some photos of Fantom Comics: And some of Hang Dai Studios signing two new books just released this week in time for SPX: Beef with Tomato by Dean Haspiel, and Smoke, by Gregory Benton.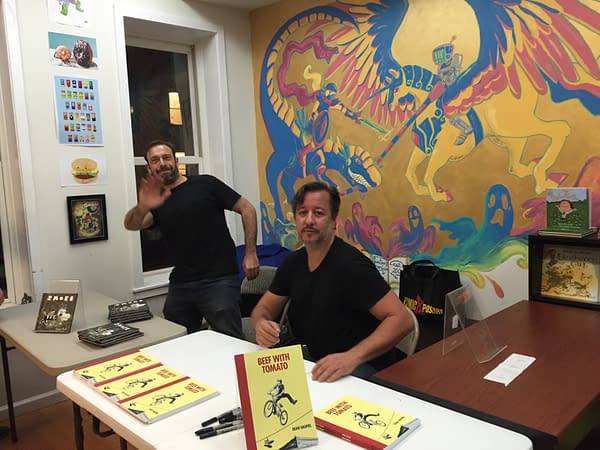 And here Benton autograph/doodles Fantom Comics' manager Esther's arm: Also present was Ron Wimberly, here pictured with Hang Dai Studios comics creator Christa Cassano, both in town for SPX: Here Brandon Graham signs copies of the new Image anthology series Island: Farel Dalrymple and MK Reed sign their new YA graphic novel, Pale Fire and Island, to which Dalrymple is a major contributor: It was definitely a mega-hangout. The event was packed with comics folks for many hours, and there were drinks on hand as well as pizza popping in from a nearby pizzaria. Fantom Comics is definitely worth a visit if you're in the area–their selection of comics and graphic novels shows an intelligent flair for turning readers on to art comics and innovative work as well as reaching out to young readers. Now to kick off SPX! You can also find Gregory Benton, Dean Haspiel, and Christa Cassano at SPX at the following location, where they'll also be debuting the late Seth Kushner's graphic novel Schmuck.