We did it for Inhumanity, why not for Forever Evil too? Five books this week, all Forever Evil-bannered but which books actually matter to the storyline? Let's find out.
Constantine #9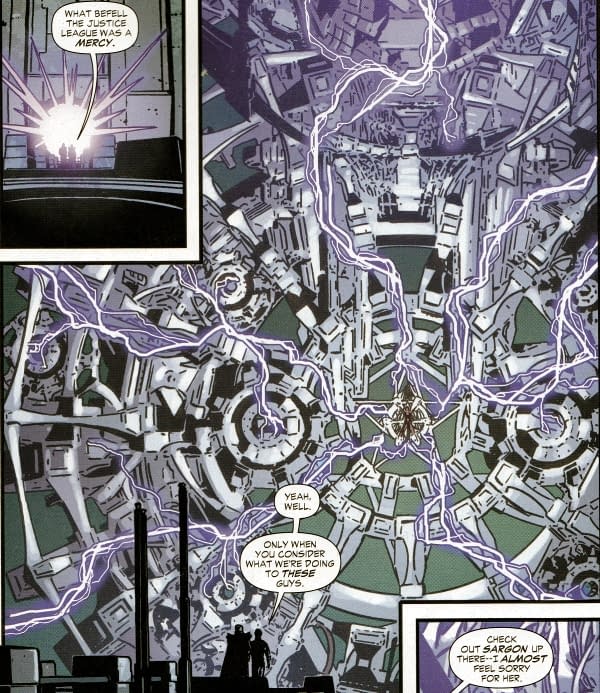 The cover reads "To Save The Woman He Loves, He Must Fight The Crime Syndicate" by Constantine doesn't do anything of the sort. He is prevented by this Blight thing. Subconcious fear thing, made real, by all this Forever Evil shenanigans and all the Justice League Dark gang and Swamp Thing getting involved. It's a biut dull to be honest, but enlivened by an entertaining mention of celery and this behind-the-scenes thing going on. Though not, it seems, with the Crime Syndicate.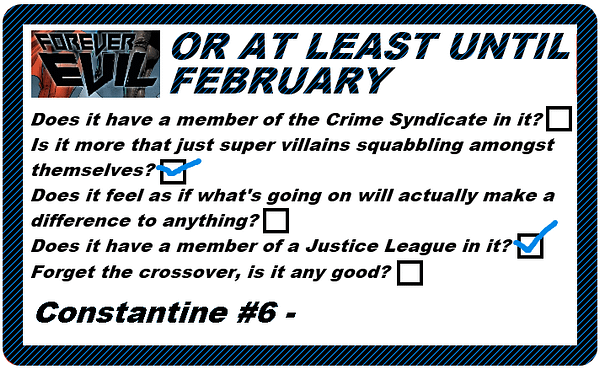 Justice League #25
This is a bit more like it. We have a Crime Syndiacte member and his back story, we have the exposed Nightwing, we have the world reacting to the new situation, we have some meta-commentary on the whole situation.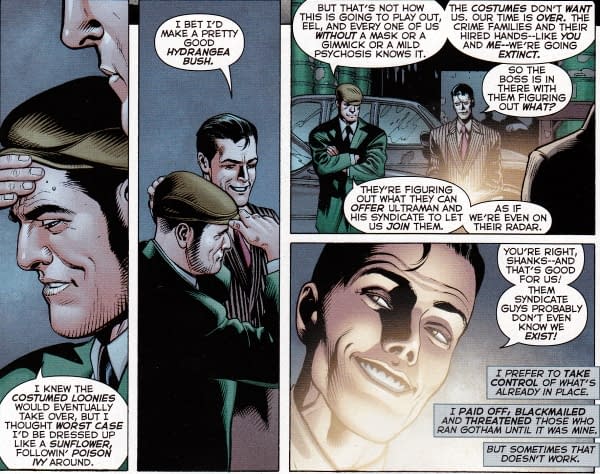 And we even have an actual plot twist. Yes, by the looks of this, we have the winner for the most relevant Forever Evil crossover for a while. If you are buying Forever Evil, you will need this comic, it seems.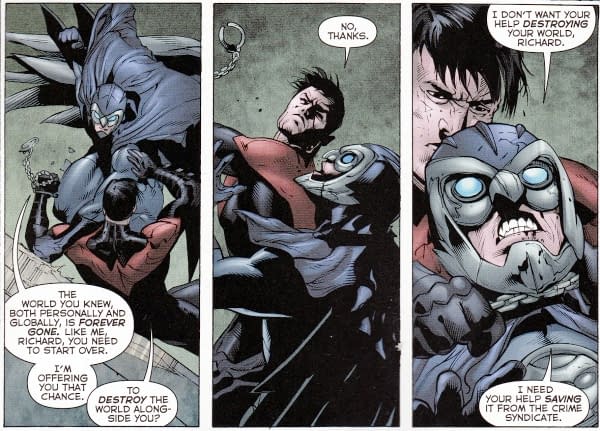 But lets check the chart just in case.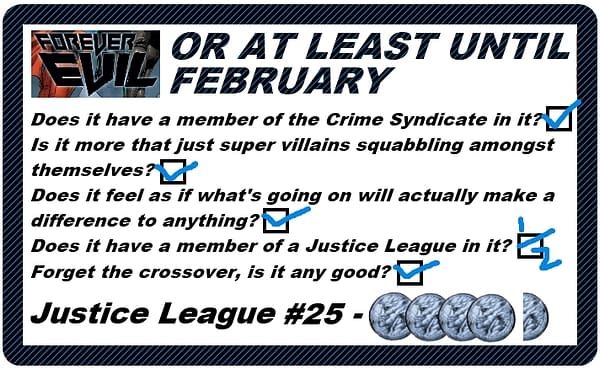 Yup, that's an almost clean sweep there. And it happens to be a good comic as well, which is always a plus.
Justice League Of America #10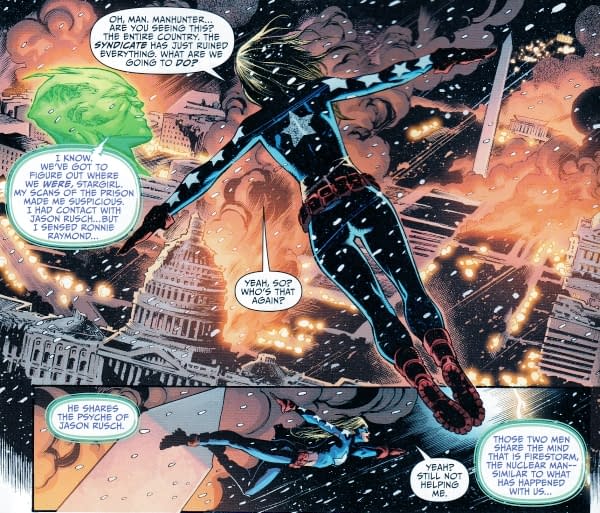 This… is less so. Continual fighting within the mind, trying to break free with Stargirl and Martian Manhunter. Hang on, haven't we already done this? And the big reveal at the end… hadn't we already had this?
Pretty snowscenes though.
Suicide Squad #25

During the Crisis On Infinite Earths crossover of the eighties that kicked all this current event nonsense off, there was such a thing as a Red Sky crossover, where in some comics, the sky went red for a bit. And that was the limit of their Crisis crossover, but they still got a cover sticker to that effect.
With Suicid Squad, we get a Black Sky crossover.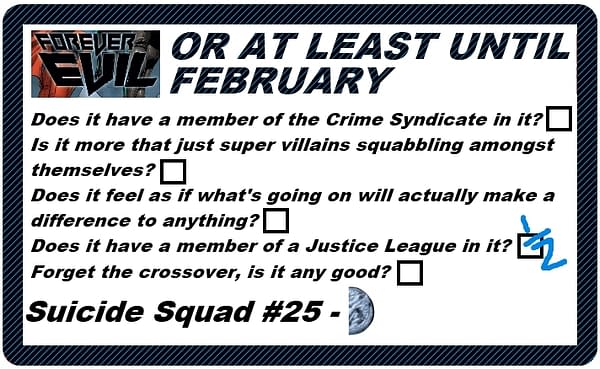 Arkham War #3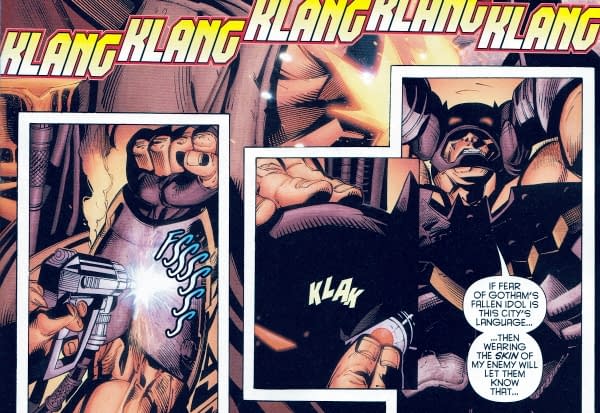 It would be similar in Arkham War, but a) it has Forever Evil in its title, and b) they go oin and on and on about the political ramifications of the event. In actually a rather engaging, thrilling and dangerous way. Oh and Bane making himself a rather familiar pointed eared costume in order to… keep order. Well, criminals are a superstitious and cowardly lot. Surprisngly enjoyable.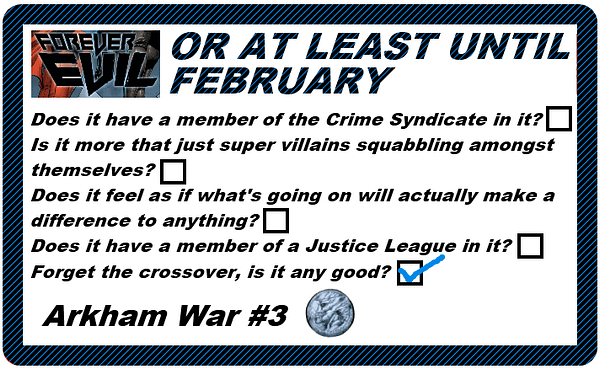 Comics courtesy of Orbital Comics, London. Enjoyed this article? Share it!