Frank Barbiere On The End Of Solar: Man Of The Atom
Keith Davidsen, writer of Reanimator #2, talks with writer Frank Barbiere about Solar: Man of the Atom #12, both on sale now. Covers by Marc Laming and Jonathan Lau.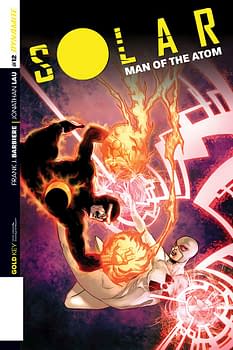 KEITH DAVIDSEN: First off, what are your thoughts on how your original concept/explorations for the Solar story may have evolved or been accomplished over the execution of twelve issues?
FRANK BARBIERE: I'm really happy that I got a chance to say what I wanted to say and move the book to a more "family-themed" world. Clearly you make fun little discoveries along the way, and for me it was specifically our second arc—I feel like by putting Erica in cool, cosmic situations and having her have to solve them without just punching her way out taught me a lot about the character. We really get her new perspective and see her change in this final issue, so I'm pleased.
KD: Most superheroes have a dark doppleganger in their respective rogues galleries: Spider-Man and Venom, Superman and Bizarro, Flash and Reverse-Flash, etc. In the Man of the Atom series, Solar's mirror villain is Eclipse. What do you see as the appeal of pitting two characters — similar but different — against each other?
FB: For one, I think it's a really fun, cool visual representation on the page—we literally have LIGHT VS. THE DARK with Eric in white and Eclipse in black. I think these characters make for very obvious opposites, as every great villain should be, and that's their appeal. Here I wanted to make Eclipse more than that—he's an otherworldly force that's taken over an Earth man, vs. Solar who is a regular person wielding an otherworldly force to her will. It really became about two different viewpoints rather than just a physical foil, which was the plan all along.
KD: When Solar fans look back on your run on the character, what do you hope they'll point out as your contribution to the legacy?
FB: I hope they look at the character of Erica and recognize we did something different for a purpose. I came into this project not wanting to just tell a story about "another guy with space powers"—I wanted to emphasize that the human experience and family affect our outlook, and the that the person makes the hero, not the powers. And hopefully they'll see that there are many different ways to be a superhero, not just the traditional male power fantasy way.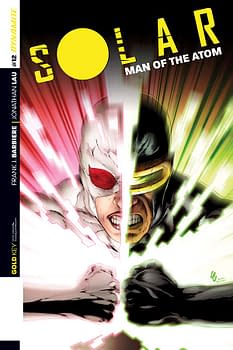 KD: The nature of the different timelines in the Gold Key universe — Turok being in the past, Magnus being in the future, and Solar being in the present — instructed how each of the different Gold Key titles remained largely independent. Your inclusion of Doctor Spektor as a supporting cast member in Solar remains one of only a few instances where the shared universe was apparent. What are your thoughts on bringing in a somewhat "outside character" into your story, or alternately, interjecting your story into the Big Picture?
FB: I was very glad that we were all allowed to play in our own little pockets as it didn't make anything forced. There are some shared elements, and we definitely hinted towards a bigger picture in this final arc, but it was nice to take my time and not worry about shoehorning in some kind of crossover just to bolster sales. Spektor was a really natural fit, as he's in the present timeline, and I was very happy with how organically he came into the book—he's a great character!
KD: When you look back over the course of the series — what do you consider to be your favorite moment, and why?
FB: I really enjoyed issue #6, where Erica heals the sun for the gopher aliens. That issue was a big point for me as I realized what really made her so different from Phil as a character, and where we could go with that. I also loved the cover to that issue…as well as Jon Lau's fantastic contribution. When Erica is healing the sun it's just so beautifully rendered and hits all the right emotional beats. Jon was a fantastic collaborator and really helped make this book shine!
For more on Solar: Man Of The Atom #12, click here.