Bleeding Cool has been sent an advance copy of Captain Marvel #1, out tomorrow. And have been allowed to talk about it today #respecttheembargo.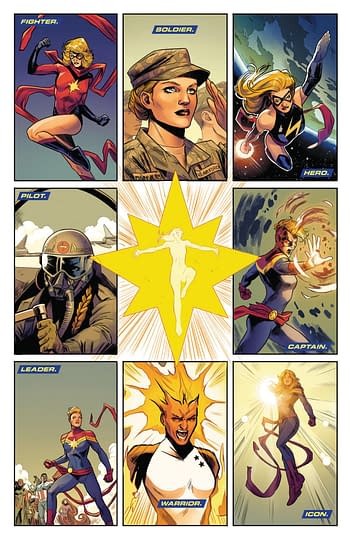 Now, this is just a personal reaction, and you may have a very different one, but I was increasingly frustrated by this first issue. An extra-length $4.99 debut issue, it seems completely the wrong shape. It begins with a great summation of the character's life so far, reminiscent of the opening of All-Star Superman.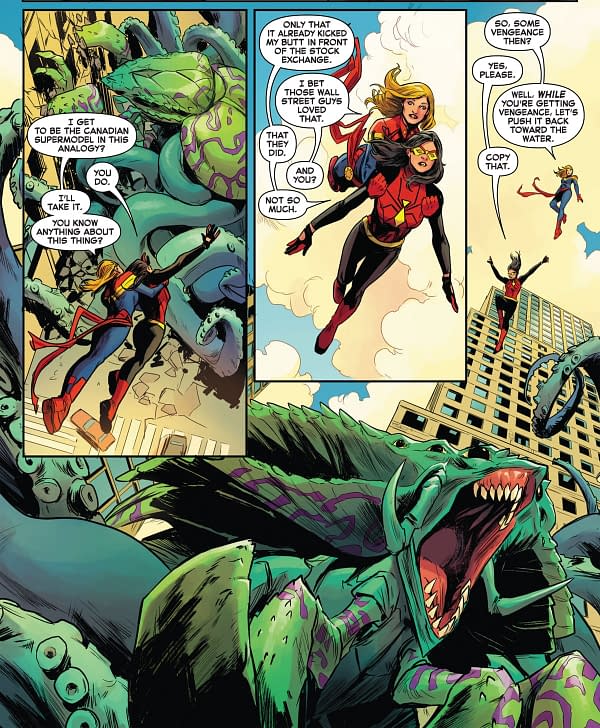 And straight away, we have Carol Danvers attacking a Kraken invading Lower Manhattan. This goes nowhere. She meets up with Tony Stark to learn how the public see her. That goes nowhere.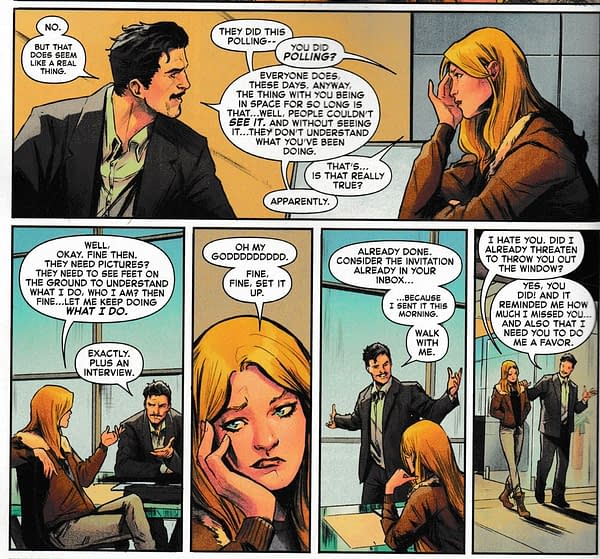 She meets up with a protege of Tony Stark, she finally meets up with her boyfriend Jim Rhodes who she hasn't seen since he died and was revived, there are more and more and more of these scenes, until a big supervillain attacks, opens a portal and who whole comic book tips up and gives us a brand new reality, to be followed up with in issue 2.
And after reading it, I am left with a great feeling of unsatisfaction. I can see the shape of this to some degree, Man Plans, God Laughs, you never know what's going round the corner, you can only prepare for life so much before it bowls you a googly…
But I couldn't help feeling the comic could have begun with this new reality, which is more fascinating than anything else in this comic, and maybe flashback/montaged to what led Carol here, to her new situation. Rather than spending so long on what feels like wasted time.
I'm sure it's not. I'm sure writer Kelly Thompson has plans to make this all work. But I only got the first issue and I feel like I've been playing Find The Lady, as I did with Dan Slott and Fantastic Four #1. Which was even longer and cost even more.
And some of the scenes did really work. I definitely enjoyed the debate with Tony Stark over how she was polling. Her back and forth with Hazmat was worth the admission price.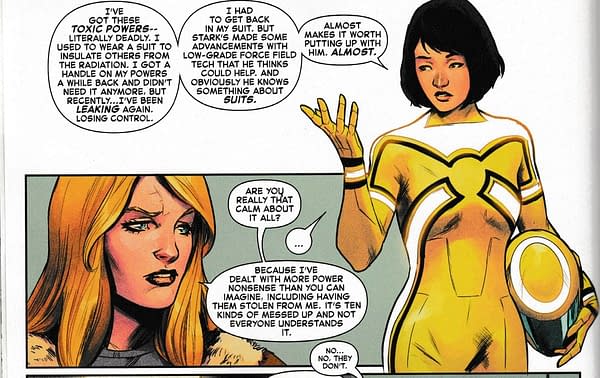 And yes, I even liked the Tank Girl twist on James Rhodes. I especially enjoyed Carmen Carnero and Tamra Bonvillain created a cartoony closeness to the characters without sacrificing the reality in which they live.

But I think I'd have much preferred them as flashbacks within the story that only gets revealed in the last page. And maybe in subsequent solicitations…
Am I making too much fuss about something, imposing my own very specific expectations onto someone aimed with different target audience in mind? Or am I not picking up on the point of this comic and I should be ashamed of myself? I'm sure you will tell me. But I could have really done without the Kraken. Too much set-up not enough… up.
I mean, I'll be picking up issue 2, of course. I just feel that I should have startd with that one.
Captain Marvel is published tomorrow.
CAPTAIN MARVEL #1
(W) Kelly Thompson (A) Carmen Nunez Carnero (CA) Amanda Conner, Paul Mounts
ALL THE STARS ALIGN AS KELLY THOMPSON AND CARMEN CARNERO TAKE ON MARVEL'S PREMIER FEMALE SUPER HERO!
As Captain Marvel, Carol Danvers has spent months in space protecting Earth from alien threats big and small, but now it's time for Earth's mightiest hero to come home. New York City has never looked so good. But every re-entry comes with the unexpected, and Carol is about to hit a whole lot of unexpected. It's a fresh start and an oversized, star-studded welcome home for a hero who's been punching the glass ceiling since the 1970s – and just in time for the first female-led film from Marvel Studios! The next 50 years of Captain Marvel starts here!
Rated T+In Shops: Jan 09, 2019
SRP: $4.99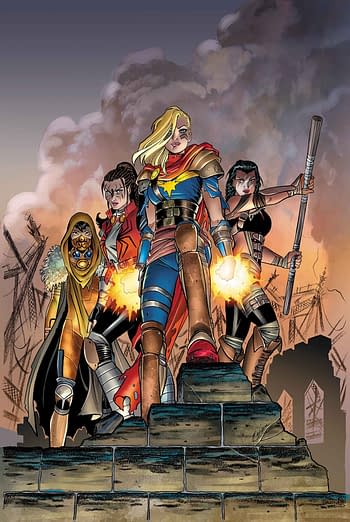 CAPTAIN MARVEL #2
(W) Kelly Thompson (A) Carmen Nunez Carnero (CA) Amanda Conner, Paul Mounts
REVOLUTION!
The classic Fantastic Four villain MAHKIZMO has taken over Manhattan's Roosevelt Island and turned it into an apocalyptic wasteland! When CAPTAIN MARVEL ends up trapped there and cut off from the rest of world (including any Avengers-shaped reinforcements!), she'll need to build her own team out of allies, old and new – SPIDER-WOMAN, HAZMAT, ECHO and a man known only as SOM – in order to start a revolution to free the island's civilian inhabitants. With that kind of backup, Mahkizmo should be toast – but not everything is what it seems on this island…
Rated T+In Shops: Feb 13, 2019
Final Orders Due: Jan 21, 2019
SRP: $3.99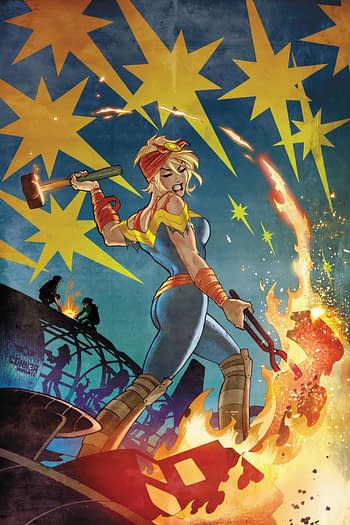 CAPTAIN MARVEL #3
(W) Kelly Thompson (A) Carmen Nunez Carnero (CA) Amanda Conner
BUILD IT AND THEY WILL COME!
SHE-HULK joins CAPTAIN MARVEL in her war on Roosevelt Island! But the barrier continues to cut them off from the rest of the world, while Nuclear Man's ranks are somehow swelling, and something on the island is interfering with super powers. If Carol's going to win this fight, she'll need an army of friends, a hangar of war machines and an ironclad plan. But can she really trust all her allies? And what face from Carol's past is about to show up and change everything?
Rated T+In Shops: Mar 20, 2019
SRP: $3.99
Enjoyed this article? Share it!