New Garth Ennis Series, Pestilence Vol. 2, and a Jim Starlin Art Collection: AfterShock May 2018 Solicits
Garth Ennis' new series, A Walk Through Hell takes off, Pestilence: A Story of Satan is unleashed, and a collection of Jim Starlin's artwork is put up for sale, all from AfterShock's May 2018 solicits. Moe details below.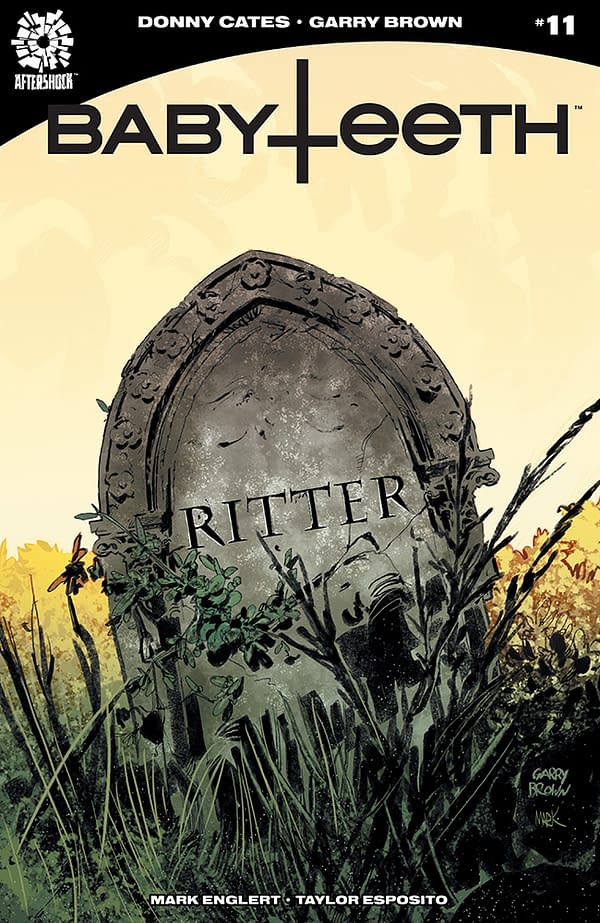 BABYTEETH #11 / $3.99 / 32 pages / Color / on sale 05.23.18
writer: Donny Cates
artist: Garry Brown
color: Mark Englert
letterer: Taylor Esposito
cover: Garry Brown
The story of the Antichrist and the people who love him continues as we enter into the most terrifying chapter of our journey so far: THE TERRIBLE TWOS! Plus, who is our mysterious new storyteller!? And what secrets about the fate of Clark do they hold?! Find out here, as a bold new direction in BABYTEETH begins!
From Donny Cates, the writer of Thanos, Dr. Strange, Buzzkill, Paybacks, Redneck and the breakout hit God Country, comes a pulse-pounding new series with art from THE REVISIONIST's Garry Brown!
"This book is going to be the most sought after title of 2017" – Rick Shea of Famous Faces & Funnies comic shop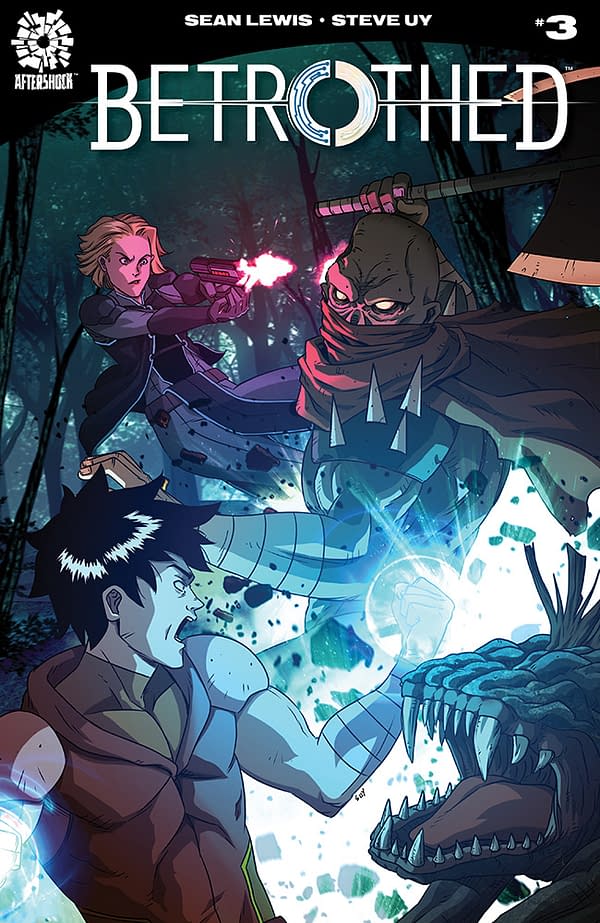 BETROTHED #3 / $3.99 / 32 pages / Color / on sale 05.09.18
writer: Sean Lewis
artist: Steve Uy
letters: Simon Bowland
cover: Steve Uy
The Betrothed's earth-bound guardians get involved as all hell breaks loose for Kieron and Tamara. After battling Barbarians and having their friends discover the truth about the pair, how can they find a way to cope? Enter an all-night keg party, filled with flirtation, jealousy and a few pranks along the way. Funny, fantastical and full violence—issue #3 arrives with a bang!
From writer Sean Lewis (The Few) and artist Steve Uy (Uncanny X-Men, Avengers Initiative, Grumpy Cat) comes a sci-fi series, with a fun mix of Archie and Saga, that HAD to be told at AfterShock!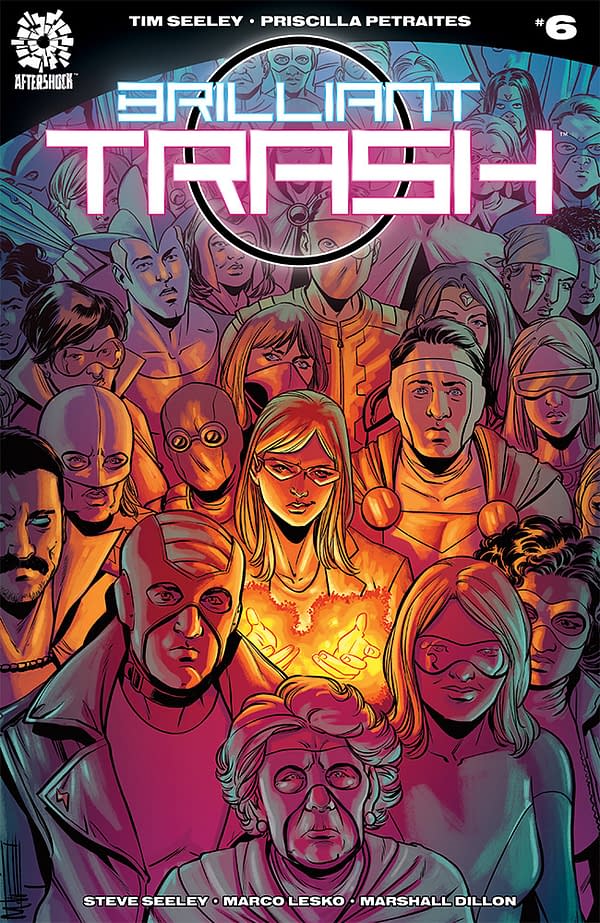 BRILLIANT TRASH #6 / $3.99 / 32 pages / Color / on sale 05.30.18
writers: Tim Seeley & Steve Seeley
artist: Priscilla Petraites
color: Marco Lesko
letters: Marshall Dillon
cover: Mike Norton & Addison Duke
Now that the Didi Virus has swept the globe, every one on earth has superhuman powers. But using the superpowers slowly kill the user, and each person must decide whether to use them for good or evil, and whether to burn bright and fast or not at all.
A sci-fi superhuman epic from Tim Seeley, the writer of Revival and Grayson, and breakout art sensation Priscilla Petraites!
"It's the story of the 'word of tomorrow,' torn directly from the headlines, about an America that might be waiting for us. It's cautionary, but it's also action packed and fun!" —Tim Seeley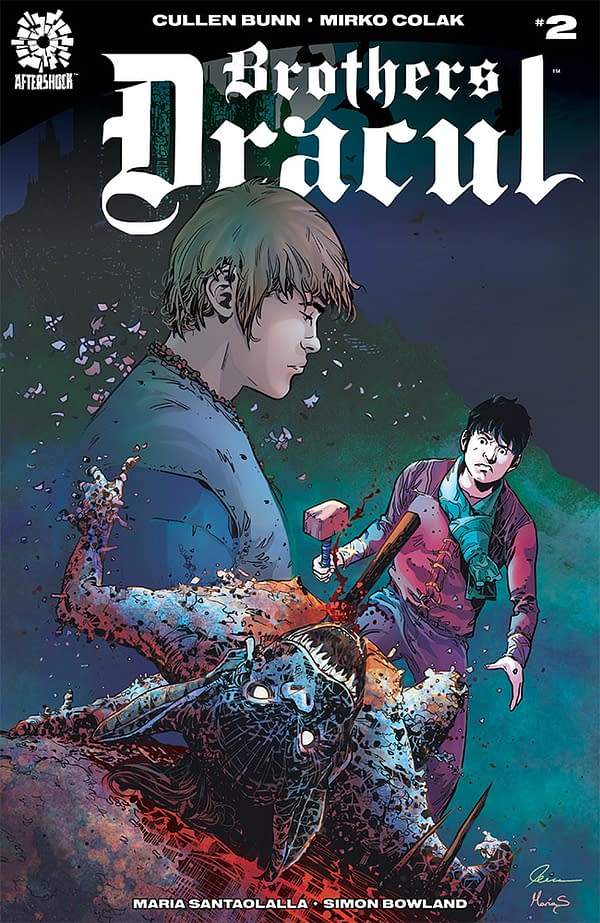 BROTHERS DRACUL #2 / $3.99 / 32 pages / Color / on sale 05.23.18
writer: Cullen Bunn
artist: Mirko Colak
color: Maria Santaolalla
letterer: Simon Bowland
cover A: Mirko Colak w/ Maria Santaolalla
cover B: Szymon Kudranski
Vlad Dracul and his brother Radu are prisoners of the Ottoman Empire. As royalty, though, they are treated with great respect. They are trained in art, music, archery, horseback riding…even vampire hunting! Herein the sorrow-filled truth of Vlad's descent to the role of the Impaler is revealed!
From writer Cullen Bunn (DARK ARK, UNHOLY GRAIL, X-Men Blue, Deadpool, Venom) and artist Mirko Colak (UNHOLY GRAIL,The Punisher) comes a tale of brothers and blood that HAD to be told at AfterShock Comics.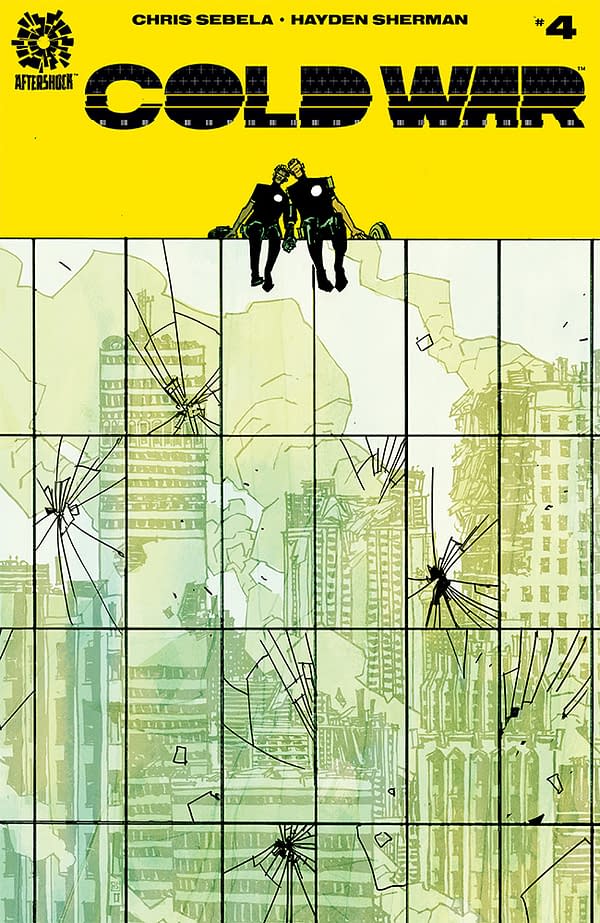 COLD WAR #4 / $3.99 / 32 pages / Color / on sale 05.16.18
writer: Chris Sebela
artist: Hayden Sherman
colors: Hayden Sherman
letters: Hayden Sherman
cover: Hayden Sherman
With no safe havens left, the splintered sides of the surviving Cryonauts are spinning wildly out of control. On the ground, the least useful members of their ranks — lovesick couple Tikk and Sath — have stepped up to save their fellow soldiers. While deep behind the scenes, LQ's semi-suicide mission to uncover who's pulling the strings has hit bloody paydirt.
From Chris Sebela, writer of Blue Beetle, Kiss/Vampirella and Evolution, and Hayden Sherman, artist of The Few and John Carter The End, comes the story that HAD to be told at AfterShock!
"Sebela managed to balance a number of genres, giving us a plate that offers something for just about everyone…Hayden Sherman's art is a big plus and evokes early Frank Miller. 9 out of 10." -Stephen Gustafson of 411mania.com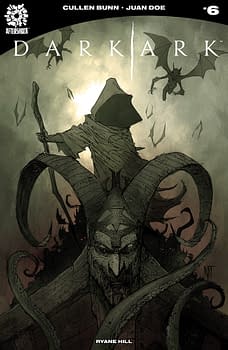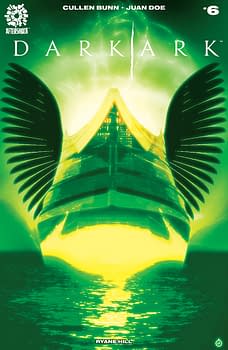 DARK ARK #6 / $3.99 / 32 pages / Color / on sale 05.02.18
writer: Cullen Bunn
artist: Juan Doe
letterer: Ryane Hill
cover "A": Juan Doe
cover "B": Nat Jones
Two arks sail the flooded world. On one, Noah tends the animals of the natural world. On the other, the sorcerer Shrae stands watch over the monsters that haunt the night. But in order for Shrae's charges to thrive in the World That Waits, Noah's Ark must also survive. And when Noah's vessel encounters trouble, Shrae's monsters must work in secrecy to ensure that their would-be prey lives to find land.
From writer Cullen Bunn (X-Men Blue, Deadpool, Venom) and artist Juan Doe (AMERICAN MONSTER, WORLD READER) comes a sinister tale of biblical proportions that HAD to be told at AfterShock Comics.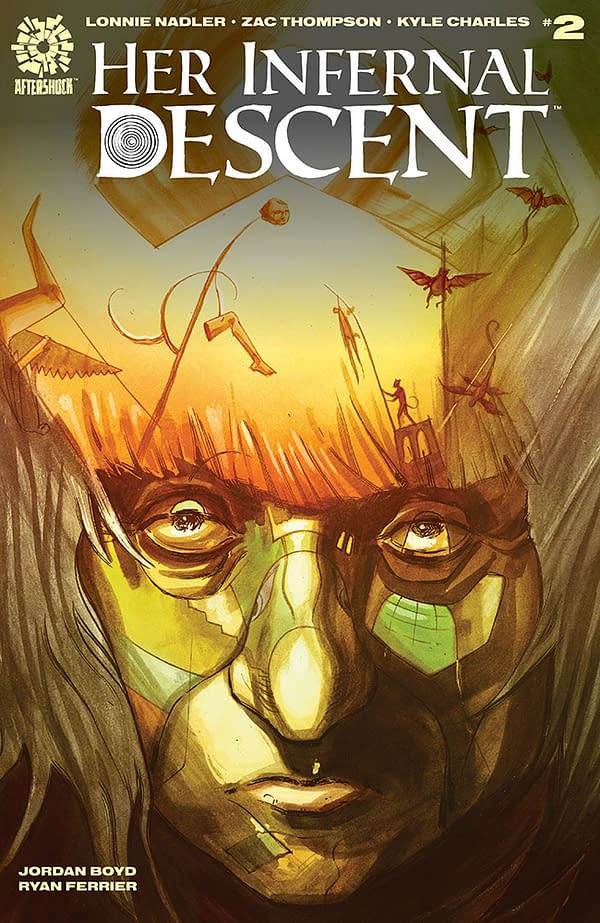 HER INFERNAL DESCENT #2 / $3.99 / 32 pages / Color / on sale 05.23.18
Writers: Lonnie Nadler & Zac Thompson
Artist: Kyle Charles
Colorist: Jordan Boyd
Letterer: Ryan Ferrier
Cover: Kyle Charles w/ Jordan Boyd
Lynn and William Blake confront the anxiety-ridden mad judge of hell, Franz Kafka. Lynn descends further down the fiery depths into the circle of gluttony, where Cerberus awaits with a hunger of his own. Plus, a guest appearance by the world's most beloved author of suspense and mystery!
From the writers of the break-out hit The Dregs and Marvel's Cable, and the artist of Roche Limit, this is HELL like you've never seen before.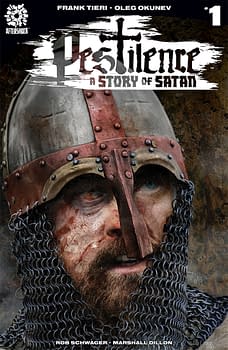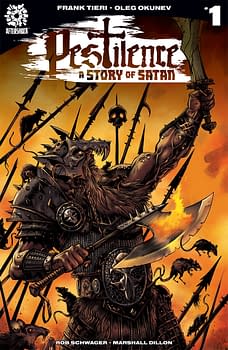 PESTILENCE: A STORY OF SATAN #1 / $3.99 / 32 pages / Color / on sale 05.30.17
writer: Frank Tieri
artist: Oleg Okunev
colors: Rob Schwager
letters: Marshall Dillon
cover "A": Tim Bradstreet
cover "B": Mike Rooth
The second volume of this hit AfterShock series starts here!
The year is 1353. The fugitive Roderick Helms has retreated to a life of hidden seclusion after failing to expose the Church's role in the Black Death. But something threatens to bring him back into action. Something that has risen which will threaten to transform the waning plague into a far more darker and sinister crisis. And that something is none other than Satan himself!
Written by the master of violence, gore, and mayhem, Frank Tieri (Harley Quinn, Marvel vs Capcom, Wolverine, Deadpool), with spectacular art from illustrator Oleg Okunev, and covers by Eisner Award-nominated artist Tim Bradstreet (The Punisher, Hellblazer)!
"Pestilence is a refreshing new take on the zombie genre. It really drives home the claustrophobic onslaught of the undead." -James Ferguson of horrortalk.com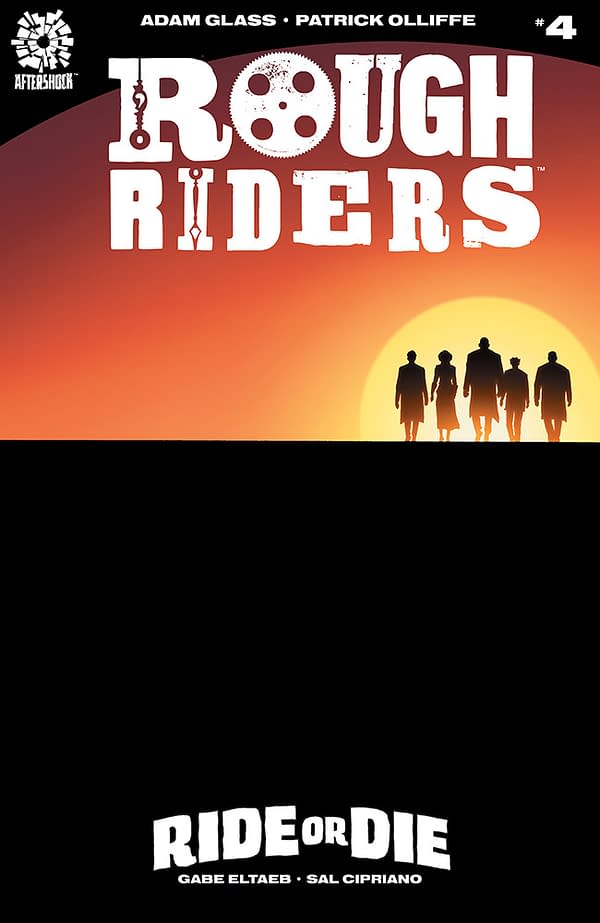 ROUGH RIDERS: RIDE OR DIE #4 / $3.99 / 32 pages / Color / on sale 05.09.18
writer: Adam Glass
artist: Patrick Olliffe
color: Gabe Eltaeb
letterer: Sal Cipriano
cover: Patrick Olliffe w/ Gabe Eltaeb
Volume Three of the hit AfterShock Series!
In their final mission together, the Rough Riders are pushed to the brink of their own destruction. Houdini tries to outsmart death one more time while Jack Johnson attempts to save his dear friend. Meanwhile, Teddy Roosevelt must face not only his own sins, but those of his familial line. And in order to save the world from the end of days, Roosevelt must kill his daughter, Alice, who has been possessed by an ancient evil! Don't miss "The Long Goodbye", the stunning conclusion of America's first team of super heroes.
Created and written by Adam Glass (executive producer of Supernatural and writer of Suicide Squad) with artwork by Patrick Olliffe (Untold Tales of Spider-Man).
"The story is exciting and fun, with the characters being faithful and fanciful, and the visuals are epic and thrilling. This is what comic books are all about!" – Patrick Hayes of scifipulse.net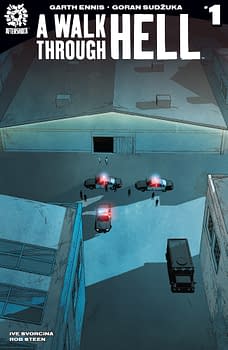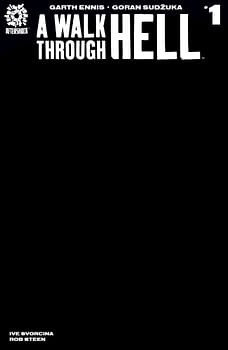 A WALK THROUGH HELL #1 / $3.99 / 32 pages / Color / on sale 05.16.18
writer: Garth Ennis
artist: Goran Sudžuka
colors: Ive Svorcina
letters: Rob Steen
cover "A": Andy Clarke & Jose Villarrubia
cover "B": SOLID BLACK VARIANT
NEW SERIES!
So these two FBI agents walk into a warehouse…
Special Agents Shaw and McGregor handle the routine cases nowadays, which is just the way Shaw likes it. She's pushing 40, a borderline burnout, the ghastly memories of her last investigation still clinging like shadows. McGregor is younger, more dedicated, hanging onto some measure of idealism whatever the world might throw at him.
When two fellow agents go missing inside a Long Beach warehouse, Shaw and McGregor are sent to investigate. But what they find waiting is far from routine, as the local police have already discovered to their cost. Before the night is out, our heroes will encounter terror beyond their most appalling nightmares—in a place where the night may never end at all.
A new kind of horror story for modern America, written by Garth Ennis (Preacher, The Boys, Crossed) and drawn by Goran Sudžuka (Y: The Last Man, Hellblazer)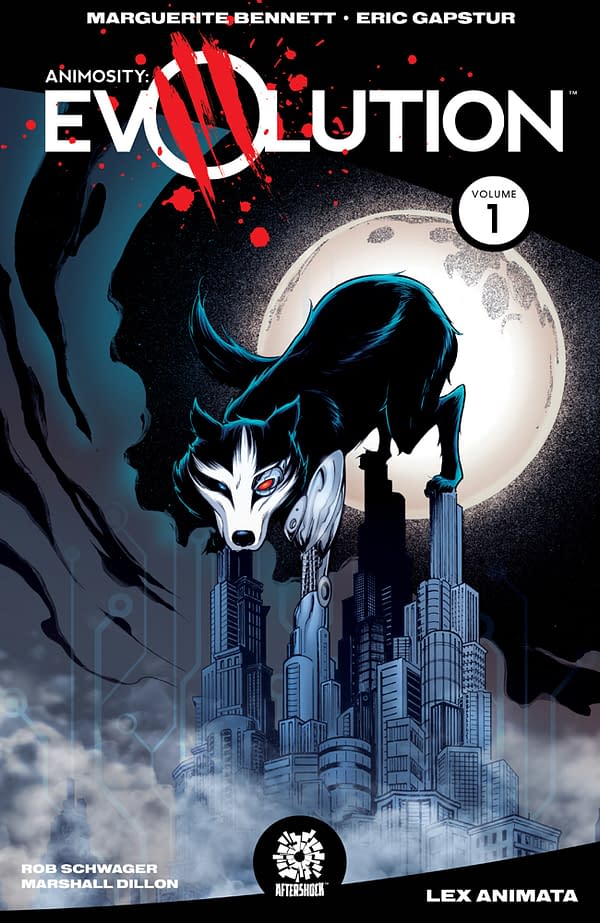 ANIMOSITY EVOLUTION VOL 1 TP / $14.99 / 128 Pages / on sale 05.16.18
writer: Marguerite Bennett
artist: Eric Gapstur
color: Rob Schwager
letters: Marshall Dillon
cover: Eric Gapstur
One day, the animals woke up. They started thinking. They started talking. They started taking revenge. Now, they've started building. In a city by the sea, a new power is on the rise…and they're making an animal kingdom all their own.
Collecting the first five issue of this captivating ANIMOSITY spin-off series!
From the brilliant mind of creator/writer Marguerite Bennett (INSEXTS, Bombshells and Batwoman) with artwork by Eric Gapstur–ANIMOSITY: EVOLUTION is an exciting new series that expands upon this already amazing world!
"AfterShock has earned their reputation for putting out some of the most diverse and entertaining comics in the industry. Animosity is a prime example of this." – Steve Gustafson of 411mania.com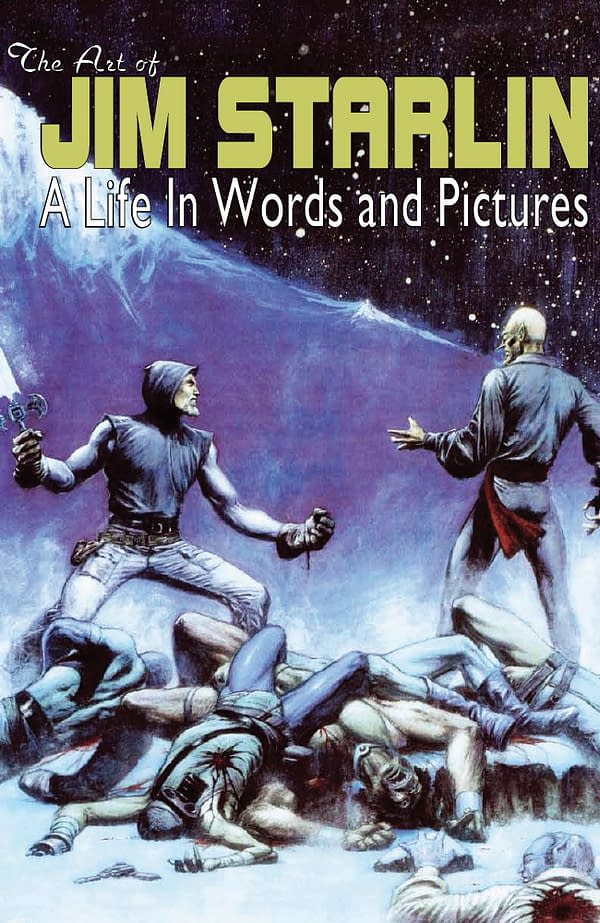 THE ART OF JIM STARLIN: A LIFE IN WORDS AND PICTURES HC / $49.99 / 328 pages / 9×12 size / on sale 05.02.18
FIRST AFTERSHOCK PRINTING! There are few creative names in comics whose influence is felt more in pop culture than Jim Starlin, with his creations Thanos, Gamora, and Drax the Destroyer occupying such prominent roles in Marvel's cinematic universe. The "father of the cosmic soap opera," Jim Starlin's name is synonymous with the larger-than-life epic, which is why AfterShock is proud to bring back into print, this epic 328-page retrospective on the career of one of the most popular and prolific comic book artists of the last 40 years! Covering everything from his humble beginnings to his rise as one of the industry's top creative talents, this oversized volume includes glimpses into Starlin's files and sketchbooks, as well as images of his personal favorites with insights into his life and creative process. The first edition of this volume sold out instantly. Don't be caught short this time! Just in time for the release of Marvel's Avengers: Infinity War movie!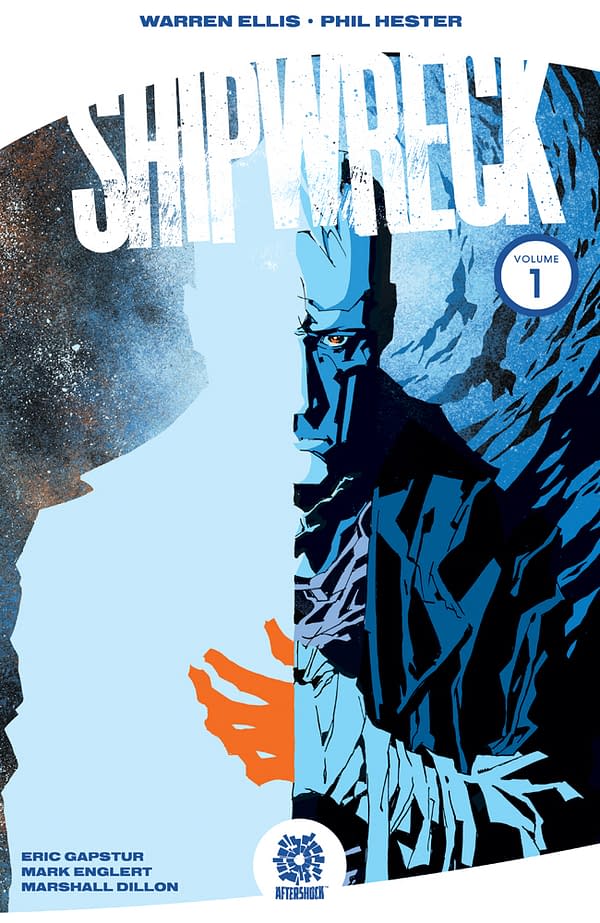 SHIPWRECK VOL 1 TP / 136 Pages / $17.99 / on sale 05.30.18
writer: Warren Ellis
artist: Phil Hester
color: Mike Spicer
cover: Phil Hester
Dr Jonathan Shipwright, sole survivor of a very unusual and very secret shipwreck, doesn't know where he is. Seemingly trapped on an endless road, in pursuit of a saboteur who holds the key to his salvation — or doom. Industry legend WARREN ELLIS joins AfterShock comics with this mysterious and captivating tale full of shock, secrets and surprises.
From the co-creator and writer of AUTHORITY, TRANSMETROPOLITAN and PLANETARY.
"SHIPWRECK might not be the first title readers think of when they think of new Ellis works, but…I have a feeling that that could (and should) change!" —Justin Partridge of newsarama.com