Giant-Size X-Men: Magneto #1
9/10
With massive restraint and elegant simplicity, Hickman and Pérez turn a tale about a man buying an island for a friend into a deep sea epic.
Continuing his landmark run on X-Men that has revamped the various Marvel mutant titles from the ground up, writer Jonathan Hickman turns his focus to a Magneto and Namor team-up story. This new release, Giant-Size X-Men: Magneto #1, is made in collaboration with artist Ramón Pérez, colorist David Curiel, letterer VC's Clayton Cowles, and designer Tom Muller. It picks up with the sometimes hero, sometimes villain well into Jonathan Hickman's run, so how does it read for Magneto fans hoping for a tale they can just jump into?
Very well, actually. Giant-Size X-Men: Magneto #1 sets up a simple premise and rewards readers at every page turn. Magneto has arrived on an island, which he intends to buy for Emma Frost. He asks for an audience with the man who owns the said island, who happens to be Namor. After some trademark undercutting dialogue from the King of Atlantis, Namor makes a deal with Magneto, which is, in essence, "help me deal with some deep-sea drama and you've got yourself an island."
The team-up between Magneto and Namor leads to incredibly drawn underwater battles with a Kraken, a Homerian game of choice, and the unearthing of old relics. There's an elegance to both Jonathan Hickman's writing and Pérez's writing that is hard to put a finger on. Subtitled "Wait & See," the issue does, indeed, feature a lot of waiting. Magneto spends much of his time in the first scenes of the comic brooding, cutting quite an iconic figure as he overlooks the water, waiting for Namor. The simplicity of it all feels less like the bombastic decompression that stripped-down superhero comics sometimes evoke, and more like immense restraint and mood-building. Giant-Size X-Men: Magneto #1 is masterful both in what it shows the reader, and what it does not.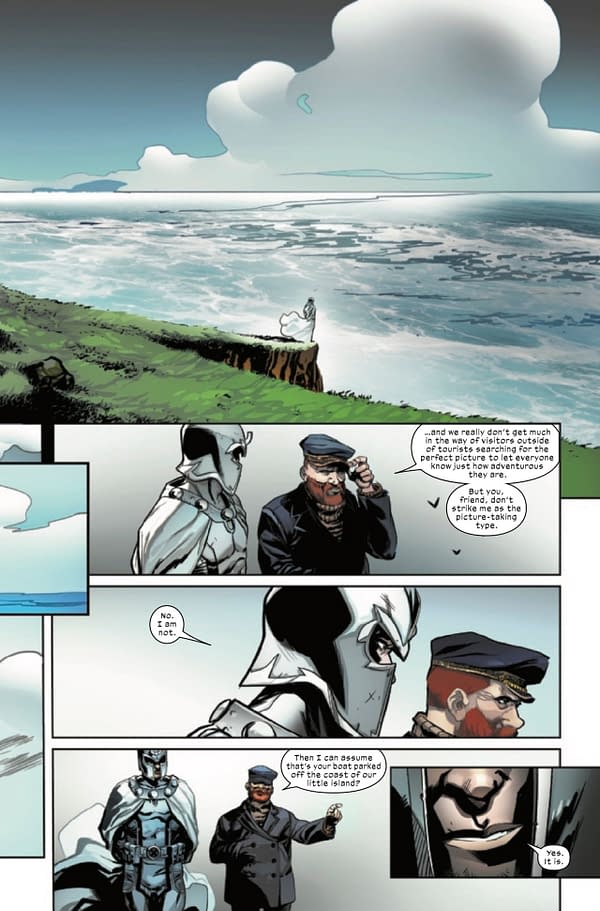 The artwork is top-notch throughout, pulling off both the expected superhero goodness of the underwater battles as well as the pensive scenes of Magneto, on his own, waiting. Hickman's sparing dialogue, Pérez's art, Curiel's colors, and Cowel's letters work together to create a sense of peace that emanates from the once-tortured Magneto. Who puts voice to that peace later in the issue with a line that summarizes his demeanor, his comfort as he waits to ask a powerful king for an important favor: "I find I am more thankful with each passing day."
Giant-Size X-Men: Magneto #1 is available now from Marvel Comics.
Enjoyed this article? Share it!